The acoustics guitars featured here only require minimal extra gear, compared to electric guitars. You can pick up any of these guitars and start playing immediately. They also sound as great as they look, so you don't have to worry about sacrificing style or sound quality just because you're starting out.

In this guide, we will compare our featured beginner acoustic guitars and recommend some great-value instruments. If you have decided that you want to learn to play the guitar, choosing your first acoustic guitar is the fun part.
10 Best Acoustic Guitars for Beginners in the US
1. Taylor Academy 10
As one of the leading companies in the acoustic guitar world, Taylor Guitars has a history of making high-quality instruments that sound great. Recently, the company decided to focus on making guitars that would appeal to beginner guitar players. The Taylor Academy 10 is the result of this effort, and although it may be slightly too expensive for someone who is only casually interested in learning to play, it is a great deal for someone who is serious about it.

In general, you won't be able to find a guitar that is as well-made, sounds as good, or is as easy to play as this price range. The Academy 10 from Taylor is the acoustic guitar that most of us wish we could have started learning on.

Specifications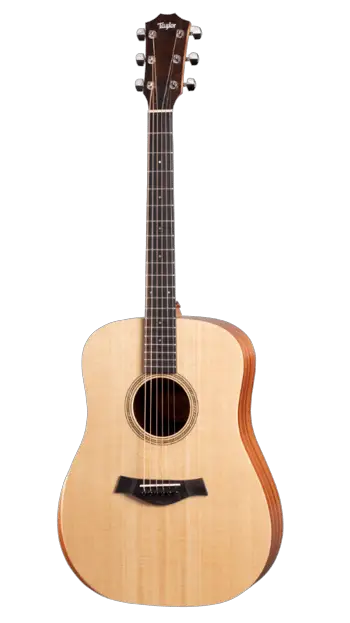 Specifications
Top: Solid Sitka Spruce
Neck: Maple
Fingerboard: Ebony
Frets: 20
Electronics: No
Finish: Natural
Left-handed: No
Check Price on
2. Martin LX1
Making it the perfect guitar to occupy those moments when inspiration suddenly strikes. Few guitars have been so influential as to create an entirely new sub-genre, but the Martin LX1 did just that. Following its launch nearly a decade ago and with some help from musician Ed Sheeran, the LX1 surged in popularity and caught the attention of other manufacturers. Though other companies have released similar models, the original LX1 is still considered the best.

It's an excellent choice for beginners, and it comes with a gig bag for easy portability, but it's also powerful enough to be used in a band. There's also an electric version of this guitar, the Martin LX1E, which is worth considering.
.

Specifications
Top: Solid Sitka Spruce
Neck: Rust Stratabond
Fingerboard: Richlite
Frets: 20
Electronics: No
Finish: Natural
Left-handed: Yes
Check Price On
3. Fender CD-60S
If you are unsure how much time you need to dedicate to learning the acoustic guitar, don't worry. It isn't easy, and it takes time. Make sure to buy an acoustic guitar that is good quality so you can have the best chance at success.

The Fender CD-60S is an acoustic guitar that is great for beginners. It is easy to play barre chords on this guitar because of the rolled fingerboard edges. If you keep practicing, you will be able to play even better songs.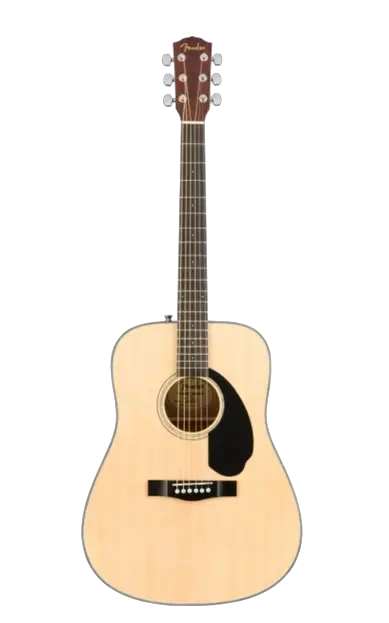 Specifications
Top: Solid Spruce
Neck: Mahogany
Fingerboard: Walnut
Frets: 20
Electronics: No
Finish: Natural, Black
Left-handed: Yes
Check Price On
4. Yamaha FG800M
The Yamaha FG800 has been the recommended instrument for many beginning acoustic guitar players for a long time. It's easy to see why when you compare it to other instruments in its price range.

The most surprising feature of the FG800 is the inclusion on the top. This is not something you usually find on a guitar at this price point. This allows the guitar to resonate freely and creates a fuller, warmer tone. This guitar comes with the new scalloped bracing results in plenty of volume and power. The nato neck feels smooth and well finished. The understated look may not set the world on fire, but it has a classic charm that you simply won't get bored of.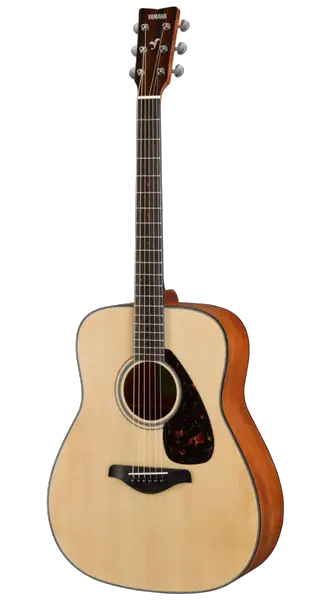 Specifications
Top: Solid Spruce
Neck: Nato
Fingerboard: Rosewood
Frets: 20
Strings: Yamaha FS50BT or D'Addario EXP11
Body Shape: Traditional Western
Electronics: No
Finish: Natural
Left-handed: Yes
Check Price On
5. Ibanez AEWC400TKS
Some guitars are better suited for tasks like singing around a campfire, while others are better designed for playing more delicate folk passages. The Ibanez AEWC400TKS is made specifically for players who are used to the thinner, nimbler necks found on electric guitars. If you've tried acoustic guitars in the past and found them too cumbersome, the AEWC400TKS might be a good option for you.

Ibanez is a company that knows a lot about making guitars that are easy to play. They have added some features to this guitar that make it more comfortable to play, including contouring around the waist and arm areas, and an asymmetrical neck shape. This guitar may not be the best option for everyone, but it could be a good choice for anyone who has had trouble playing other guitars in the past.

Specifications
Top: Flame Maple
Neck: Mahogany
Fingerboard: Rosewood
Frets: 20
Electronics: Fishman/Ibanez
Finish: Black Sunburnt
Left-handed: No
Check Price On
6. Yamaha Storia I
Yamaha does not think that beginner acoustic guitars need to be boring. The Storia range is the newest addition to Yamaha's budget-friendly instruments.

Yamaha has designed the Storia I to not only be a great-sounding instrument but also to be appealing to the eye. They have succeeded in making a guitar that will become the centerpiece of any room it is in.

The Storia has a solid spruce top and an off-white finish against the mahogany back and sides, which is pretty striking. The light-blue interior marries the two together to create a beautiful-looking guitar that sounds as good as it looks.
Specifications
Top: Solid Spruce
Neck: Nato
Fingerboard: Walnut
Color: Ivory
Top Material Type: Spruce
Frets: 20
Electronics: Yamaha Passive Undersaddle Pickup
Finish: Gloss off-white
Left-handed: No
Check now on
7. Epiphone Hummingbird Studio
If you're familiar with any classic rock act from the last 60 years, then you know the sound of a famous Epiphone Hummingbird acoustic guitar. The Hummingbird Studio model is just as great to look at as it is to listen to, and would be a great choice for a beginner guitar.

This guitar is not only stylish with its fancy graphics and vintage finish, but it is also versatile with its sound, making it ideal for both strummers and fingerpickers. The small details such as the split parallelogram inlays and oversized headstock make this guitar stand out visually.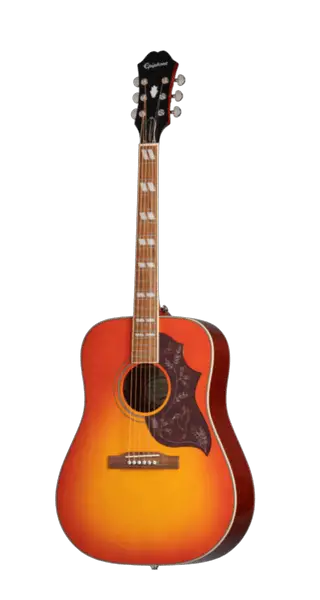 Specifications
Top: Solid Spruce
Neck: Mahogany
Fingerboard: Rosewood
Frets: 20
Electronics: Shadow performer Preamp
Finish: Faded Cherry Sunburnt
Left-handed: No
8. Gretsch G5024E Rancher
The Gretsch G5024E Rancher has a unique soundhole shape that makes it stand out from other dreadnought acoustic guitars. It also has several small details which give it character.

The amenities on this guitar, including the binding on the body and gold-plated hardware, give it a lot of character. In terms of tone, it falls within the range of a standard dreadnought guitar, so it should be versatile enough to work with most styles of music. This would be a good choice for a beginner who wants to experiment with different genres.

Specifications
Top: Solid Spruce
Neck: Mahogany
Fingerboard: Rosewood
Frets: 20
Electronics: Fishman Sonicore
Finish: Guitar Sunburnt
Left-handed: No
9. Epiphone DR-100
Although it may be seen as a cheap acoustic guitar, we struggled to find anything wrong with the DR-100 for anyone on a budget. The Epiphone DR-100 produces a tone that you wouldn't expect given its small price tag. It is available in a variety of finishes, and the build quality surpasses most of its competitors in this price range.

The top of the guitar is high-quality spruce, with a mahogany body and neck. The neck has a slim profile, making it comfortable to play with, and the fingerboard is rosewood.

If you are looking for an affordable and easy-to-use player, the Epiphone DR-100 is a great option. It has a resonant body that produces great sound.


Specifications
Top: Select Spruce
Neck: Mahogany
Fingerboard: Rosewood
Frets: 20
Electronics: No
Finish: Gloss
Left-handed: Yes
10. Taylor GS Mini Mahogany
The GS Mini by Taylor is a travel-sized guitar that is perfect for home playing, especially for younger or smaller guitarists. The factory-set action is low, making it simple to play from the get-go.

Though the size might make you think otherwise, the sound produced by this speaker is warm and clear, with a slight lean towards the mid-range. The trebles are bright, and though the bass isn't as pronounced as with some larger speakers, it's still present and adds depth to the sound. These speakers also have excellent sustain, with notes lasting longer than you might expect.

This guitar is good for beginners because it can be used for a lot of different types of music. It is also a good guitar for kids.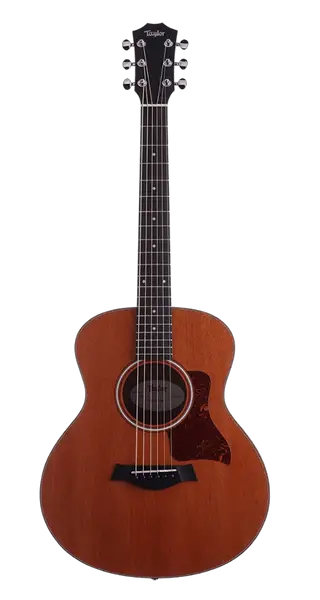 Specifications
Top: Tropical Mahogany
Neck: Layered Sapele
Fingerboard: Ebony
Frets: 20
Electronics: No
Finish: Guitar Varnish
Left-handed: Yes
Top 10 List