Ae Mere Des Guitar Chords | Jubin Nautiyal |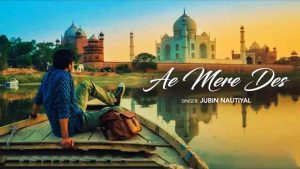 Song: Ae Mere Des
Singer: Jubin Nautiyal
Music: Joe Costa
Lyrics: Nikhil Khamkar
Guitar : Punit Lotia
Language: Hindi
Music: Label: T-Series

Ae Mere Des Guitar Chords
Presenting Ae Mere Des Guitar Chords
Ae Mere Des is a new music video by Jubin Nautiyal for the occasion of Republic Day. This beautiful song is composed by Joe Costa. The lyrics are written by Nikhil Khamkar.
Chords & Strumming
This beautiful patriotic song is in D# or Eb Major scale. So, to play this song we need these chords D#/Eb major, F minor, G# major, and Bb major.
Scale: D# Major
Chords: D#, Fm, G#, Bb
Suggested Strumming: DD UD
Guitar Intro
E------------------6---------------------6/8\6-------| 
B--------------8-8---6-6---------------8-------6-8-6-|  
G--8-8-8-8-8-8-----------8-8-8-8-8-8-8---------------|  
D----------------------------------------------------|  
A----------------------------------------------------|  
E----------------------------------------------------| 
[D#]Ae [Bb]mere [D#]des
Chal [G#]loon main teri zameen [Fm]par
[D#]Ae [Cm]mere [D#]des
[G#]Daudoon teri raahon [D#]par

[D#]Machal loon main
[D#]Hawaon mein udaanon mein
Aas[Bb]maanon mein

[D#]Jee loon mein ujaalon mein
[D#]Kho jaaun tere kha[Bb]yalon mein

[D#]Tu jaan [Fm]hai meri [D#]shaan [Fm]hai
[D#]Tu hi to hai pehchan haan
[D#]Teri aawaz [Fm]ko [D#]agaz [Fm]doon
Bas [D#]Tere liye main [Fm]kuch kar di[D#]khaun


[D#]Vande e [Bb]e [G#]mat[D#]ram,
[D#]vande e e[Bb] [G#]mat[D#]ram

[D#]Gaaun [G#]mein in dariyon [Bb]mein
[D#]Naach [G#]loon galiyon [Bb]mein

[D#]Gaaun [G#]mein in dariyon [Bb]mein
[D#]Naach [G#]loon ga[Bb]liyon [D#]mein

[D#]Mehek main [G#]jaaun khusboon [Bb]mein
[D#]Behek [G#]jaaun [Bb]rangon [D#]mein

[D#]Machal loon main hawaon mein
[D#]Udaano mein aas[Bb]maanon mein
[D#]Jee loon mein ujalon mein
[D#]Kho jaun tere kha[Bb]yalon mein

[D#]Tu niha [Fm]hai [D#]tu nisha [Bb]hai
[D#]Tu hi to hai ar[Fm]maan [D#]mera
[D#]Tere naam par naaz [Fm]karun
Bas [D#]Tere liye main [Fm]kuch kar di[D#]khaun

[D#]Vande e [Bb]e [G#]mat[D#]ram, vande e e[Bb] [G#]mat[D#]ram
[D#]Vande e [Bb]e [G#]mat[D#]ram, vande e e[Bb] [G#]mat[D#]ram