God Is A Woman Guitar Chords Ariana Grande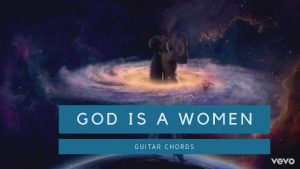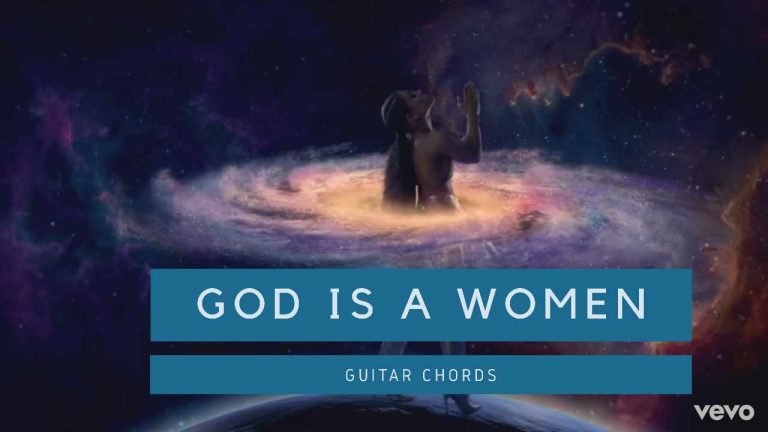 Song: God Is A Woman
Artist: Ariana Grande
Album: Sweetener
Produced by: Ily Salmanzadeh
Language: English
Introducing God Is A Woman Guitar Chords by Ariana Grande
God Is A Woman is a beautiful song by Ariana Grande for the Album Sweetener.
The song is in Ebm or D# minor scale.
Scale: Ebm
Chords: Ebm, C#, G#m, B, Bmaj7, Bbm7/A#m7,
Suggested strumming: D D UDUD D
For capo
Use Capo on the 4th fret,
Use chords Bm, A, Em, G, Gmaj7, F#m7
in place of (Ebm, C#, G#m, B, Bmaj7, Bbmaj7/A#maj7, ).
[Ebm]You, [C#] You love it how I move [Ebm]you
You love it [C#]how I touch you
My [Bmaj7]one [C#]when all is said and done
[G#m]You' ll believe God is a [Bbm7]woman
And [Ebm]I [C#]I feel it after mid[Ebm]night
A feelin' [C#]that you can't fight
My [Bmaj7] [C#]it lingers when you're done
[G#m]You'll believe God is a [Bbm7]woman
[Verse1]
[Ebm]I don't wanna waste no time yeah
[Ebm]You ain't got a one track mind, yeah
[B]Have it any way you like, yeah
[C#]And I can tell that you know I know how
[Ebm]Ain't nobody else can relate
[Ebm]Boy, I like that you ain't afraid
[B]Baby lay me down let's pray
[C#]I'm tellin' you the way I like it
how I want it
[Pre-Chorus1]
[Ebm]Yeah, and I can be all
the things you told me not to be
[Ebm]Yeah, when you try to come for me
I keep on flourishing
[B]Yeah, and he see the universe
when I am in company
[C#]it's all in me
[Chorus 1]
[Ebm]You, [C#] You love it how I move [Ebm]you
You love it [C#]how I touch you
My [Bmaj7]one [C#]when all is said and done
[G#m]You' ll believe God is a [Bbm7]woman
And [Ebm]I [C#]I feel it after mid[Ebm]night
A feelin' [C#]that you can't fight
My [Bmaj7] [C#]it lingers when you're done
[G#m]You' ll believe God is a [Bbm7]woman
[Verse 2]
[Ebm]I tell you all
the things you should know
[Ebm]So, baby take my hands save your soul
[B]We can make it last
take it slow hmm
[C#]And we can tell that you know
I know I how I want it
[Ebm]Yeah but you are different from the rest
And [Ebm]boy if you confess
you might get blessed
[B]See if you deserve what comes next
[C#]I am telling you the way
I like it how I want it
[Pre-Chorus2]
[Ebm]Yeah, and I can be all
the things you told me not to be
[Ebm]Yeah, when you try to come for me
I keep on flourishing
[B]Yeah, and he see the universe
when I am in company
[C#]it's all in me
[Chorus 2]
[Ebm]Yeah, and I can be all
the things you told me not to be
[Ebm]Yeah, when you try to come for me
I keep on flourishing
[B]Yeah, and he see the universe
when I am in company
[C#]it's all in me
[Ebm]You, [C#] You love it how
I move [Ebm]you
You love it [C#]how
I touch you
My [Bmaj7]one [C#]when all is said and done
[G#m]You' ll believe
God is a [Bbm7]woman
And [Eb]I [C#]I feel it after mid[Ebm]night
A feelin' [C#]that you can't fight
My [Bmaj7] [C#]it lingers when you're done
[G#m]You' ll believe God is a [Bbm7]woman
Outro
Yeah, [Ebm]yeah
God [C#]is a woman
Yeah, [Ebm]yeah
God [C#]is a woman
My [Bmaj7]one when [C#]all is said and done
[G#m]You' ll believe
God is a woman
[G#m]You' ll believe
God is a [Bbm7]woman