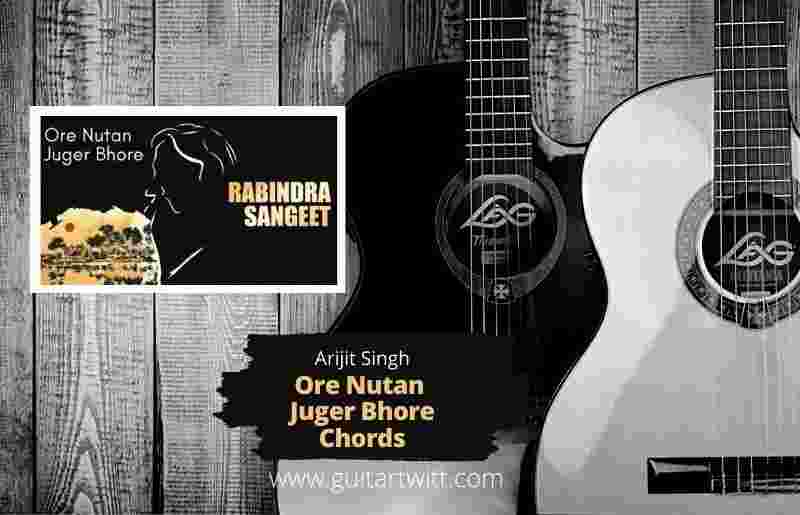 Arijit Singh presents his latest Rabindra sangeet. The song is composed and written by Rabindranath Tagore.

The acoustic guitar in this song also played by Arijit Singh. Soumik Datta Plays the Sarod on this track.
The track is on the G# or Ab major key, to simplify the chords we use a Capo on the 1st fret.
Chords Info
Tuning: Standard(EADGBE)
Key: G#
Capo: 1st fret
Chords: G, Gmaj7, A, Am, D, C, Cmaj7
Suggested Strumming: D DUDU D DUDU
D= Down Stroke, U = Upstroke, N.C= No Chord
Guitar Chords
Ukulele Chords
G – 320003
Gmaj7 – 320002
A – x02220
Am – x02210
D – xx0232
Em – 022000
Em7 – 020000
C – x32010
Cmaj7 – x32000
G – 0232
Gmaj7 – 0222
A – 2100
Am – 2000
D – 2220
Em – 0402
Em7 – 0202
C – 0003
Cmaj7 – 0002
     A     G        Em7




Ore, nutan juger bhore




Bm      G     D




Dish ne samoy kaatiye britha 




A     D      Cmaj7




samoy bichar kore




C#         Gmaj7 Em7




Ore, nutan juger bhore






Bm  G Gmaj7 Bm  Gmaj7





Em           G




Ki robe aar, ki robe naa




D    G       D    G




Ki hobe aar, ki hobe naa




A   G    D




Ore hisaabi





G             D      




Ei songshoyer maajhe ki tor 




A         D    Cmaj7




bhaabhona mishabi




     Amj7  Gmaj7    Em7




Ore, nutan juger bhore




Bm      Gmaj7 D




Dish ne samoy kaatiye britha 




A     D      Cmaj7




samoy bichar kore




     A     Gmaj7    Em7




Ore, nutan juger bhore








Bm         G




Jemon kore jhorna naame 




Em      Em7




durgomo parbote




D            A           D




Nirbhabhonay jhaanp diye por 




Em    G




ajaaniter pathe





Em     G     Em     G




Jaagbe tatoi shokti jatoi 




Em     G       Bm




haanbe tore maana





G   D    C      G




Ajaanake bosh kore tui 




Am    G     D




korbi aapon jaana




G               D




Cholaay cholaay baajbe 




G     D




joyer bheri





Bm           Em




Paayer begei path kete jaay, 




G     D      G




koris ne aar deri




     A     Gmaj7    Em




Ore, nutan juger bhore




Bm      G     D




Dish ne samoy kaatiye britha 




A     D      G




samoy bichar kore




Cmaj7   A     G        Em




Ore,    nutan juger bhore





Bm G Bm Gmaj7 G
More Of Arijit Singh
Rihaa Chords
Abaad Barbaad Chords


Ore Nutan Juger Bhore Track Info