So Am I Guitar Chords by Ava Max
Learn to play So Am I Guitar Chords by Ava Max.
Chords Info
Key: Gb / F#m
Capo: Capo on the 4th fret
Chords (after capo): Em, A, D, B
Em – 022000,
A – x02220,
D – xx0232,
B – x24442
Suggested Strumming: DU DU DU DU
Track Info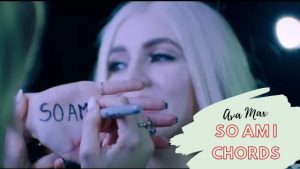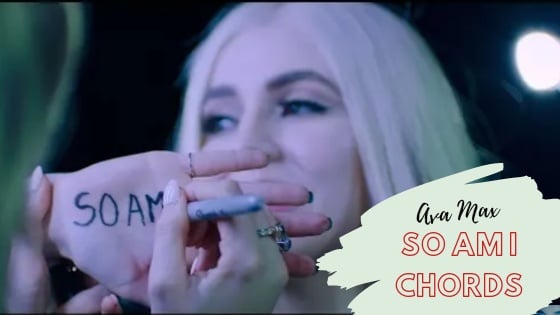 Song: So Am I
Artist: Ava Max
Produced by: Cirkut
Album: AM1
[Intro Chorus]
Do you [Em]ever feel like a [A]misfit?
Everything in[D]side you is dark and [B]twisted
Oh but [Em]it's okay to be [A]different
'Cause baby, so am [D]I (so am I, so am [B]I, so am I-I-I-I-I)
[Verse 1]
[Em] Can you hear the whispers[A] all across the room?
[D] You feel her eyes[B] all over you like cheap perfume
[Em] You're beautiful,[A] but misunderstood
[D] So why you tryna [B] be just like the neighborhood?
[Pre-Chorus 1]
[Em]I can see it, I know what you're [A]feelin'
So [D]let me tell you 'bout my little [B]secret
[Em]I'm a little crazy under[A]neath this
Under[D]neath this [B]
[Chorus 1]
Do you [Em]ever feel like a [A]misfit?
Everything in[D]side you is dark and [B]twisted
Oh but [Em]it's okay to be [D]different
'Cause baby, so am [D]I (so am I, so am [B]I, so am I-I-I-I-I)
Do you [Em]ever feel like an [A]outcast?
You don't have to [D]fit into the [B]format
Oh but [Em]it's okay to be [A]different
'Cause baby, so am [D]I (so am I, so am [B]I, so am I-I-I-I-I)
[Verse 2]
[Em] Oh so, dressed so fancy [A] like Sid and Nancy
[D] (yeah) Walkin' Killer[B]Queen, gotta keep 'em guessin'
[Em] So baby come pass me[A] a lighter
We're gonna leave 'em on [D]fire, we're [B]the sinners and the blessings
[Pre-Chorus 2]
[Em]I can see it, I know what you're [A]feelin'
So [D]let me tell you 'bout my little [B]secret
[Em]I'm a little crazy under[A]neath this
Under[D]neath this, o[B]hhh ohh-oh
[Chorus 2]
Do you [Em]ever feel like a [A]misfit?
Everything in[D]side you is dark and [B]twisted
Oh but [Em]it's okay to be [A]different
'Cause baby, so am [D]I (so am I, so am [B]I, so am I-I-I-I-I)
Do you [Em]ever feel like an [A]outcast?
You don't have to [D]fit into the [B]format
Oh but [Em]it's okay to be [A]different
'Cause baby, so am [D]I (so am I, so am [B]I, so am I-I-I-I-I)
[Bridge]
([Em]Ah-ah-ah) You're [A]king and you're queen
You're [D]strong and you're weak, you're [B]bound but so free
([Em]Ah-ah-ah) So [A]come and join me
And [D]call me Harley and w[B]e'll make a scene
[Chorus 3]
Do you [Em]ever feel like a [A]misfit?
Everything in[D]side you is dark and [B]twisted
Oh but [Em]it's okay to be [A]different
'Cause baby, so am [D]I (so am I, so am [B]I, so am I-I-I-I-I)
Do you [Em]ever feel like an [A]outcast?
You don't have to [D]fit into the [B]format
Oh but [Em]it's okay to be [A]different
'Cause baby, so am [D]I (so am I, so am [B]I, so am I-I-I-I-I)
Learn to play