Don't Check On Me Chords by Chris Brown ft. Justin Bieber
Learn to play Don't Check On Me Chords ft. Atia "Ink" Boggs & Justin Bieber
Don't Check On Me Chords Info
Key: G
Chords: G, C, Em, D,
Track Info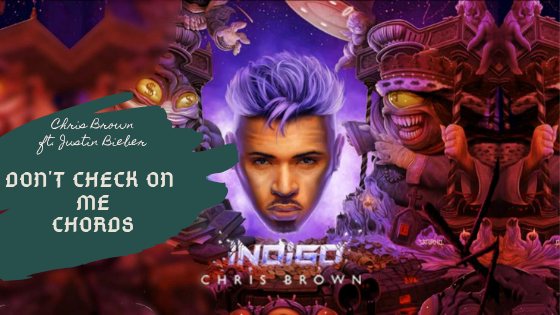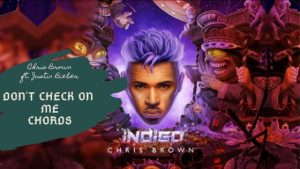 Song: Don't Check on Me
Artist: Chris Brown
Featuring: Atia "Ink" Boggs & Justin Bieber
Produced by: Sheldon Ferguson
Album: Indigo
Intro
[G] [C] [G] [Em] [G]
[Verse 1: Chris Brown, with Ink]
If I'm [C]out at the bar havin' a [G]night on the town
[C]Life of the party[G], pourin' shots of the brown
And you [C]see me from the [G]street but I don't turn around
Would you [Em]say, "Hi"? Would you keep [D]going?
If I [C]told your family [G]that you didn't mean
nothing
If you [C]posted about [G]it and I didn't even comment
If the [C]songs weren't true, but you [G]still feel something
Would you [Em]still come looking for [G]me?
[Pre-Chorus: Chris Brown & Ink]
Oh, don't go [C]reaching out [G]
'Cause you [C]can't have [G]everything
Your [C]head and your [G]heart won't feel the same
Even if it [Em]feels like it every ti[D]me
[Chorus: Chris Brown & Ink]
Don't check on [C]me
If we're not to[G]gether, then it's [C]probably for a reason
Every heartbreak has its [G]season
It ain't al[Em]ways summer in [D]June
[Verse 2: Justin Bieber]
Might [C]run across your mind [G]but don't worry 'bout me, no
[C] [G]
My [C]heart is back in one [G]piece, it ain't skipped a beat, no
[Em] [D] [G]
[C]Feeling rested [G]up, I ain't missing sleep, no-[C]oh [G]
Don't take it perso[C]nal if I can't reply now
I'm [G]distant 'cause I don't [Em]wanna be reached [D]now
[C]Won't let the ghosts of our past [G]weigh my future do[C]wn
I'm libe[G]rated
[C]Energy's like a circle, it [G]comes back a[Em]round
Recipro[D]cated [G]
[C]Don't shed no more tea[G]rs
[C]Won't gain no empathy from [G]me
[C]In the upcoming ye[G]ars
Oh, [Em]I don't need your pi[D]ty
[Chorus: Justin Bieber, with Chris Brown & Ink]
Don't check on[C] me
[G]Oh, don't check on [C]me
If we're not to[G]gether, then it's [C]probably for a [G]reason
[C]Every heartbreak has its [G]season
And it [Em]looks like winter [D]for you[G]
[Verse 3: Chris Brown, with Ink]
[C]Ain't call you back [G]'cause I let it go
I had to [C]focus energy and just [G]let it flow
And when [C]we ride low, we [G]were already gone
It wouldn't [Em]mean anymore to [G]me now
I know it hurts you so bad just to see me happy
That I [C]finally moved on, and you [G]thought it wouldn't happen
[C]At times I used to cry, [G]when the world was laughing
But I [Em]act like I [D]didn't notice
[Pre-Chorus: Chris Brown & Ink]
Oh, don't [C]go reaching [G]out
'Cause you [C]can't have [G]everything
You [C]can't kill a flame [G]with gasoline
Even if it feels like it every time
No matter how hard you try
[Chorus: Chris Brown, Ink & Justin Bieber]
Don't check on [C]me
If we're not to[G]gether, then it's [C]probably for a [G]reason
[C]Every heartbreak has its [G]season
It ain't [Em]always summer [D]in June
[G]Don't check on [C]me
If we're not to[G]gether, then it's [C]probably for a [G]reason
[C]Every heartbreak has its [G]season
It ain't [Em]always summer [D]in June
[G] [C] [G] [C] [G] [Em] [D] [C]
[G] [C] [G] [C] [G] [Em] [G] [C]
[G]
Learn to play