Learn to play Ek Zindagi Chords by Tanishkaa Sanghvi & Sachin – Jigar from the film Angrezi Medium. Easy Guitar Chords with strumming patterns.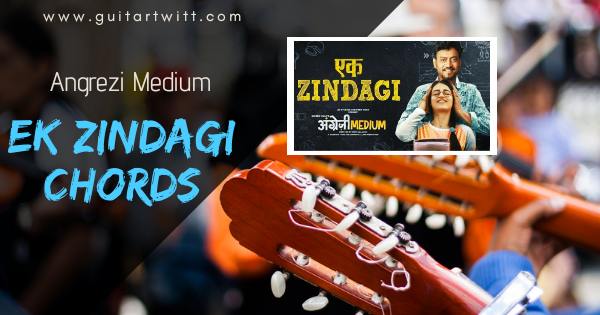 Ek Zindagi Chords Info
This beautiful song is on the D# or Eb scale. To play the song with easier chords we can use a capo on the different positions shown in the below table.
Tuning: Standard (EADGBE)
Key: D#
Capo: 3rd fret
Chords: C, G, F, Am
Suggested Strumming: DU DU DU DU
D= Down Stroke, U = Up Stroke
Chords Structures
Capo – 3rd fret
Capo – 1st fret
No Capo
C – x32010
G – 320003
F – 133211
Am – 022100

D – xx0232
A – x02220
G – 320003
Bm – x24432
D# – x65323
A# – x13331
G# – 466544
Cm – x35543
G         Am       F           C   G
  Main to baadalon se turr jaungi
        Am   F          C  G
Main to apna he sur paungi
        Am          F     C
Hain jo crazy crazy sapne mere
G     Am           F        C  G


Saare chun ke main bunn aaungi
     Am       F         C         G
Haan maana is duniya ki hoon hi nahi main
  Am      F             N.C


Apni he duniya banaungi
           F       C  G
Ke ek zindagi meri
    Am     F    C
Sau khwaahishan
             Am   F
Haan ek zindagi meri
    C      G
Sau khwaahishan
     Am     F
Main poori, main poori
     C       G


Main poori karaan
        Am   F
Ek zindagi meri
    C      G
Sau khwaahishan
     Am          F
Main jeena, main jeena
     C       G
Main poori tarah
     Am          F
Main jeena, main jeena
     C
Main poori tarah
Am   F  C  G Am F C G
Ho o o 
      Am      F
Sabki rok hai tok hai
C       G
Nok hai jhok hai
    Am                F
Par dil mein phir bhi hope hain
    C  G


Hai na aa a
Am         F
Life thodi hard hai
C        G
An-dekhe card hain
    Am          F
Par hum bhi to star hain
     C   G


Hain na aa a
    Am       F         C         G
Key maana is duniya ki hoon hi nahi main
  Am        F        N.C


Apni he duniya banaungi ho
           C    F
Ke ek zindagi meri
    C      G
Sau khwaahishan
     Am          F
Main jeena, main jeena
     C       G
Main poori tarah
Am          F
Main jeena, main jeena
        C
Main poori tarah
Am   F  C G
Ho o o Ho
Am F C G
Am F C G
Am F C
Ek Zindagi Song Info
Song: Ek Zindagi
Film: Angrezi Medium
Lyrics by: Jigar Saraiya
Singer: Tanishkaa Sanghvi, Sachin-Jigar
Composer: Sachin-Jiga