Ektu Jayga Dena Guitar Chords by Arman Malik
Learn to play Armaan Malik's new song Ektu Jayga Dena Guitar Chords. This is another beautiful song from the film KIdnap. So hope that you will enjoy play this song on the guitar.
Ektu Jayga Dena Guitar Chords Info
A minor is the base scale for this song. To play this beautiful song we need these chords as A minor, G major, F major, C major, and E minor
Scale: Am
Chords: Am, G, F, Em, C
Suggested Strumming: D UD D
Track Info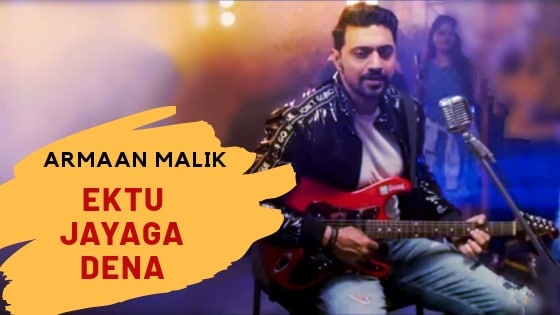 The song is sung by Armaan Malik for Dev and Rukmini Starrer Bengali Film KIDNAP. Jeet Ganguli has composed this beautiful song. Lyrics of the song is penned by Ritam Sen.
Song Name: Ektu Jayga Dena
Singer: Armaan Malik
Lyrics: Ritam Sen
Music:Jeet Gannguli
Movie: Kidnap
Music Label: Surinder Films
Release Date: 31 May, 2019
[Am]Ektu jayga dena[F]
Amay [C]ektu jayga dena
[G]Jeno tor aa[Em]dor makhte [F]paari
[Am]Ektu jayga dena
Amay [C]ektu jayga dena
[G]Jeno [Em]tor khobor rakhte [F]paari
Jeno [Em]tor khobor rakhte [F]paari
[Am] Toke niye [G]kijey kori bu[F]jhina
[Am] Toke chara [G]keno kichu khu[Am]jina
[Am]Mone-mone tor [F]nesha-nesha ghor
Phire-phire toke [E]chawa
[Am]Kacha-kachi thaak, chokhe [F]chokhe daak
[G]Elo melo dik [Am]hawa
Mone-mone tor [F]nesha-nesha ghor
[E]Phire-phire toke [G]chawa
[Am]Kacha-kachi thaak, [F]chokhe-chokhe daak
Elo melo [G]dik [Am]hawa
Ektu jayga [G]dena
Amay [F]ektu jayga dena
Jeno [Em]tor pashe hant'te [F]paari
Jeno [Em]tor saathe banchte [F]paari
[Am]Kaana kaani hok, jaana-jaani [F]hok
Chupi chupi [Em]kache [G]jawa
[Am]Hansi hansi mukh, luko [F]churi sukh
Bhalobeshe [G]kache pawa
[Am] Kaana-kaani hok, jaana [F]jaani hok
[Em]Chupi-chupi kache [G]jawa
[Am]Hansi hansi mukh, luko [F]churi sukh
[G]Bhalobeshe kache pa[Am]wa
Ektu jayga [G]dena
Amay [F]ektu jayga [G]dena
Jeno tor [Em]aador makhte [F]paari
[Am]Ektu jayga dena
Amay [C]ektu jayga dena
Jeno [Em]tor khobor rakhte [F]paari
Jeno [Em]tor khobor [F]rakhte [C]paari [Am]