Graveyard Chords by Halsey
Learn to play "Graveyard Chords" by Halsey.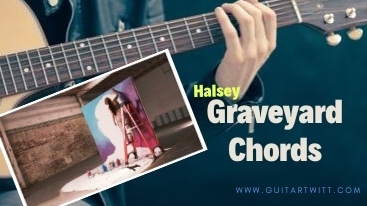 Chords Info
Key: D
Chords: D, Bm, G, A,
Suggested Strumming: D DU UDUD DU UDU
Chords Structures
The song is in the D major scale. So the chords we need to play given below. Also, we can easily play this song using a capo on the 2nd fret.
 
 
 Capo : 2nd fret

D – xx0232
Bm – x24432
G – 320003
A – x02220
Bm7 – x20202
Dmaj7 – xx0222

C – x32010
Am – x02210
F –  133211
G – 320003
Am7 – x0201x
Cmaj7 – x3200x
Track Info
Song: Graveyard
Artist: Halsey
Produced by: Jon Bellion, Ojivolta,
Louis Bell & The Monsters & Strangerz
Album: Manic
[Verse 1]

[G] It's crazy when, the [Bm7]thing you love the m[Dmaj7]ost is the detriment
[G] Let that sink in [Bm7] [Cmaj7]
[F] You can think again, when the h[Bm7]and you wanna h[Dmaj7]old is a weapon and
[G] You're nothin' but skin [Bm7]
[Pre-Chorus 1]
[Dmaj7]Oh 'cause [G]I keep diggin' myself down deeper
I [Bm7]won't stop 'til I g[Dmaj7]et where you are
[G]I keep running, I keep running, [Bm7]I keep runn[Dmaj7]ing
[Chorus 1]
They [G]say I [A]may be m[Bm]aking a mis[D]take
I would've f[G]ollowed all the w[A]ay, no matter how far [Bm] [D]
I [G]know when you g[A]o down [D]all your darkest [D]roads
I would've f[G]ollowed all the w[A]ay to the gravey[Am]ard [C]
[N.C]Oh 'cause [G]I keep diggin' my[A]self down deeper
I [Bm]won't stop 'til I [D]get where you are
[G]I keep running when [A]both my feet hurt
I [Bm]won't stop 'til I [D]get where you are
[G]Oh, when you [A]go down [D]all your darkest [D]roads
I would've f[G]ollowed all the w[A]ay to the gravey[Bm]ard [D] (no oh)
[Verse 2]
[G] You look at me, with e[Bm7]yes so dark, don't k[Dmaj7]now how you even see
[G] You push right through me ([Bm7]push right through m[Dmaj7]e)
[G] It's gettin' real, you l[Bm7]ock the door, you're [Dmaj7]drunk at the steering wheel
[G] And I can't conceal [Bm7]
[Pre-Chorus 2]
[Dmaj7]Oh 'cause [G]I been diggin' myself down deeper
I [Bm7]won't stop 'til I g[Dmaj7]et where you are
[G]I keep running, I keep running, [Bm7]I keep runn[Dmaj7]ing
[Chorus ]
They [G]say I [A]may be ma[Bm]king a mis[D]take
I would've f[G]ollowed all the w[A]ay, no matter how far [Bm] [D]
I [G]know when you g[A]o down [Bm]all your darkest [D]roads
I would've f[G]ollowed all the w[A]ay to the gravey[Bm]ard [D]
[N.C]Oh 'cause [G]I keep diggin' my[A]self down deeper
I [Bm]won't stop 'til I [D]get where you are
[G]I keep running when [A]both my feet hurt
I [Bm]won't stop 'til I [D]get where you are
[G]Oh, when you [A]go down [Bm]all your darkest [D]roads
I would've f[G]ollowed all the w[A]ay to the gravey[Bm]ard [D] (oh)
[Bridge]
[G] It's funny how
The [Bm7]warning signs can [Dmaj7]feel like they're butterflies
[Chorus 3]
[N.C]Oh 'cause [G]I keep diggin' my[A]self down deeper
I [Bm]won't stop 'til I [D]get where you are
[G]I keep running when [A]both my feet hurt
I [Bm]won't stop 'til I [D]get where you are
[G]Oh, when you [A]go down [Bm]all your darkest [D]roads
I would've f[G]ollowed all the w[A]ay to the gravey[Bm]ard