Learn to play "Sour Candy Chords by Lady Gaga & BLACKPINK". Easy Guitar, Piano & Ukulele Chords with strumming Patterns.
American singer – songwritter Lady Gaga and south Korean girl group BLACKPINK together released a new single "Sour Candy" which is trending now.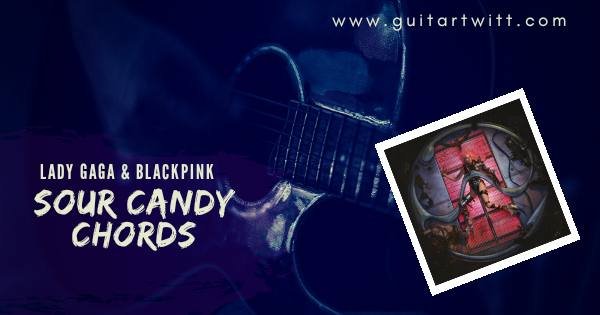 Sour Candy Chords and strumming Info
The song is in the A minor key, so it is easy to play.
Tuning: Standard(EADGBE)
Key: Am
Chords: Am, Em, Dm, G, C
Suggested Strumming: DU DU DU DU
D = Downstroke, U = Upstroke
Sour Candy Chords
Guitar Chords
Ukulele Chords
Am – x02210
Em – 022000
Dm – xx0231
G – 320003
C – x32010
Am – 2000
Em – 4432
Dm – 2210
G – 0232
C – 0003
[Intro]
                  Am                  Em        Am         Em




So-sour candy (so-sour candy, so-sour candy, so-sour candy)




Am  Em  Am          Em




           (So-sour candy)
[Chorus 1]
Am          Em    Am                             Em




   I'm sour candy,  so sweet then I get a little angry




Am            Em  Am                    Em




Yeah, sour candy, yeah yeah, yeah yeah, yeah 




Am           Em      Am                             Em      Am




   I'm super psycho, make you crazy when I turn the lights low




        Em  Am                    Em




Sour candy, yeah yeah, yeah yeah (ah!)
[Verse 1]
Am                    Em        Am               Em




Ask me to be nice and then I'll do it extra mean




   Am          Em     Am              Em




Deopagaepyeojeoka, neoda wae ganaechi




Am                Em




Isseo jeongae ramadulleo




Am          Em   Am          Em   Am         Em




Na pujanga, neo ya (neo ya), neo ya (neo ya)





Am                  Em         Am                    Em




If you wanna fix me then let's break up here and now




   Am       Em          Am           Em




Geouikae meumneo nunchi gari jugikka?




Am               Em     Am




Judabomyeon neogimupsi, sorijilleowa




Em  Am           Em  Am




Uh-huh (uh-huh), uh-huh




            Em




Oh-oh oh-oh oh-oh
[Refrain 1]
Dm                  C                       G




   I'm hard on the outside but if you give me time




              Am        G        Dm




Then I could make time for your love




                 C                      G               Am




I'm hard on the outside but if you see inside, inside, inside
[Verse 2]
Am                Em  Am                Em




I might be messed up, but I know what's love




Am              Em    Am                   Em




You want a real taste,  at least I'm not a fake




Dm




   Come, come unwrap me




C




  Come, come unwrap me





Am                   Em  Am                     Em




I'll show you what's me, close your eyes, don't peek




Am           Em    Am               Em




Now I'm undressing,  unwrap sour candy




Dm




   Come, come unwrap me




C




  Come, come unwrap me




Am                Em




Come on, sour candy




Am             Em




   Oh-oh oh-oh oh-oh
[Refrain 2]
Dm                  C                       G




   I'm hard on the outside but if you give me time




              Am        G        Dm




Then I could make time for your love




                 C                      G               Am




I'm hard on the outside but if you see inside, inside, inside
[Chorus 2]
Am          Em    Am                             Em




   I'm sour candy,  so sweet then I get a little angry




Am            Em  Am                    Em




Yeah, sour candy, yeah yeah, yeah yeah, yeah 




Dm                   C                                      Am




   I'm super psycho, make you crazy when I turn the lights low




        Em  Am                    Em




Sour candy, yeah yeah, yeah yeah (ah!)
[Outro]
Am                     Em




   Take a bite, take a bite




Am         Em




   So-sour candy




Am                     Em




   Take a bite, take a bite




 Am          Em




(Uh) So-sour candy




Dm




   Take a bite, take a bite




C




  So-sour candy




Am                     Em




   Take a bite, take a bite




 Am




(Uh) sour candy
Sour Candy Track Info
Song: Sour Candy
Written By: Teddy Park, Lady Gaga, Madison Love, BloodPop®, BURNS & Rami
Album: Chromatica (Target Exclusive/International Deluxe) (2020)
Release Date: May 28, 2020