This is the 1st soundtrack released under the banner of Sony Music India, for the film Love Aaj Kal. The song easily touches the heart with the mesmerizing voice of Arijit Singh. This is another masterpiece by Pritam who composed the song and the lyrics are written by Irshaad Kamil.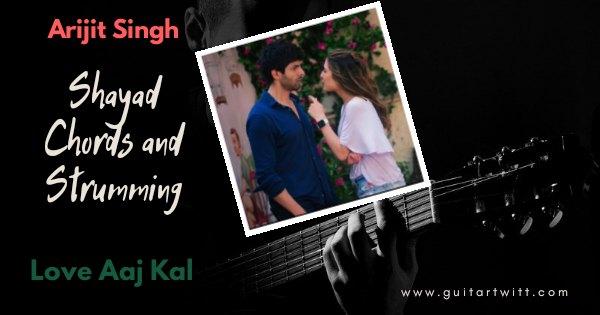 Track Info
Singer: Arijit Singh

Album: Love Aaj Kal
Lyricist: Irshad Kamil
Music: Pritam
Cast: Kartik Aaryan, Sara Ali Khan, Arushi Sharma
Music Label: Sony Music India
Chords Info
The track is on the F minor key, to simplify the chords use a Capo on the 1st fret.
Key: Fm
Capo: 1st Fret
Chords with Capo: Em, C, D, G, Bm,
Suggested Strumming: D DU DU DU
*D = Down Stroke U= Up Stroke
Capo: 1st Fret ( Em )
Without Capo ( Fm )
Em – 022000
C – x32010
D – xx0232
Am – x02210
G – 320003
Fm – 133111
C# – x32121
D# – x65343
Bbm – x13321
G# – 244322
You may love to play
MEHRAMA CHORDS by Darshan Raval / Love Aaj Kal
   C                            G
Shayad kabhi na keh sakoon main tumko
  Am        D              Em
Kahe bina samajh lo tum shayad
   C                        G      Em
Shayad mere khayal mein tum ik din
Am           D               Em
Milo mujhe kahin pe ghum shaayad

   D      Em   G       D
Jo tum na ho.. rahenge hum nahin
          Em   G       D
Jo tum na ho.. rahenge hum nahin
           Bm          C     
Na chahiye kuch tum se zyada 
       G       D
Tum se kam nahin

          Em  G            D
Jo tum na ho.. toh hum bhi hum nahi
          Em  G            D
Jo tum na ho.. toh hum bhi hum nahi
           Bm          C    
Na chahiye kuch tum se zyada 
       G       D
Tum se kam nahin


G          C       G
Aankhon ko khaab dena
          C
Khud hi sawaal karke
Em      C          G           D
Khud hi jawaab dena teri taraf se
G        C
Bin kaam kaam karna
G       C          Em
Jaana kahin ho chaahe
Em       C       G             D
Har baar hi guzarna teri taraf se

         Em  G          D
Ye koshishein toh hongi kam nahin
         Em   G         D
Ye koshishein toh hongi kam nahin
           Bm          C    
Na chahiye kuch tum se zyada 
       G        D
Tum se kam nahin


          Em   G       D
Jo tum na ho.. rahenge hum nahin
          Em   G           D
Jo tum na ho.. toh hum bhi hum nahin
        Bm             C    
Na chahiye kuch tum se zyada 
       G       D
Tum se kam nahin

          Em    G   D
Jo tum na ho..
          Em    G   D
Jo tum na ho..
          Em    G   D
Jo tum na ho...

***Enjoy To Play***


   SHAYAD TAB
Video