Mere Naam Tu Guitar Chords
Playing the guitar is an Art it totally depends on your mood. If you are an intermediate guitar player you must love to play this song.
Presenting Mere Naam Tu Guitar Chords. In this song, there are so many things you can learn about chords placement, cause there are so many chords variation in this beautiful composition.
Song Credit
Mere Naam Tu is one of the best composition by Ajay-Atul. Literally Abhay Jodhpurkar very nicely sung this song which touches the heart, the track is composed by Ajay -Atul and the lyrics are written by Irshad Kamil. The song is composed for the Bollywood film Zero which features Shahrukh Khan and Anushka Sharma.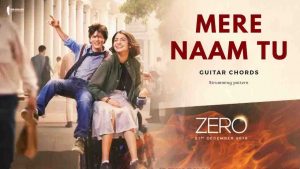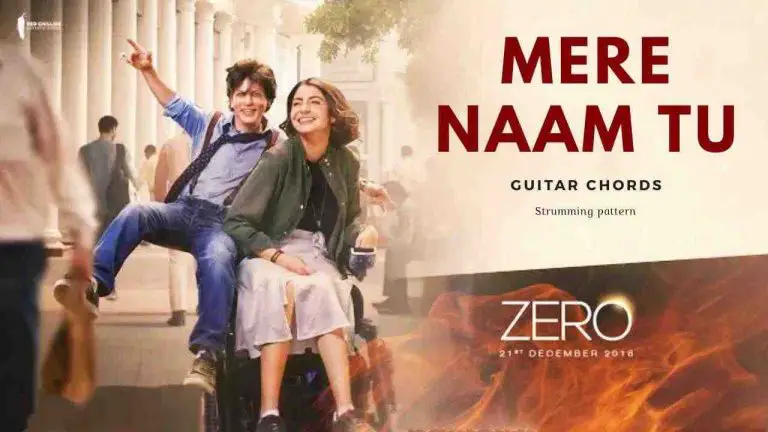 Song: Mere Naam Tu
Film: Zero
Singer: Abhay Jodhpurkar
Music: Ajay-Atul
Lyrics: Irshad Kamil
Cast: Shahrukh Khan & Anushka Sharma
Label: T-Series
Mere Naam Tu Guitar Chords Details
Scale of this song is C# minor. Chords are used for this song are C# minor as a base chord along with B major, A major, E major, F# major, F# minor and C# major
Scale: C#m
Chords: C#m, C#, A, E, F#, F#m, B
Suggested Strumming: D DU DU
Mere Naam Tu
[C#m] [A] [E] [F#]
[C#m] [A] [E] [B]

Wo [C#m]rang bhi kya rang hai
Milta na [G#m]jo [A]tere honth [E]ke rang [F#m]se
Huba[C#m]hu
Wo [C#m]khusboo kya [C#m]khusboo
Thehre na [G#m]jo [A]teri saanw[E]ri julf [F#m]ke
Ruba[C#m]roo
Tere [B]aage ye duniya hai [E]fiki si
Mere [B]bin tu na hogi [E]kisi ki bhi
Ab ye [B]zahir sare aam [F#]hai
Elaan [C#m]hai[G#]ae
[C#m]Jab tak jahan mein su[A]bah shaam hai
[E]Tab tak mere naam [F#]tu
[C#m]Jab tak jahan mein [A]mera naam hai
[E]Tab tak mere naam [C#m]tu
[C#m]Jab tak jahan mein su[A]bah shaam hai
[E]Tab tak mere naam [F#]tu
[C#m]Jab tak jahan mein [A]mera naam hai
[E]Tab tak mere naam [C#m]tu
[C#m]Uljhan bhi hoon teri
Ul[B]jhan ka hal bhi hoon mein [F#]
[C#m]Thoda sa ziddi hoon
Thoda [B]pagal bhi hoon mein
[G#]Barkha [C#m]bijlee badal jhuthe jhuthi
[F#m]Phulon ki sauga[G#]tein
Sachchi [C#m]tu hai sachcha mein hoon
Sachchi [F#m]apne dil ki baa[G#]tein
Daskhat [B]haathon se haathon pe [E]karde tu
Naa kar [B]aankhon pe palko ke [E]parde tu
Kya ye [B]itna bada kaam [F#]hai
Elaan [C#m]hai[G#]ae
[C#m]Jab tak jahan mein su[A]bah shaam hai
[E]Tab tak mere naam [F#]tu
[C#m]Jab tak jahan mein [A]mera naam hai
[E]Tab tak mere naam [C#m]tu
[C#m]Mere hi ghere mein
[C#m]Ghumegi har pal tu ai[F#]se
[C#m]Suraj ke ghere mein
[C#m]Rehti hai dhar[F#]ti ye jaise
Paaye[F#m]gi tu [A]khudko [B]na mujhse [C#]juda
Tu hai [F#m]mera [A]adha sa hi[A]ssa [C#]sada
[C#m]Tukde [B]kar chahe khwabon ke [E]tu meri
Tuten[B]ge bhi to rehne hai [E]wo tere
Tujhko [B]bhi to ye ilhaam hai
Elaan [C#m]hai ae… ae [G#]