Oi Dakche Akash Guitar Chords
Learn to play Jeet Ganguli's new composition Oi Dakche Akash Guitar CHords.
Chords Info
The song, which we are going play is on E major Scale. The Chords we need to play this song are E major, B major, C# minor, F# minor, and A major
Scale: E
Chords: E, B, C#m, F#m, A
Suggested Strumming:
Song Credit
The song is sang by Pawandeep for the upcoming Bengali film KIDNAP. This romantic song filmed on the Tollywood couple Dev & Rukmini. The song is composed by Jeet Ganguli and penned by Raja Chanda.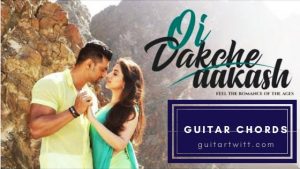 Song: Oi Dakche Akash
Film: Kidnap
Singer: Pawandeep
Music: Jeet Ganguli
Lyrics: Raja Chanda
Cast: Dev & Rukmini
Label: Surinder Films
Language: Bengali
Year: 2019
Intro
[E] [A] [E ] [A]
[E]Hae e e [C#m]na [A]aa ha [E]ha
[C#m] O o [A]o o [B]ae e e [E]e [C#m]e [A]
[B]Ho ho [C#m]o
[A] [B] [E] [C#m] [A] [E]
[C#m] [A]
[E]
Oi dakche akash
Jodi ektu takash
Mone [F#m]ramdhanu rong enke[B]chi
Oi [C#m]ek-muthu nil
Uro hawar michil
Tor [F#m]aalga shohag mekhe[B]chi
Ek bar [E]alto chowaye
Tor [C#m]oi khali paaye
Bali-[A]haari hoye more[B]chi
Jodi [E]bachte bolish
Shob [C#m]mitthe nalish
Ami [A]hajar bochor be[B]chechi
Oi [E]dakche aakash
Jodi ektu takash
Mone [F#m]ramdhanu rong enke[B]chi
Oi [C#m]ek-muthu nil
Uro hawar michil
Tor [F#m]aalga shohag mekhe[B]chi [E]ee
[E]Ei byasto shohor
Tor [C#m]ashar khobor
Dite [F#m]ek-chhute [B]ashlo [A]amay
Tor [E]namer folok
Mone [C#m]khushir jholok
Buke [F#m]jhoro hawa [B]ke ar [A]thamay
Ek bar [E]alto chowaye
Tor [C#m]oi khali paaye
Bali-[A]haari hoye more[B]chi
Jodi ban[E]chte bolish
Shob [C#m]mitthe nalish
Ami [A]ee hajar bochor [E]bechechi
Ho o o o [C#m]o o da ra [A]ra aa
[D]aa [B]ra [E]raa
Nil megher palok
Aj [C#m]shob tori houk
Upo[F#m]har debo [B]chaichi to[A]key
Rodh [E]mokh-mole din
Aaj [C#m]vishon rongin
Eka [F#m]boye chola [B]dheu e bu[A]key
Ek bar [E]alto chowaye
Tor [C#m]oi khali paaye
Bali-[A]haari hoye more[B]chi
Jodi [E]banchte bolish
Shob [C#m]mitthe naalish
Ami [A]ee hazar bochor benche[E]chi
De re na na naa aa aa [C#m]Nana na hmm mm
[A]Hmm mm mm mm ho [B]o o o
[E]Dhina na na naa aa aaa [C#m]re rae e
Ha aa [A]aaa [B]ho o o [E]o ho o [C#m]o
[A]Aaa aa aa na [B]na