The Fender Frontman 10G
With its wealth of features and versatile sound quality, the Fender Frontman 10G is an amplifier unlike any other. Offering true portability in a ten-watt package with pristine tones and adjustable overdrive controls, this compact marvel allows guitarists to take their performances anywhere – from private rehearsal sessions to live shows without sacrificing tonal richness or clarity.
With excellent value for money packed into one petite powerhouse, the Frontman offers a premium experience at an equitable price point – perfect for both budding musicians seeking craftsmanship excellence as well as experienced performers looking for sonic perfection!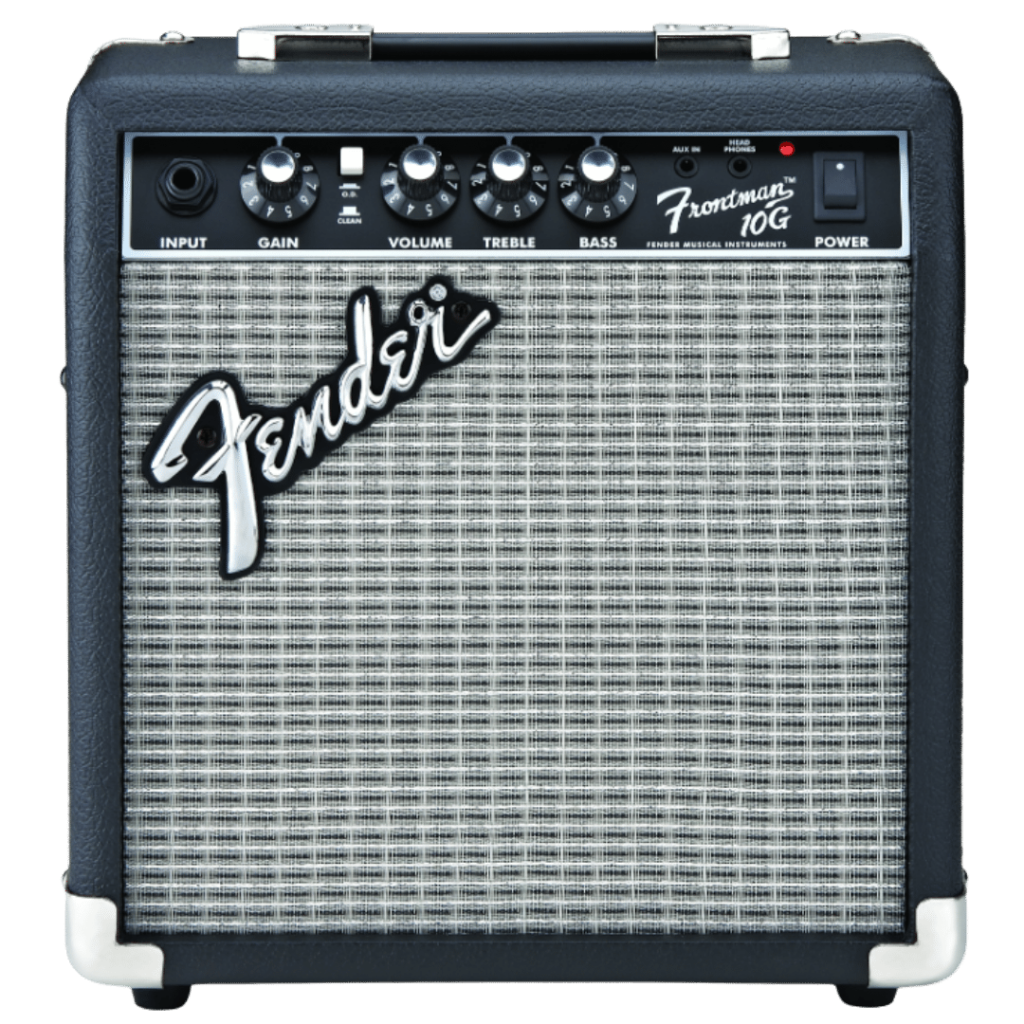 Purpose of this review
Are you in search of the perfect guitar amp to bring your music alive? 'The Fender Frontman 10G Amplifier Review' puts this popular amplifier under a microscope and presents an illuminating look into its features, performance, sound quality, and more.
With a guitar player's point of view serving as the lens, this Fender Frontman 10G Review article will furnish a comprehensive examination of the Frontman 10G, aiding readers in making an informed choice as to whether this amp aligns with their requirements. The article strives to furnish valuable information and insights regarding the Frontman 10G and enable readers to ascertain its suitability for their playing needs.
A brief history of Fender company
Fender is well established Guitar manufacturing company at the forefront of shaping modern music and pushing the boundaries of innovation since its establishment in 1946. Fender has built a reputation for delivering world-class guitars, basses, and amplifiers. 
Design and Features
Physical Design
The Fender Frontman Amplifier provides optimal sound for any type of player. Its physical design is both modern and sleek, featuring an iconic black and silver construction with a gleaming grille protecting the 8″ driver. The Amplifier features two channels – clean and drive – that can be adjusted to the ultimate flexibility. This Amplifier is easily portable, boasting a lightweight yet rugged construction that is great for transporting with ease from gig to gig. The Amplifier shows that functionality and aesthetics don't need to compromise each other.
Technical Specifications
The Phenomenal Sound Output, The Fender Frontman 10G is a powerhouse of sound, delivering a rich and full tone despite its modest 10-watt capacity. It features a 6.5-inch speaker that effortlessly produces an audio experience like no other. But that's not all, this amp can also be coupled with an auxiliary 8-inch speaker, expanding its sound to awe-inspiring heights. The Fender Frontman 10G is the epitome of "big things come in small packages."
The Master of Tonal Control
The Fender Frontman 10G is equipped with controls that are both simple and effective, providing the user with the ability to craft their ideal tone with ease. The amp features volume and tone knobs, along with a highly precise three-band EQ that affords unparalleled control over the sound output. The Fender Frontman 10G is a true testament to the idea of tonal customization made accessible.
Connectivity Option
The Fender Frontman amplifier offers a plethora of connectivity options, making it an incredibly versatile device. It features a standard 1/4-inch input for your guitar, an auxiliary input for your music player or smartphone, and a headphone jack for silent practice sessions. Jamming along with your favorite tunes is made possible with its CD input, and the amp even has an 8-inch auxiliary speaker output for expanding your sound if the need arises. The Fender Frontman 10G is the epitome of connectivity made easy.
Sound Quality
Clean Sound
Behold the unparalleled aural opulence of the Fender Frontman 10G amplifier. It orchestrates a clean, warm, and forceful sound that is simply a delight for the ears. Ideal for those seeking to hone their chord progressions, arpeggios, and fingerstyle techniques, this amplifier is the perfect practice partner. With a potent 10-watt power output, players can unleash their full potential, effortlessly achieving a pristine and coherent sound, even at high gain levels.
Overdriven sound
Not just a paragon of pristine sound, this amplifier also delivers an overdriven sound that is a masterpiece in raw power. It caters to musicians who crave an added edge to their sound. The amp's tone control affords players the ability to manipulate the degree of drive in their sound, while the three-band EQ offers precision tonal customization. The outcome – a robust and lavish overdriven sound that is unmatched for rock, blues, and metal performances.
Effects Options:
A Minimalistic Marvel:
Despite its rudimentary design, the Frontman 10G amplifier boasts a surprising array of effects options. Its crowning glory – the built-in reverb that can be manipulated with the ease of turning a knob. This elegant feature grants player the ability to infuse their sound with a touch of atmospheric magic, without the need for cumbersome gear.
Tone Shaping Capabilities
The Fender Frontman 10G boasts perplexing and dynamic tone-shaping possibilities, exhibiting a medley of volume and tone knobs, and a three-band EQ configuration. Guitarists can manipulate these knobs to modulate the volume, radiance, and all-encompassing tonality of their musical notes, allowing for effortless customization and personalization of their audio output, be it for honing their skills during practice sessions, synchronizing with melodic beats, or putting on captivating performances in intimate settings.
Overall, It delivers a robust tonality that embodies versatility, suiting the needs of musicians across various genres and playing styles. With its feature-rich offerings, guitarists can seek out a pristine sound, an overdriven tone, or effortlessly tweak their audio to match their artistic vision. The Frontman 10G leaves no stone unturned in its quest to provide comprehensive sound solutions.
Ease of Use
The simplicity of setup and operation: 
The Frontman 10G is incredibly simple to set up and use. Its straightforward controls and intuitive design make it easy to get started, even for beginners. The amp requires no complicated setup procedures, and players can start playing and practicing right away.
Compact Convenience and Adaptability: 
The Frontman 10G flaunts a compact design, enabling outstanding portability and versatility. Its petite stature permits effortless transportation to rehearsals, lessons, or gigs, while its lightweight construction facilitates hassle-free movement. Furthermore, its versatility makes it an ideal choice for various playing styles, from casual practice to on-stage performances.
Suitable for beginners and advanced players: 
The Frontman 10G accommodates musicians at all proficiency levels, from novice to seasoned players. Its straightforward controls and user-friendly interface make it a perfect option for beginners just starting their musical journey, while its rich and versatile tonality appeals to advanced players. Whether you're a beginner or an experienced musician, the Fender Frontman 10G is an ideal choice for guitarists seeking a portable, versatile, and uncomplicated practice amplifier.
Price & Values
Comparison with Similar Products in the Market:
The Fender Frontman 10G is competitively priced compared to other similarly sized and specced practice amps on the market. With its classic Fender design, quality construction, and versatile tone, the Frontman 10G offers excellent value for its price, especially when compared to lower-priced amps that may not deliver the same level of sound quality or durability.
Also Read: 15 Best Guitar Amps in 2023
Comparison with More Expensive Models:
Compared to its pricier counterparts, the Fender Frontman 10G presents a cost-effective solution for guitar players in search of a quality practice amplifier. While more expensive models may offer a plethora of features or higher power capabilities, the Frontman 10G stands out as a dependable and versatile option that won't strain one's budget. It is an excellent choice for guitarists seeking value and performance without breaking the bank.
Overall Cost-effectiveness:
In conclusion, the Fender Frontman 10G provides outstanding value for its cost, combining classic Fender tonality and sturdy build quality at an accessible price point. Regardless of skill level, the Frontman 10G offers a cost-efficient solution for obtaining a quality practice amp that can aid in honing musical abilities and maximizing guitar-playing experiences. Its compact design, user-friendly controls, and adaptive tonality make the Frontman 10G a wise investment for guitar players at any stage of their musical journey.
Conclusion for Fender Frontman 10G
Thus, for prospective buyers, it is imperative to note that the Fender Frontman 10G is a prudent option for those seeking an economical, adaptable, and noteworthy amplifier that personifies the iconic Fender sound. This amplifier caters to the needs of guitarists at all stages of their musical journey and can be utilized for a plethora of purposes ranging from practice sessions, and musical accompaniments, to intimate performances.
Summary of main points
This article delves into the intricate details of the Fender Frontman 10G, a state-of-the-art guitar amplifier that boasts of its compact form factor, imposing 10-watt power output, intuitively designed controls, and multiple connectivity options. This marvel of engineering also features a headphone jack that enables you to engage in quiet rehearsals and a CD input to harmonize with your beloved tunes.
Final thoughts
In conclusion, the Fender Frontman 10G is an excellent choice for guitar enthusiasts searching for an economical yet flexible amplifier to sharpen their skills. Its sleek design, effortless control system, and classic Fender tone make it an ideal selection for guitarists of all calibers seeking an amplifier for their routine practice, musical accompaniments, or intimate performance venues.
Recommendation for potential buyers
Thus, for prospective buyers, it is imperative to note that the Fender Frontman 10G is a prudent option for those seeking an economical, adaptable, and noteworthy amplifier that personifies the iconic Fender sound. This amplifier caters to the needs of guitarists at all stages of their musical journey and can be utilized for a plethora of purposes ranging from practice sessions, and musical accompaniments, to intimate performances.
The future outlook for the product
In terms of the product's future prospects, the Fender Frontman 10G can be considered a timeless classic that has garnered immense popularity over the years and is poised to remain a sought-after option for guitarists. Its miniature size, cost-effective price point, and authentic Fender tone make it a perpetual choice for musicians seeking a long-lasting practice amplifier.
List of sources used in the article:
Fender's official website (www.fender.com)
Product brochure for Fender this amplifier
user reviews and ratings on online music gear retailers such as Musician's Friend, Guitar Center, and Sweetwater
Comparison articles featuring the Fender Frontman 10G on music gear websites such as Premier Guitar and Music Radar.
Additional resources for further reading:
Product Manual
Guitar amplifier buying guides on websites such as The Hub from Musician's Friend
Online forums and discussion boards dedicated to guitar gear and amplification, such as the Fender Talk Forum and the Gear Page.
Guitar amplifier encyclopedias and databases, such as the Amplifier Database on Guitarampspedia.com.
List of Technical Specifications:
| | |
| --- | --- |
| Power Output: | 10 watts |
| Speaker: | 6.5 inches |
| EQ: | 3-Band |
| Inputs: | 1/4-inch instrument input, auxiliary input |
| Outputs: | 8-inch auxiliary speaker output, headphone jack |
| Dimensions: | 14 x 8.5 x 12 inches |
| Weight: | 12.5 pounds |
PROS
An affordable price point, making it a prime choice for novice guitar players seeking an accessible entry into the world of amplification.
Its compact and portable design allows for easy transportation, ideal for musicians on the go.
Despite its budget-friendly price, the Fender Frontman 10G Amplifier delivers impressive tone quality, punching above its weight class.
The built-in overdrive function adds versatility to your playing, giving you a wide range of tonal options at your fingertips.
Durability and sturdiness are not sacrificed, ensuring the Fender Frontman 10G Amplifier can withstand the rigors of daily use.
CONS
However, the limited volume may prove problematic for musicians seeking to perform in large venues.
The basic tone controls and limited tone shaping options may leave some guitar players feeling unsatisfied with the sound.
The Fender Frontman 10G Amplifier may not be suitable for high-gain styles of playing, limiting its versatility for some guitar players.
The lack of a headphone jack for silent practicing may be a deal breaker for some musicians.
The built-in distortion effect, while functional, may not meet the expectations of those seeking the highest quality sound.
Lastly, the handle is very compact to hold.
Diagrams and Illustrations:
Front panel illustration showing the location of knobs and inputs
Back panel illustration showing the location of outputs and speaker
Schematic diagram of the amplifier circuit
User Manual or Product Manual:
Detailed instructions for setting up and using the amplifier
Explanation of controls and functions
Safety warnings and precautions
Maintenance and troubleshooting tips
Warranty information
Contact information for customer support.
⚠️WARNING: Cancer and Reproductive Harm – www.P65Warnings.ca.gov.
* Disclaimer: This article contains Affiliate Link***