Tera Ghata Guitar Chords Neha Kakkar
Presenting Tera Ghata Guitar Chords By Neha Kakkar
Tera Ghata is a new recreated song, sung by Neha Kakkar.
Originally the song is created by Gajendra Verma which got a tremendous success on the social platform especially boys are liked most this song.
So after the huge success of the previous song this time Neha Kakkar has given her soothing voice.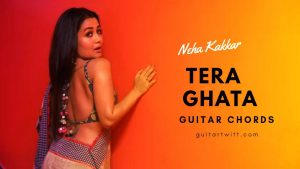 Song: Neha Kakkar
Music: Aditya Dev
Original song credit
Composer: Gajendra Verma
Lyrics: Gajendra Verma
Chords Details
G minor is the scale for this song. So, chords are used for the song are G minor, F major, D# major, and Bb major. Although R.P.G.O is used in this song in the place of Strumming.

Scale: Gm
Chords: Gm, D#, Bb, F
[Gm]Kuch soch [D#]ke bola ho[Bb]ga [tu[F]mne
[Gm]Ye pyar [D#]bhi tola ho[Bb]ga tum[F]ne
[Gm]Ab na hai [D#]to phir na [Bb]sahi di[F]lbar
[Gm]Ish dilko [D#]ye samjha [Bb]liya hum[F]ne

[Gm]Ishme [D#]tera ghata
[Bb]Mera [F]kuch nahi jata
[Gm]Jyada [D#]pyar ho jata
[Bb]To dil [F]seh nahi paata
[Gm]Ishme [D#]tera ghata
[Bb]Mera [F]kuch nahi jata
[Gm]Jyada [D#]pyar ho jata
[Bb]To dil [F]seh nahi paata
[Gm]Ab aur [D#]kya kehna ho[Bb]ga hum[F]ne
[Gm]Karna tha [D#]jo kar [Bb]liya tum[F]ne
[Gm]Shayad ra[D#]hoon ya na [Bb]rahoo dil[F]bar
[Gm]Badla ka[D#]bhi ye [Bb]faisla tum[F]ne

[Gm]Ishme [D#]tera ghata
[Bb]Mera [F]kuch nahi jata
[Gm]Jyada [D#]pyar ho jata
[Bb]To dil [F]seh nahi paata
[Gm]Ishme [D#]tera ghata
[Bb]Mera [F]kuch nahi jata
[Gm]Jyada [D#]pyar ho jata
[Bb]To dil [F]seh nahi paata
[Gm]Ishme [D#]tera ghata
[Bb]Mera [F]kuch nahi jata
[Gm]Jyada [D#]pyar ho jata
[Bb]To dil [F]seh nahi paata