Tootey Khaab Chords by Armaan Malik
Presenting "Tootey Khaab Chords" by Armaan Malik. T- series released Armaan Malik's New Music Video which is composed by Kunaal-Rangon (Songster) and lyrics are penned by Kunaal Verma.
Chords Info
To play this song we need five chords like Am, G major, F major, D minor and C major.
Key: Am
Chords: Am, G, F, Dm, C,
Suggested Strumming: DUDU D DUDU D
Stroke
D = Down Stroke
U = Up Stroke
Chords Structure
Am Chords
Am – x02210
G – 320003
F – 133211
Dm – xx0231
C – x32010
Track Info
Song: Tootey Khaab
Singer: Armaan Malik
Lyricist: Kunaal Vermaa
Music: Songster
Director: DirectorSHABBY
Music: Label
Music Label: T-Series
Tootey Khaab Image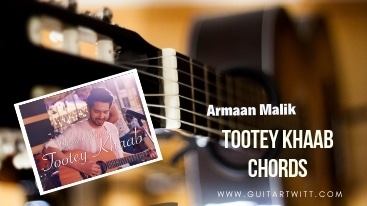 [Intro]
[Am] [G]
[C] [F]

Hmm[Am]mm [G]Hmm mm
[C]Hmm mm [F]mm mm
[Am]Ek cheez channa [G]tere baad [C]reh gayi
[Em]Kho gayi hai tu, [F]teri yaad [C]reh gayi
[Am]Karna main ki, [G]iss dil da mere
[Em]Saansein toh meri [F]tere naal [G]reh gayi
[Dm]Aise kyun badal gaya
[C]Kya koi hai mil gaya
[G]Dil puchta hai kya [Em]kahoon [E][

[Am]Tootey tootey khaab'an vich [G]disda ae tu
[Em]Mainu chhad aajkal [F]kisda ae tu
[Am]Tere baajon mera koi [G]hor taa nahi
[Em]Haal mera aake kyun ni [F]puchda ae [G]tu
[Alap]
[Am] [G] [Em] [F] [Am] [G]
[Em] [F]
[Am]Tere hathon hath mera [C]chhut gaya kyun
[Dm]Main tere bha[D]rose poora [G]jag chaddeya
[Am]Jind kehn waale saahan [C]lut gaya kyun
[Dm]Humsafar banake kyun ve [G]jaan le gaya
[Dm]Roz roz na rula [C]karde mera faisla
[G]Aadhe mann se kaise main [E]jiyun
[Am]Tootey tootey khaab'an vich [G]disda ae tu
[Em]Mainu chhad aajkal [F]kisda ae tu
[Am]Tere baajon mera koi [G]hor taa nahi
[Em]Haal mera aake kyun ni [F]puchda ae tu [G]
[Alap]
[Am] [G] [Em] [F] [Am] [G]
[Em] [F]