Learn to play "US Stronger Chords" by Florida Georgia Line. Easy Guitar Piano & Ukulele with strumming patterns.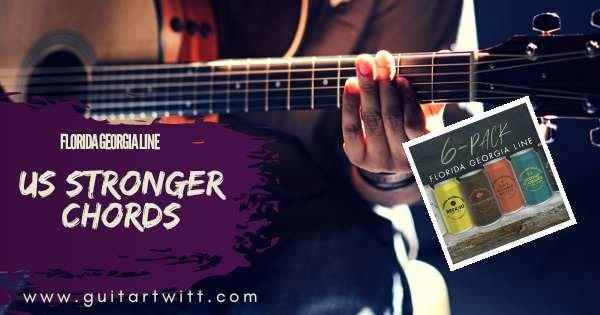 US STRONGER CHORDS INFO
The song is on the F# key. If you want to play the song on G you can just drop the tunning half note down, like (Eb Ab Db Gb Bb Eb).
Tuning: Standard (EADGBE)
Key: F#
Chords: F#, B, Gm
Suggested Strumming: DUDUD DUDUDUD
D= Down Stroke, U = Up Stroke, N.C= No Chords
Us Stronger Chords
Guitar Chords
Ukulele Chords
F# – 244322
B – x24442
G#m – 355333
F# – 3121
B – 4322
G#m – 4342
[Intro]
F#    B     F#   B   
[Verse 1]
C#             F#                    B




Yeah, there's sure been days that I thought we'd never make it through




       F#                   B




But we found a way, and I'm proud to say it's nothin' new




           F#                    B




Yeah, it's in our blood, it's the way we'll always be




         F#                         B




And it's all because we were raised in the land of the free
[Chorus]
                F#




When we fall down, we get back up




            B




We shake it off when things get tough




               F#




We hit our knees and pray for help




                B




'Cause we ain't ever by ourselves




           B                B/A#           G#m




We lean on love and love to lean on one another




                  G#m      B/A#     F#




'Cause what don't take us, bend us, break us makes us stronger
[Verse 2]
      F#                                       B




We've learned to fight and earned the right to fly the red, the white, the blue




        F#                              B




Through all the storms as heroes born a lot like me and you






[Chorus]




                F#




When we fall down, we get back up




            B




We shake it off when things get tough




               F#




We hit our knees and pray for help




                B




'Cause we ain't ever by ourselves




           B                B/A#           G#m




We lean on love and love to lean on one another




                  G#m      B/A#     F#




'Cause what don't take us, bend us, break us makes us stronger
[Bridge]
      F#




We're still one nation under God




   B




We go through hell, we learn a lot




   F#




We stand, we work for what we got




    B




And thankful as can be
[Chorus]
                F#




When we fall down, we get back up




            B




We shake it off when things get tough




               F#




We hit our knees and pray for help




                B




'Cause we ain't ever by ourselves




           B                B/A#           G#m




We lean on love and love to lean on one another




                  G#m                                 F#




'Cause what don't take us, bend us, break us makes us stronger
U.S. Stronger Track Info