Why Don't We- Cold In LA Guitar Chords
Introducing Cold In LA Guitar Chords
The song is released in this Feb 2019.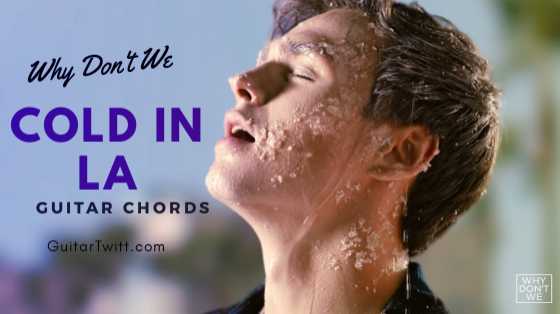 Song: Cold In La
Artist: Corbyn Besson, Jack Avery,
Zach Herron Daniel Seavey, Jonah Marais
Music Label: Atlantis Music
Language: English
Year: 2019
Verse 1:

[Db] I'm a little bit shy
I'm a little bit [Eb]right on time
And I [G#]know that you don't operate the [Db]same
Are you feelin' alright?
'Cause I really can't [Eb]tell some times
I wanna [G#]know what's going [Eb]on inside your [Db]brain
Just come a little bit closer
'Cause I don't [Eb] know if I know you yet
Yeah, there [G#]seems to be [Eb]something new every[Db]day
Why do I really wanna hold you?
Why do I want [Eb]you so bad?
Yeah, you're [G#]beautiful but [Eb]something's in my [Db]way
Pre-Chorus:

[Db]Yeah, we started with a good night
[Eb]Then it turned to day
Never thought that we [G#]would
Ever [Db]say the things we say
To each other but we're
Here, just [Eb]starin' face to face
Why [G#]don't you just [Eb]stay with me?[Db]
Chorus:

[Db]Don't walk away
'Cause it's [Eb]cold in LA
Every [G#]time that you [Eb]leave me [Db]behind
Just stay at my place
'Cause I can [Eb]tell by the way
You're [G#]lookin' at me, you'[Eb]ll be [Db]fine
Verse 2:

[Db]Is your body talkin'?
'Cause you don't know [G#]what to say
Do you do this often?
Is it all just a game to you, I'm wonderin'[Db]
Never [Eb]seen this sort of [G#]thing
Am [Eb]I the only [Db]one you came to see?
Pre-Chorus:

[Db]Yeah, we started with a good night
[Eb]Then it turned to day
Never thought that we [G#]would
Ever [Db]say the things we say
To each other but we're
Here, just [Eb]starin' face to face (Ooh)
Why don't you just stay with me?[Db]
Chorus:
[Db]Don't walk away
'Cause it's [Eb]cold in LA
Every [G#]time that you [Eb]leave me [Db]behind
Just stay at my place
'Cause I can [Eb]tell by the way
You're [G#]lookin' at [Eb]me, you'll be [Db]fine
Post-Chorus:
(Oh-oh-oh, [Eb]oh-oh-oh)[G#] (Oh-oh-oh, [Eb]oh-oh-oh)
[Db]You'll be fine either way
(Oh-oh-[Eb]oh) But I wish you'd [G#] stay
No, no, no [Eb](oh-oh-oh)[Db]
Bridge:
Yeah, we started with a [N.C]good night
Then it turned to [G#]day
Never thought that we [Eb]would
Ever [Db]say the things we say
To each other but we're
Here, just [Eb]starin' face to face
Why don't you just stay with me?[Db]
Chorus:
[Db]Don't walk away
'Cause it's [Eb]cold in LA
Every [G#]time that you [Eb]leave me [Db]behind
Just stay at my place
'Cause I can [Eb]tell by the way
You're [G#]lookin' at me, you'[Eb]ll be [Db]fine
Outro:
Db
'Cause it's [Eb]cold in LA
Every [G#]time that you [Eb]leave me [Db]behind
(Oh-oh-oh)
You'll be fine either way
Stay at my place
(Oh-oh-oh)
'Cause I can [Eb]tell by the way
But I wish you'd stay[G#]
You lookin' at [Eb]me, you'd be [Db]fine