On the 1st of January 2021, released this single, produced by Watt, The Monsters & Strangerz & Jon Bellion.
The track is written by Raul Cubina,  Eskeerdo,  Stefan Johnson, watt, Jordan K. Johnson, Michael Pollack, Jon Bellion & Justin Bieber.
The guitar for the track is played by watt. D major is the key to this track.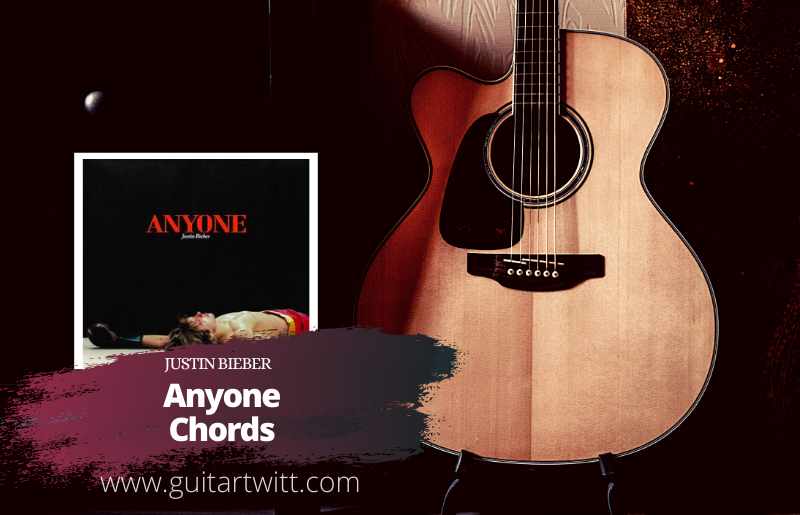 Chords Info
Tuning: Standard(EADGBE)
Key: D
Chords: D, D/F#, G, A, Bm
Suggested Strumming: DU DU DU DU
D= Down Stroke, U = Upstroke, N.C= No Chord
Guitar Chords
Ukulele Chords
D – xx0232
D/F# – 254232
G – 320003
A – x02220
Bm – x24432
D – 2220
D/F# – 2220
G – 0232
A – 2100
Bm – 4322
[Verse 1]



D

                         

G




  Dance with me under the diamonds


D/F#

                        

A




  See me like breath in the cold


D

                           

G




  Sleep with me here in the silence


D/F#

                       

A




  Come kiss me, silver and gold


 
 
[Pre-Chorus]

        

Bm




You say that I won't lose you


               

G




But you can't predict the future


             

D/F#

                         

A




So just hold on like you will never let go


      

D

                       

G




Yeah, if you ever move on without me


D/F#




  I need to make sure you know


 
 
[Chorus]

     

D/F#

        

G

    

Bm

        

A




That you are the only one I'll ever love


 


(I gotta tell ya, gotta tell ya)


      

D/F#

         

G

        

Bm

        

A




Yeah, you, if it's not you, it's not anyone


 


(I gotta tell ya, gotta tell ya)


        

D/F#

                       

G

    

Bm

   
Lookin' back on my life you're the only good 
      

A


I've ever done
 


(Ever done)


      

D/F#

         

G

        

Bm

        

A




Yeah, you, if it's not you, it's not anyone


 


(Anyone) Not anyone
 
[Verse 2]



D

                      

G




  Forever's not enough time to (No)


D/F#

                          

A




  Love you the way that I want (Love you the way that I want)


D

                       

G




  Cause every morning I find you (No)


D/F#

                        

A




  I fear the day that I don't


 
 
[Pre-Chorus]

        

Bm




You say that I won't lose you


               

G




But you can't predict the future


           

D/F#

                          

A




'Cause certain things are out of our control


      

D

                       

G




Yeah, if you ever move on without me


D/F#




  I need to make sure you know


 
 
[Chorus]

     

D/F#

        

G

    

Bm

       

A




That you are the only one I'll ever love


 


(I gotta tell ya, gotta tell ya)


      

D/F#

         

G

        

Bm

        

A




Yeah, you, if it's not you, it's not anyone


 


(I gotta tell ya, gotta tell ya)


        

D/F#

                       

G

    

Bm

  
Lookin' back on my life you're the only good 
     

A

 
I've ever done
 


(I've ever done)


      

D/F#

         

G

        

Bm

        

A




Yeah, you, if it's not you, it's not anyone


 


(It's not anyone) Not anyone


 
 
[Break]



D




Oh, oh, oh, oh


                            

Bm




If it's not you, it's not anyone


             

A




Oh, oh, oh yeah, woah


 
 
[Chorus]

      

D/F#

        

G

    

Bm

        

A




Yeah, you are the only one I'll ever love


 


(I gotta tell ya, gotta tell ya)


      

D/F#

         

G

        

Bm

        

A




Yeah, you, if it's not you, it's not anyone


 


(I gotta tell ya, gotta tell ya)


        

D/F#

                       

G

    

Bm

  
Lookin' back on my life you're the only good 
     

A

 
I've ever done
 


(Ever done)


      

D/F#

         

G

      
Yeah, you, if it's not you, 


Bm

        

A


it's not anyone
Anyone Track Info