Learn to play "No Time To Die Chords" Guitar and Piano by Billie Eilish. Easy Guitar and Piano Chords.
This is the theme song from the 25th installment of the "007 James Bond Series". The song is written by Finneas and Billie Eilish.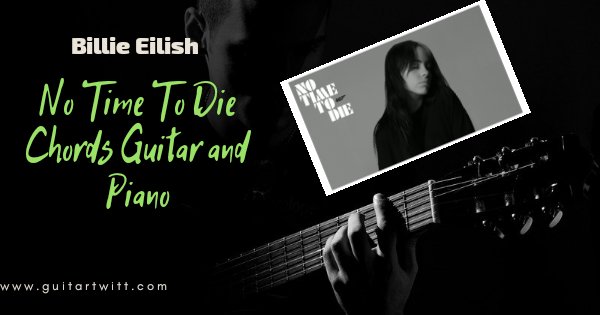 No Time To Die Chords Info
Introducing to play No Time To Die Chords and Lyrics by Billie Eilish. The song is on the Em scale. To play the song we need only four chords as shown below.
Tuning: Standard (EADGBE )
Key: Em
Chords: Em, C, Am, B
Suggested Strumming: D D D DUD D D DU
D= Down Stroke, U = Up Stroke
Chords Structures
Chords ( Em )
Em – 022000
C – x32010
Am – x02210
B – x24442

[Intro]
Em C Am B 
Em C Am B
[Verse 1]
Em   C           Am
   I should have known
Em     C      Am
   I'd leave alone
Em      C        Am
   Just goes to show
         C
That the blood you bleed
                      B
Is just the blood you owe
Em   C      Am
  We were a pair
Em      C        Am
  But I saw you there
Em    C       Am
  Too much to bear
            C                               B
You were my life, but life is far away from fair
      C
Was I stupid to love you?
      Em
Was I reckless to help?
       Am                    B


Was it obvious to everybody else?
[Chorus]
         Em     C      Am
That I'd fallen for a lie
         Em    C     Am      
You were never on my side
        Em            C
Fool me once, fool me twice
        Am
Are you death or paradise?
           Em    C      Am
Now you'll never see me cry
                        Em  C Am B


There's just no time to die
[Verse 2]
Em  C      Am
  I let it burn
Em          C         Am
  You're no longer my concern
Em       C           Am
  Faces from my past return
        C             B


Another lesson yet to learn
[Chorus]
         Em     C     Am
That I'd fallen for a lie
         Em    C     Am
You were never on my side
        Em            C
Fool me once, fool me twice
        Am
Are you death or paradise?
           Em    C      Am
Now you'll never see me cry
                        Em   C


There's just no time to die
[Refrain]
           Am   C
No time to die  mm 
           Em  C Am   B


No time to die
[Outro]
        Em           
Fool me once, fool me twice
C         Am
Are you death or paradise?
           Em    C      Am
Now you'll never see me cry
                           Em


There's just no time to die
No Time To Die Track Info
Song: No Time To Die
Artist: Billie Eilish
Produced by Stephen Lipson & FINNEAS
Guitar: Johnny Marr
Synthesizer: FINNEAS
Piano: FINNEAS
Audio