Dilbar Mere Guitar Chords By Kishore Kumar
If you like Bollywood classic song, you must like to sing this song along with your guitar. Introducing Dilbar Mere Guitar Chords. In "Dilbar Mere Guitar Chords" you'll see a lot of variation in the chord progression. For a mediocre guitarist, this is a perfect song to play.
Song Credit
Dilbar Mere song is sung by a legend singer of Bollywood Kishore Kumar, composed by the legendary music director R D Burman. The song is composed for the superhit Bollywood film Satte Pe Satta.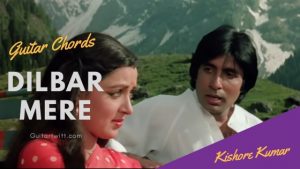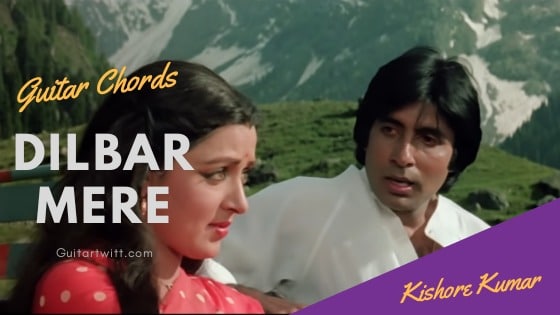 Song: Dilbar Mere
Film: Satte Pe Satta
Singer: Kishore Kumar, Anette Pinto
Music: R.D.Burman
Language: Hindi
Year: 1982
Chords Details
There are so many chords variation in this song although song is in F Minor scale. So to play this song, chords we need to know are F minor, F major, C# or Db major, D# or Eb major, Bb major, Bb minor, and G# major.
Scale: Fm
Chords: Fm, F, C#, D#, Bb, Bbm, G#
Suggested Strumming: D DUDU
[Fm]Dilbar mere [C#]kab tak [Fm]mujhe
[C#]Aise hi tadpao[F#]ge
Main aag dil mein [Fm]laga dunga wo
Ke [C]pal mein pighal jao[Fm]ge

[Fm]Dilbar mere [C#]kab tak [Fm]mujhe
[C#]Aise hi tadpao[F#]ge
Main aag dil mein [Fm]laga dunga wo
Ke [C]pal mein pighal jao[Fm]ge

[F]Ik din aaye[Bb]ga [F]pyaar ho jaaye[Bb]ga
[F#]Ho ho
Main aag dil mein [Fm]laga doonga wo
Ke [C]pal mein pighal jao[Fm]ge
Stanza
[F]Sochoge jab mere baare mein
[Fm]Tanhaiyon [Bb]mein
[D#]Ghir jaaoge aur bhi meri
Parchai[G#]yon mein [F]

[F]Sochoge jab mere baare mein
[Fm]Tanhaiyon [Bb]mein
[D#]Ghir jaaoge aur bhi meri
Parchai[G#]yon mein

[G#]Ho dil machal jayega [Bbm]
Pyaar ho ja[Fm]yega

[Fm]Dilbar mere [C#]kab tak [Fm]mujhe
[C#]Aise hi tadpao[F#]ge
Main aag dil mein [Fm]laga dunga wo
Ke [C]pal mein pighal jao[Fm]ge
[Fm]Lala la lala la la [D#]la [C#]la la la la la [C]la
stanza


[Fm]Dil se milega jo [F]dil to
Mehkne la[Bb]goge
[D#]Tum meri bahon mein aake
Behkne la[G#]go ge [F]

Dil se milega jo [F]dil to
Mehkne la[Bb]goge
[D#]Tum meri bahon mein aake
Behkne la[G#]go ge
[G#]Hey hosh kho jaye[Bbm]ga
Pyaar ho jaye[Fm]ga

[Fm]Dilbar mere [C#]kab tak [Fm]mujhe
[C#]Aise hi tadpao[F#]ge
Main aag dil mein [Fm]laga dunga wo
Ke [C]pal mein pighal jao[Fm]ge

[F]Ik din aaye[Bb]ga [F]pyaar ho jaaye[Bb]ga
[F#]Ho ho
Main aag dil mein [Fm]laga doonga wo
Ke [C]pal mein pighal jao[Fm]ge


[Fm]Dilbar mere [C#]kab tak [Fm]mujhe
[C#]Aise hi tadpao[F#]ge
Main aag dil mein [Fm]laga dunga wo
Ke [C]pal mein pighal jao[Fm]ge