Kyun Dil Mera Guitar Chords Mohit Chauhan
If you like Mohit Chauhan's song, this song you definitely like most. Presenting Kyun Dil Mera Guitar Chords.
Song Credit
Kyun Dil Mera song is sung by Mohit Chauhan for the Bollywood film Paharganj. The song is composed by Ajay Singha, and the lyrics are written by Mohit Pathak.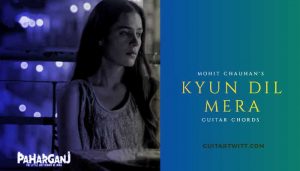 Song: Mohit Chauhan
Film: Paharganj
Singer: Mohit Chauhan
Music: Ajay Singha
Lyrics: Mohit Pathak
Music Label: Zee Music Company
Language: Hindi
Chords Details
The song is on A major scale. So all the A major scale relative chords are used as A major, B minor, F# minor, C# minor D Major and E major.
Scale: A major
Chords: A, Bm, E, C#m, F#m
Suggested Strumming: D DU UDU
[A]Khwahishon ki hone lagi
[A]Kaisi mujhpe ye barsaate
[A]Kyun samjhena mane zid pe adaa Kaisi jaane
[Bm]Dil ki si[F#m]farishon mein
[D]Tera hi to [C#m]zikr hai
[Bm]Tujhi pe to [C#m]aake hai [E]thama
Kyun dil [A]mera hua hai [F#m]tera [C#m]
Ke jaana [D]nahi kabse
[E]Main tera hone laga

Kyun dil [A]mera hua hai [F#m]tera [C#m]
Ke jaana [D]nahi kabse
[E]Main tera hone [A]laga
[F#m]Betuki kare kyun far[A]mayishein
Ye di ki marzi hai [F#m]ya teri
Khuda tu hi [A]jaane
[F#m]Kyun meri tu [A]badle aadatein
Hai kuch bhi na ab [F#m]raha mera
Hoon mein tere [A]vaaste
[Bm] Dabi meri [A]chahton mein
[D] Tera hi to itra hai [Bm]
Tujhi ko to [C#m]mange hai sa[E]da
Kyun dil [A]mera hua hai [F#m]tera [C#m]
Ke jaana [D]nahi kabse
[E]Main tera hone [A]laga