Era Sukher Lagi Guitar Chords
Era Sukher Lagi Guitar Chords by Iman Chakraborty
Let's learn to play Iman Chakraborty's new beautiful Rabindra Sangeet from the Bengali film Sweater. This song is beautifully sung by Iman Chakraborty.
Song Details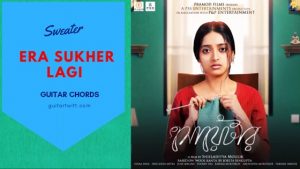 Song: Era Sukher Lagi
Movie: Sweater
Singer: Iman Chakraborty
Music: Rabindranath Tagore
Lyrics: Rabindranath Tagore
Directed by: Shieladitya Moulik
Chords Details
It becomes more interesting to play the guitar when you use a variety of chords. This song is played on A major Scale, So Chords used in this song are A major, D major, E major, and F# minor.
Scale: A
Chords: A, E, D, F#m
Suggested Strumming: D DUUD
[A]Era Sukher Lagi chahe prem,
prem mele na
Shudhu [D]sukh chole jaay
Emoni [A]mayar cholona
Era Sukher Lagi chahe prem,
[E]prem mele [A]na
Era bhule jay [F#m]kare chere
[E]kare chaay
Era bhule jay [F#m]kare chere
[E]kare chaay
[A]Sukher Lagi chahe prem,
[E]prem mele [A]na
Shudhu sukh chole jaay
Emoni [F#m]mayar cholo[E]na
Era [A]Sukher Lagi chahe prem,
[E]prem mele [A]na
[A]Tai kede kaate nishi tai dohe praan
O tai maan obhimaan tai [D]eto hay hay
[A]Tai kede kaate nishi tai dohe praan
O tai [E]maan obhimaan tai [D]eto hay hay
[A]Preme [F#m]sukho dukho [D]bhule
tobe [E]sukho paay
[A]Preme [F#m]sukho dukho [D]bhule
tobe [E]sukho paay
[A]Sukher Lagi chahe prem, [E]prem mele [A]na
Shudhu sukh chole jaay
Emoni [F#m]mayar cholo[E]na
Era [A]Sukher Lagi chahe prem, [E]prem mele [A]na
[A]Sokhi cholo gelo nishi shopno furalo
Michey aar keno bolo
Soshi [D]ghumer kuhok niye [E]gelo ostachol sokhi [A]cholo
Premer kahini gaan [D]hoye
gelo [E]oboshan
[A]Premer kahini gaan [D]hoye gelo [E]oboshan
Ekhon [A]keho hase [E]keho bose
[D]fele ashru[A]jol
Ekhon [A]keho hase [E]keho bose
[D]fele ashru[A]jol
Era [A]Sukher Lagi chahe prem,
prem mele na
Shudhu sukh chole jaay
Emoni [F#m]mayar cholo[E]na
Era [A]Sukher Lagi chahe prem,
prem mele na
Era bhule jay [F#m]kare chere
[E]kare chaay
Era bhule jay [F#m]kare chere
[E]kare chaay
[A]Sukher Lagi chahe prem,
[E]prem mele [A]na
Shudhu sukh chole jaay
Emoni [F#m]mayar cholo[E]na
Era [A]Sukher Lagi chahe prem,
[E]prem mele [A]na