Tomake Bujhina Priyo Guitar chords
Benali song lovers? Here is a beautiful song to play on guitar Tomake Bujhina Priyo. Presening Tomake Bujhina Priyo Guitar Chords. An intermediate guitarist can play this beautiful song with its beautiful chord arrangement.
Song Credit
This song is from the Bengali film Projapoti Biskoot. The song is sung by Chandrani for its female version. The song is composed by Prasen. Lyrics are written by Ritam Sen.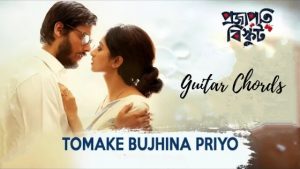 Song: Tomake Bujhina Priyo
Film: Projapoti Buiskoot
Singer: Chandrani
Music: Prasen
Lyrics: Ritam sen
Language: Bengali
Year: 2017
Chords Details
Scale: D
Chords: D, G, A, Em, Bm
[G]Tomake [D]bujhina priyo
[A]Bojhona Tumi [D]amay
[A]Durotto bare [G]jogajog
Nibhe [D]jai [G]
[G]Tomake bujhina [Bm]priyo
[D]Bojhona Tumi amay
[A]Durotto bare [G]jogajog
Nibhe jai [D]
[D]Gorad shokey surjo [G]mukhi
[D]Gorad [G]shokey surjo [D]mukhi
[Em]Khoiri kudhir phool
[A]Surjo khunje berai


[E]Mmm mm [G]mm mm [E]mm
Hmm [G]mm mm mm mm mm mm mm [D]
Mmm [D]mm mm mm mm mm [A]mm
Hmm [G]mm mm mm mm mm [D]mm
[D]Tomake Janina [Bm]priyo
[G]Janona tumi [D]amay
[A]Siter beral [Em]khele
Ghaser [G]chayaai [D]
[G]Tomake Janina [Bm]priyo
[G]Janona tumi [D]amay
[A]Siter beral [Em]khele
Ghaser [D]chayaai
[D]Du chokhe tar [G]panna bahar
Du chokhe tar Panna [D]bahar
[Em]Kanna jomay[A] kothai kothai

[G]Hmm mm mm [D]mm mm [A]mm
[G]Mm mm mm mm mmm [D]mm
[D]Tomake dakina priyo
[Bm]Dakona tumi [D]amay
[A]Jolopropat [G]mate rupor mayai [D]
[D]Tomake dakina [Bm]priyo
[G]Dakona tumi [D]amay
[A]Jolopropat [G]mate rupor mayai [D]

[D]Tulona hina [G] joler kinar
[D]Tulona [G]hina joler [D]kinar
[Em]Tomar chuler moto
[A]anmone angul do[D]bay [A]
[D]Mmm [Em]mm mm [G]mm mm [A]mm
Mm [G]mm mm mm mm [A]mm
[G]mm mm mm mm mm [D]mm [G]mm
[Em]Hm mm [G]mm mm [D]mm