Hai Pyaar Kya Chords by Jubin Nautiyal
Learn to play "Hai Pyaar Kya Chords" by Jubin Nautiyal. Jubin Nautiyal brings another music video under the banner of T- Series. The song is composed by Rocky Khanna and Jubin Nautiyal himself which is written by Rocky Khanna.
Chords & Strumming
The song is in C major Scale, So we need all the C major scale relative Chords as C major, G major, F major, A minor, D minor, and E minor.
Scale: C
Chords: C, G, F, Am, Em, Dm
Suggested Strumming: DU DU DU DU
Chords Structure
C – x32010
Am – x02210
F – 133211
G – 320003
Track Info
The song features Jubin Nautiyal with Kritika Kamra.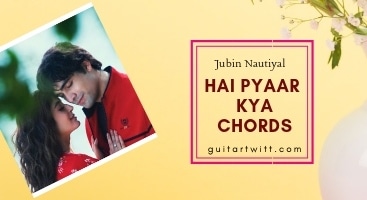 Song: Hai Pyaar Kya
Singer: Jubin Nautiyal
Lyricist: Rocky Khanna
Music: Rocky Khanna, Jubin Nautiyal
Director: Rocky Khanna
Cast: Jubin Nautiyal, Kritika Kamra
Music Label: T-Series
Intro Music
[Am] [G]
[Am] [G] [Am]
[C] [F]
[G]
Hai pyaar [F]kya?
Mill jaaye toh aas[C]maan
Hai pyaar [F]kya?
Mill jaaye [C]toh daastaan
Manzil ka[G]hoon, tujhko main ya
Hasraton [F]ka jai[Em]se kar[C]waan
Interlude
[F]
[C] [F]
[C] [F] [C] [F]
[C] Hai pyaar [F]kya?
Mil jaaye [C]toh aasmaan
Hai pyaar [F]kya?
Mil jaaye [C]toh daastaan
Mausam ka[G]hoon tujhko main ya
Khilti [F]hui shaam [C]ki badliyaan
Hai [F]pyaar kya, kis[Am]ko pata
Hai, [Em]pyaar kya, tu [F]hi
bata
Hai [Dm]pyaar kya, kis[Am]ko pata
Hai [Em]pyaar kya, tu [F]hi bata
[C]Subah ka[G]hoon, tujhko main yaa
Sargame [F]yun lip[C]ta dhuaan
[C] [F] [C] [G]
[C] [F] [C] [G]
[C] [F] [C] [G]
[C] [F] [C] [G]

[Am]Seene mein yeh [Em]jaan baaqi [F]hai[Em]
[Am]Iss pyaar ki peh[Em]chaan baaqi [F]hai [Em]
[Dm]Kaise ru[G]koon, [Dm]ae dil ba[G]taa
[Am]Ek qatra ar[Em]maan baaqi [F]hai
[G] [C]
Hai pyaar [F]kya?
Mujhko jo ho [C]gaya
Hai [F]pyaar kya
Kya ye [C]tujhko bhi hua


#HaiPyaarKyaChords #JubinNautiyal #HaiPyaarKyaGuitarChords