Hridoyer Rong Guitar Chords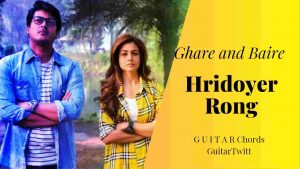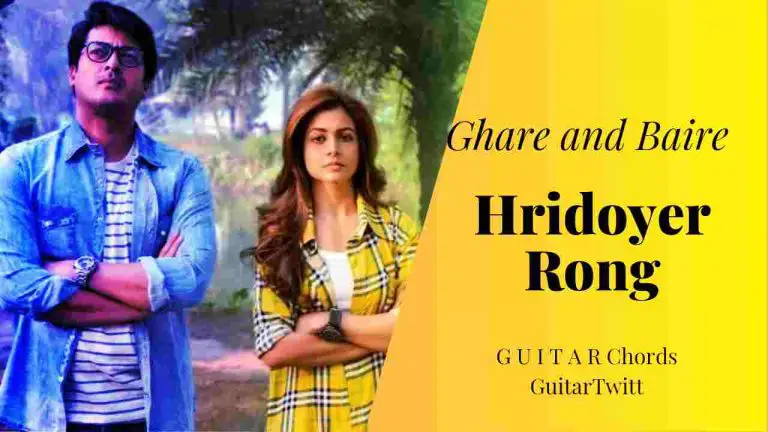 Song: Hridoyer Rong
Film: Ghare And Baire
Singer: Lagnajita Chakraborty
Music: Anupam Roy
Lyrics: Anupam Roy
Guitar: Rishabh Ray
Language: Bengali


Introducing Hridoyer Rong GuitarChords
Hridoyer Rong is a very heart touching song by Anupam Roy. This song is sung by Lagnajita Chakraborty. This Composition is composed and written by Anupam Roy. Anupam Roy composed this song for the Bengali film Ghare and Baire. Jishu Sengupta and Koel Mallik are in the lead role in this film.
Chords & Strumming Details
This song is in C# Major scale. So we need C# major G# major And F# Major for this song. Especially for a beginner, it is difficult to play on this scale. So to play in the easiest way we use a capo on its 1st fret. Thereafter all chords we use C major, G major, and F major.
Tuning: Standard E A D G B E
Capo: 1st fret
Scale: C#
Chords: C, G, F
Suggested Strumming: D D DUUDU
Hridyer Rong
[C]Ora moner go[G]pan
chene[C]na
[C]Ora hridoyer [G]rong jane[C]na
[C]Projapoti [F]dana chulo [G]bibaho ba[C]sore
[C]Keno sara [F]raat jege
[G]Bari phiri bho o [C]re
[C]Ora moner go[G]pan
chene[C]na
[C]Ora hridoyer [G]rong jane[C]na
Stanza 1

[C]Tumi chiro din vishon kothin
Tomar [F]ghar bhense jai ora
[G]Mukh dekhe bujhte [C]pare na
[C]Tumi chiro din vishon kothin
Tomar [F]ghar bhense jai ora
[G]Mukh dekhe bujhte [C]pare na
[C]Ora e-mon ke[G]mon
bojhe[C]na
[C]Ora aasol [G]karon
Khoje[C]na
[C]Ora moner go[G]pan
chene[C]na
[C]Ora hridoyer [G]rong
jane[C]na
Stanza 2
[C]Tumi chirokaal sopne matal
Hente [F]sara jeevan dhore
[G]Jhor brishti mathai [C]kore
[C]Tumi chirokaal sopne matal
Hente [F]sara jeevan dhore
[G]Jhor brishti mathai [C]kore
[C]Ora moner go[G]pan chene[C]na
[C]Ora hridoyer [G]rong jane[C]na
[C]Projapoti [F]dana chulo
[G]bibaho ba[C]sore
[C]Keno sara [G]raat jege
[G]Bari phiri bho o [C]re
[C]Ora moner go[G]pan
Chene[C]na
[C]Ora hridoyer [G]rong
janej[C]na