Tujhe Kitna Chahne Lage Guitar Chords by Arijit Singh
Introducing Tujhe Kitna Chahne Lage Chords by Arijit Singh. This song you must like to play on the guitar.
Guitar Chords Info
To play this song we need these chords as B major, F# or Gb major, G# or Ab major, E major, D# or Eb minor.
Key: B
Chords: B, F#, G#m, E, D#m
Suggested Strumming: D D DUDU D
Song Info
This song is the 2nd soundtrack, from Shahid Kapoor's upcoming Bollywood film KABIR SINGH. The song is composed and written by Mithoon. Arijit Singh has given his melodious voice to this song.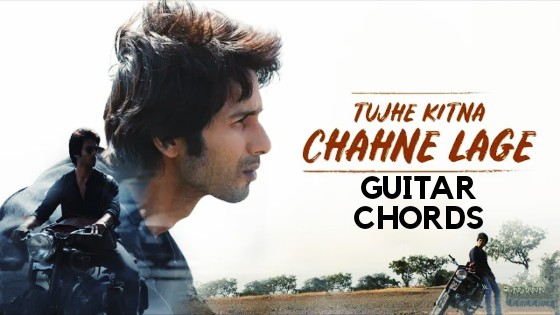 Singer: Arijit Singh
Album: Kabir Singh
Lyricist: Mithoon
Music: Mithoon
Cast: Shahid Kapoor, Kiara Advani
Music Label: T-Series
Dil ka dari[B]ya beh hi [G#m]gaya
Ishq i[E]badat ban hi [F#]gaya
Khud ko [B]mujhe tu sonp [G#m]de
Meri [E]zaroorat tu ban [F#]gaya
Baat dil [E]ki [F#] nazron ne [D#m]ki
[G#m]Sach keh ra[C#m7]ha teri [F#]kasam
Tere [C#m]bin ab na lenge ik bhi [F#]dam
Tujhe [E]kitna [F#]chahne lage [B]hum
Tere [C#m]saath ho jayenge kha[F#]tam
Tujhe [E]kitna [F#]chahne lage [B]hum
Music
[E] [F#]
[G#m] [D#m] [E] [F#]
[G#m]
Baat dil [E]ki [F#]nazron ne [D#m]ki
[G#m] Sach keh ra[C#m]ha teri ka[F#]sam
Tere [C#m]bin ab na lenge ik bhi [F#]dam
Tujhe [E]kitna [F#]chahne lage [G#m]hum
Tere [C#m]saath ho jayenge kha[F#]tam
Tujhe [E]kitna [F#]chahne lage hum
Alap

[E] [F#] [G#m] [D#m]
[E] [F#] [G#m][D#m]
[E] [F#] [G#m][D#m]
[E] [F#] [G#m]
Tujhe [E]kitna [B]chahne lage hum
Tujhe Kitna Chahne Lage Guitar Chords With Capo
Key: B (Original)'
Capo: 2nd Fret
after capo Key: A
Chords: A, E, F#m, D, B#m
Suggested Strumming: D D DUDU D
Dil ka dari[A]ya beh hi [F#m]gaya
Ishq i[D]badat ban hi [E]gaya
Khud ko [A]mujhe tu sonp [G#m]de
Meri [D]zaroorat tu ban [E]gaya
Baat dil [D]ki [E] nazron ne [C#m]ki 
[F#m]Sach keh ra[Bm7]ha teri [E]kasam
Tere [Bm]bin ab na lenge ik bhi [E]dam
Tujhe [D]kitna [E]chahne lage [A]hum
Tere [Bm]saath ho jayenge kha[E]tam
Tujhe [D]kitna [E]chahne lage [A]hum
Music
[D] [E] 
[F#m] [C#m] [D] [E] 
[F#m]
Baat dil [D]ki [E]nazron ne [C#m]ki
[F#m] Sach keh ra[Bm]ha teri ka[E]sam
Tere [Bm]bin ab na lenge ik bhi [E]dam
Tujhe [D]kitna [E]chahne lage [F#m]hum
Tere [Bm]saath ho jayenge kha[E]tam
Tujhe [D]kitna [E]chahne lage hum
Alap

[D] [E] [F#m] [C#m]
[D] [E] [F#m][C#m]
[D] [E] [F#m][C#m]
[D] [E] [F#m]
Tujhe [D]kitna [A]chahne lage hum
Learn to play
Kabir Singh – Mere Sohneya Guitar Chords
Kabir Singh – Kaise Hua Guitar Chords
Speechless Chords Aladdin
Shallow Chords
Hallelujah Guitar Chords
La Isla Bonita Chords