Kabir Singh – Kaise Hua Guitar Chords by Vishal Mishra from Kabir Singh
Presenting Kaise Hua Guitar Chords from the upcoming Bollywood film Kabir Singh. So here learn to play this beautiful song. 
Kaise Hua Guitar Chords
The song is in D major scale. To play this song we need five chords as D major, B minor, F# minor, G major A major and E minor. 
Scale:D
Chords: D, Bm, F#m, G, A, Em
Suggested Strumming: D DUDU D DUDU
in beginning: DD DD 
Track Info
Vishal Mishra has composed and sung this song, for Shahid Kapoor and Kiara Advani starrer movie Kabir Singh. Lyrics of the song have written by Manoj Muntashir.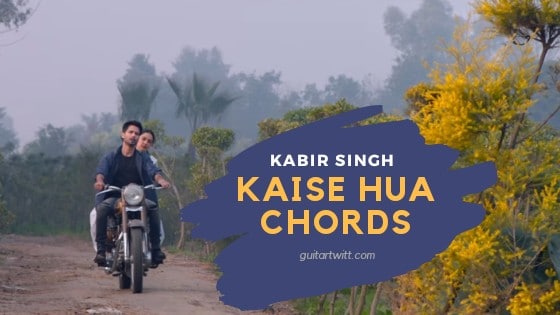 Song: Kaise Hua
Film: Kabir Singh (2019)
Singers: Vishal Mishra
Lyricist: Manoj Muntashir
Music: Vishal Mishra
Label: T-Series
Intro
[Bm]      
Hasta rehta hoon
Tujhse milkar kyun [F#m]aajkal,
[Bm]Badle badle hain
Mere tewar kyun [F#m]aajkal,
Aankhein me[G]ri [A]har ja[D]gah
Dhoonde tu[G]jhe [A]bewa[D]jah,
Ya main hoon [G]ya koyi aur [Em]hai
Meri ta[A]rah.
[D]Kaise huwa [F#m]kaise huwa
Tu [G]itna zaroori [A]kaise huwa,
[D]Kaise huwa [F#m]kaise huwa
Tu [G]itna zaroori [A]kaise huwa,
Music
[D]          [F#m]
[D]
Main baarish ki boli
Samajhta nahin tha,
[F#m]Hawaon se main
yun ulajhta nahin tha,
Hai [G]seene mein dil bhi
Kahan thi [A]mujhe ye kha[D]bar,
[A]
[Bm]Kahin pe ho raatein,
Kahin pe sawere,
Ye [F#m]aawargi hi rahi saath mere,
The[G]har ja, thehar ja
Ye kehti hai [A]teri na[D]zar, [F#m]
Kya [Bm]haal ho [Em]gaya hai ye me[A]ra,
Ankhein me[G]ri [A]har ja[D]gah
Dhoondein tu[G]jhe [A]bewa[D]jah
Ye main hoon [G]ya koyi aur [Em]hai,
Meri ta[A]rah…
[D]Kaise hua [F#m]kaise hua
Tu [G]itna zaruri [A]kaise hua
[D]Kaise hua [F#m]kaise hua
Tu [G]itna zaruri [A]kaise hua
You love to play
Kabir Singh – Tujhe Kitna Chahne Lage Chords
Kabir Singh – Bekhayali Guitar Chords
Aladdin Speechless Chords 
Summer of 69 Chords
Shallow Chords