A very beautiful song, which is easy to play on the guitar. The song is sung with the magical voice of Arjit Singh for Akshay Kumar's Keshri. Tanishq Bagchi has composed and written this song.
The song is very easy to play, only three chords are there to play this song. The song is on C major Scale.
A beginner also can play this song easily with a single chord C major.
Chords Info
Scale: C
Chords: C, F, G
Suggested Strumming: D UDD UUDD
Guitar
Ukulele
C – x32010
F – 133211
G – 320003
C – 0003
F – 2010
G – 0232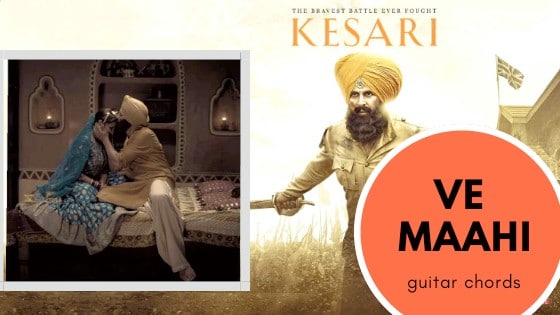 [Intro]



C




O maahi ve, o maahi ve


C




Mahi mainu chhadyo naa


C




Ke tere bin dil naiyo lagna


C




Jithe ve tu chalna ae


C




Maahi main tere pichhe pichhe chalna


 

[Verse 1]

       

F




Tu jee sakti nahi


               

C




Main jee sakta nahi


    

F

                   

C




Koi dusri ve main sarta rakhta nahi


    

F

  

G

 

C


Kya tere bajo mera

 
[Chorus]



C




Sachiyan mohabbat ve


C




O maahi kithe aur naiyo milna


C




(Kithe aur naiyo milna)


C




Jithe ve tu chalna han


C




Mahi main tere pichhe pichhe chalna


C




(Pichhe pichhe chalna)


 


C


O maahi ve, o maahi ve

 


[Verse 2]


C

                   

G




Dil vich tere yaara mainu rahne de


C

                           

G




Aankhon se yeh aankhon wali gal kahne de


C

                   

C




Dil vich tere yaara mainu rahne de


C

                           

G




Aankhon se yeh aankhon wali gal kahne de


 


F

                 

C




Dhadkan dil di ae tainu pahchane


   

F

                      

C


Tu mera hai main hun teri rab bhi yeh jane

 


[Pre-Chorus]


       

F




Tu rah sakti nahi


         

C




Main rah sakta nahi


     

F

                   

C




Tere bin yaara our kithe takda nahi


    

Am

  

G

  

C




Kya tere baju mera


 

[Chorus]



C




Rang tera chhadya ve


C




Ke hund koi rang naiyo chadna


C




Rang naiyo chadna


C




Jithe ve tu chalna han


C




Maahi main tere pichhe pichhe chalna


C




Pichhe pichhe chalna


 



[Outro]


C




Mahi mainu chhadyo naa


C




Ke tere bin dil naiyo lagna


C




Jithe ve tu chalna ae


C




Maahi main tere pichhe pichhe chalna


 


C




Mahi mainu chhadyo naa


C




Ke tere bin dil naiyo lagna


C




Jithe ve tu chalna ae


C




Maahi main tere pichhe pichhe chalna