Johnny Marr Jaguar review
When Fender allowed Marr to create his interpretation of the design, he delivered a clever, nuanced, and flawlessly executed take on this much-misunderstood and ultra-expressive instrument. 
Even if you're not a fan of Marr, this guitar has a lot to offer. If that's the case, you may simply remove Marr's signature on the headstock, as he does. 
In this article, we cover the neck, neck shape, color, fretboard of the guitar, and some other information related to the guitar. In short, we will give you a detailed review of the guitar.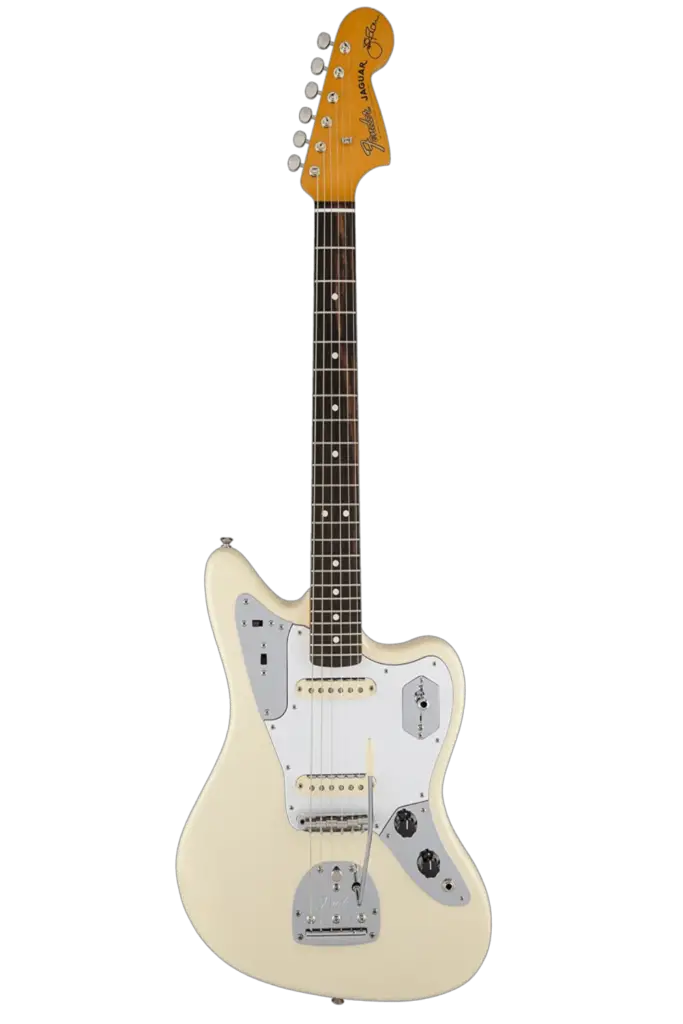 Fender Johnny Marr Jaguar
Johnny Marr's new Fender Jaguar does not copy a specific model, but it incorporates all of his proposed changes and is the identical guitar johnny plays personally (However, he does have the metal components aged and his signature removed from the headstock.)
Fender had produced him one in this black finish – a typical 'rockers' vibe – and thought it was a great complement to the other colors available. According to Fender, it's also the best-selling Jaguar in the lineup.
The numerous tweaks were carried out by a small team in the UK: Brit repair guru Bill Puplett, engineering whiz John Moore, and Tim Mills at Raw Knuckle, who set regarding 'unraveling' the Jag's eccentricities to improve the 'ugly ducking' while still maintaining the vibe of Fender's most leftfield solid body.
While the scale and fingerboard radius remain traditional, and the neck profile is based on one of Marr's Jags from 1965, the bridge saddles have been replaced with solid non-height adjustable Mustang saddles that sit flush on the bridge tray and create a wider string spacing – though this does mean that the outer strings get closer to the fingerboard edge as you progress up the 'board.
Body of guitar 
The Johnny Marr Jaguar, like virtually other Fender guitars built today, has a solid alder body. Because of its clarity and precision, alder is an excellent tonewood for solid-body guitars. It doesn't significantly increase any area of the tone range. It's also substantial without being overly weighty. This guitar does not feel cheap, yet it is comfortable to use for lengthy jam sessions or shows.
The offset body form is a prominent characteristic. Jaguars, like Jazzmasters, Mustangs, and Duo-Sonics, are offset guitars by Fender. In contrast to normal guitars, which have both inward curves of the waist squarely across from each other, offset guitars have one side of the waist offset from the other.
The offset Jaguar design is a highly popular guitar form in general. Fender has used it for almost 50 years, and it has grown popular in a wide range of genres since its inception. Whatever style you want, the Jaguar is one of the top guitars for any genre. It's even been made into a bass, known as the Jaguar Bass.
Also read:
PRS SE CUSTOM 24 Review
Colors of guitar 
This guitar is available in a variety of finishes. The Johnny Marr Jaguar is presently available in Knockout Orange and Olympic White. I love the Olympic White hue, but the KO orange has a wonderful metallic luster as well. It's undoubtedly an unusual hue within Fender's product variety – if you want to buy the more unique color, opt for orange.
The guitar is coated in a gloss nitrocellulose lacquer in whatever color you want. Nitrocellulose (sometimes known as nitro) is a premium finish commonly seen on antique and high-end guitars.
It's valuable because it allows the guitar's wood to breathe better than many current treatments. Nitro-finished guitars develop a nice patina and finish checking over time. Their sound is just getting better.
Neck & neck Shape of the guitar 
The neck is one of the Fender Johnny Marr Jaguar's most distinguishing characteristics. It's comparable to classic Jaguars in certain ways. On the other hand, it offers a handful of unique features that may persuade you to choose this model above any other similar guitars on the market.
After we've reviewed the guitar's small scale and how it impacts the sound, we can move on to the feel of the neck and fretboard. This guitar's neck is made of firm maple with no skunk stripe or decoration on the back of the neck.
On the back, the neck is likewise quite flat. Although not shallow, it swiftly reaches the rear of the D shape and does not curve much across the center of the neck. This distinguishes it from numerous Gibson-style necks, which players sometimes regard as baseball bats. In comparison, its neck feels boxier and less curved or U-shaped.
Fretboard of guitar
Finally, the top of the neck has a rosewood fretboard. This is a classic 7.25-inch radius form. It's a thicker slab of rosewood than you'll find on many boards, with an open-grain satin finish.
This fretboard has an excellent feel. It's smooth and warm, and it lets you smoothly slide up and down frets. It doesn't seem slow or sludgy, and it gives a lovely dose of vintage warmth to your sound. This is an excellent method to counteract the brightness of the tonewoods in the alder body and maple neck.
The 7.25-inch radius makes bending a little more difficult than on flatter guitars, but it makes barre chords easier to nail. This is because the strings in the middle of the guitar do not require as much effort to effectively press against the fretboard. If you're having trouble getting all of the notes in a barre chord to ring out, this guitar could assist.
Sound of guitar 
To get our feet wet in the Jaguar world, we started with a new American Vintage 62. It appears weedy, bright, and with a touch of bass light at first. However, when we tune in a clean Fender valve amp tone with reverb, substantial bass, and some mid-range scoop, we're taken back to the 1960s, surf and all.
The bridge pickup's high-end assault will get you heard even in the densest of mixes, while the twin pickup mix is more three-dimensional, with increased weight and a highly percussive, almost metallic attack.
The neck pickup, which sounds similar to a Strat's middle pickup, has lots of high-end with a deeper basic depth – it's bright enough for many of us to use as a lead pickup. When you move to the rhythm circuit, it's as if you've activated a muffle switch, even with both roller controls fully pressed.
If the American Vintage transports us back in time, the Marr Jag just wants to produce music and write songs. The combination of all the changes, particularly the neck, results in a fantastically usable platform – okay, you still have to think about those sliding switches – but the four-way switch is really useful.
Conclusion
Even if the Fender Johnny Marr Jaguar isn't a flawless guitar, it's certainly among the market's most intelligent choices. It transforms a charming but erratic design into something that is used frequently. The Johnny Marr Jaguar, in contrast to certain other Jaguar models, could readily serve as a player's sole instrument.