Maa Guitar Chords By Amitabh Bachan & Yajat Garg
It is true that there is nothing more in the world than the mother. We have this world started with mother only. Mother's selfless love cannot be found anywhere else. Whatever a mother gives her children, we can not fill her whole life. On the occasion of Mother's Day, a very beautiful song presented by the living legend Amitabh Bachan, and Yajat Garg. So here let's learn to play Maa Guitar Chords.
Presenting Maa Guitar Chords by Amitabh Bachan Yajat Garg.
Guitar Chords info
Scale: B
Chords: B, F#, G#m, D#m, E,
Song Credit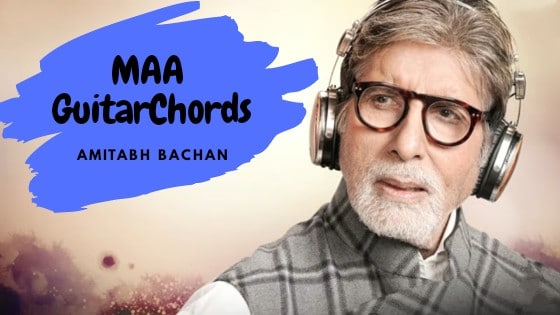 Song: Maa
Artist: Amitabh Bachan & Yajat Garg
Music: Anuj Garg
Lyrics: Puneet Sharma
Language: Hindi
Intro
[B] [F#] [G#m] [D#m]
[B] [E] [B]
[F#] [G#m] [E] [F#]
[B]Meri roti ki golai maa
[Dm]Sardi wali[E] ra[C#m]zaai maa [F#]
[B]Mera pehla akshar maa
[G#m]Mere sabse [E]bhitar maa

[B] Maathe ki pappi maa
[G#m]Sabse mithi jhappi maa
[C#m]Pani jaisi pya[B]ri
Kahani jaisi nyari maa
[C#m]Gudiya jaisi boli
[E]Rangeeli rangoli
[B]Meri nroti [F#m]ki [E]golai maa
[G#m] [F#] [E]
[B]
[E] [F#]
[B]Mere ro ti [F#]ki go[E]lai maa
[B]Mere sach ki sab sa[E]chchai maa
[D#m]Sweater wali[E] bu[F#]naai maa
[C#m]Chaaw se jyata thandi
[E]Kaanch pe lagi bindi [F#]
Darr [G#m]lagta hai [F#]jab ro[E]ti hai maa
Naa [D#m]hone pe [E]bhi hoti hai [F#]maa
[C#m]Lori jaisi komal [F#]Main [E]bacha wo aangan
[F#]Meri aankhon mein bhar [E]aai maa
Meri roti [F#]ki go[E]lai maa [B]Meri ro ti [F#]ki [E]
golai hai [B]maa