Wanted Chords by Onerepublic
Presenting Wanted Chords by Onerepublic. Learn to play Wanted Chords on Guitar by Onerepublic.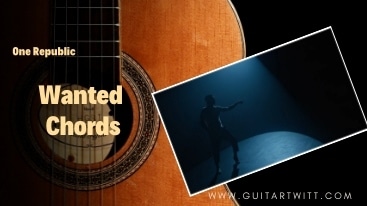 Chords Info
Key: C#
Capo: 1st Fret
Chords(After Capo): C, G, F, Am,
Suggested Strumming: D D D D D, DU DU DU DU
Chords Structures
The song is in C# or Db major scale, so we need C# major, G# major, F# major and Bb minor to play this song. To play this on easy open chords we use a capo on the first fret and use the following chords.
Capo: 1st fret
 Without Capo

C – x32010
G – 320003
F – 133211
Am – x02210

C# – x43121
G# – 466544
F# – 244322
Bbm – x13321
Track Info
Song: Wanted
Artist: OneRepublic
Produced by: Brent Kutzle, Tyler Spry, OneRepublic & Ryan Tedder
Album: 1R5
[Verse 1]
[F]She said "every time I close my eyes I [C]feel like I could
disa[G]ppear
I could [F]overflow an ocean with the [Am]cavalcade of all my [G]tears
And I [F]know I sound dramatic, but [C]that's just how it [G]feels"
[Em]She said "I'm [F]holdin' to the notion that I[Am]'ll find something re[G]al"
[Chorus]
Yeah I just want to be wan[F]ted, oh
[C]I could use a little [G]love sometimes
I just [Em]need to be [F]needed, oh
[Am]Like to know I'm crossin' [G]someone's mind
I just [C]want to be [F]someone that
[C]somebody [G]needs
I just [C]want to be [F]more than a [Am]drop in the [G]sea
I just [C]want to be
[Verse 2]
She said "I'm [N.C]countin' up my karma and I think it's time to cash it [G]in (cash it in)
[C]So tired of [F]livin' in a shadow of a [Am]mountain of what might've [G]been
(might've been)
[Em]And I [F]know I sound dramatic but [E]that's just how it [G]feels
[C]I've been [F]looking for somebody to [Am]tell me that I'm re[G]al"
[Chorus]
I just want to be wan[F]ted (oh)
[C]I could use a little [G]love
sometimes
I just need to be [F]needed (oh)
[Am]Like to know I'm crossin' [G]someone's mind
I just want to be [F]someone that
[C]somebody n[G]eeds
I just [Em]want to be [F]more than a [Am]drop in the [G]sea
[Bridge]
[N.C]I just want to be [F]wanted [C]
Oh [G]yeah
We just [Em]want to be wan[F]ted [Am]
Oo[G]hh
[Outro]
I just [C]want to be wan[F]ted
[C]I could use a little [G]love sometimes
I just [C]need to be [F]needed
[C]Like to know I'm crossin' [G]someone's mind