Papa Kehte Hain Guitar Chords

Presenting Papa Kehte Hain Guitar chords
Papa Kehte Hain is a very famous Bollywood song from the film Qayamat Se Qayamat Tak. Amir Khan and Juhi Chawla started their filmy career with this film. This song is sung by Udit Narayan. The composition of this song is given by Anand Milind and lyrics are penned by Majrooh Sultanpuri.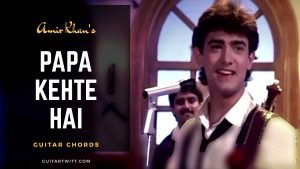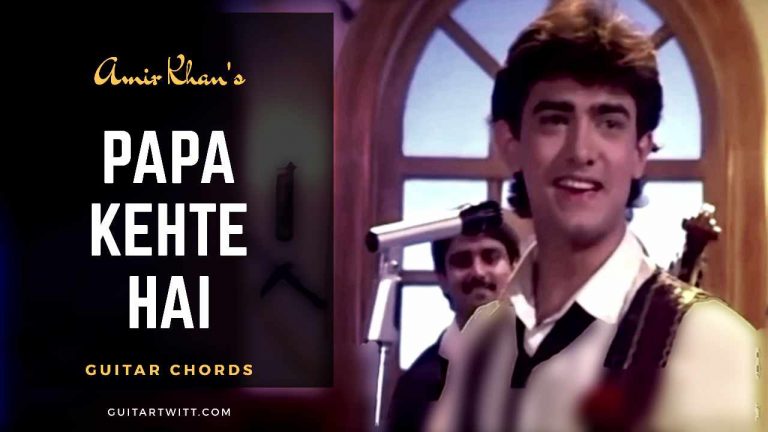 Song: Papa Kehte Hain
Singer: Udit Narayan
Film: Qayamat Se Qayamat Tak
Music: Anand Milind
Lyrics: Majrooh Sultanpuri
Cast: Amir Khan Juhi Chawla
Language: Hindi
Label: T-Series
Guitar Chords Details
If you are learner guitar player, so this song is abolutly for you. Cause this song is in C major Scale so it is easy to play for a beginner. The chords for this song are simple C major scale related chords are used in this song like C major, Am, F major, and G major. Also, its strumming pattern is good to play as DDU UDU down, down, up, up down up. This can be a perfect song to perform in your college farewell.
Scale: C
Chords: C, G, F, Am
Suggested Strumming: DDU UDU
Intro

C, Am, F, G
C, Am, F, G
"Humare liye college ka ye akhri din hai
Aur main janta hun ke aane wali zindagi ke lye
sabhi ne kuch na kucha soch rakha hai
Lekin maine apne liye kuch nahi socha hai
Aur aaj mujhe baar baar eki hi khyal aa raha hai"
[C]Papa keh[Am]te hain bada [F]naam kare[G]ga
[C]Beta ha[Am]mara aisa [F]kaam kar[G]ga
Magar [C]ye to koi naa [Am]jaane
Ke meri [F]ma[nzil hai ka[G]han

[C]Papa keh[Am]te hain bada [F]naam kare[G]ga
[C]Beta ha[Am]mara aisa [F]kaam kar[G]ga
Magar [C]ye to koi naa [Am]jaane
Ke meri [F]manzil hai ka[G]han

[C]Papa keh[Am]te hain bada [F]naam kare[G]ga aa [C]a


Stanza: 1
[C]Baithe hain milke sab yaar apne 
Sabke [F]dilon mein ar[G]maan ye [C]hai
[C] [Am] [F] [G]

[C]Baithe hain milke sab yaar apne 
Sabke [F]dilon mein ar[G]maan ye [C]hai aa a
[C]Wo zindagi mein kal kya banega 
Har ek [F]nazar ka [G]sapna ye [C]hai

[C]Koi en[Am]gineer ka [F]kaam kare[G]ga 
[C]Business [mein[Am] koi apna [F]naam kare[G]ga 
Magar [C]ye to koi na [Am]jaane 
Ke meri [F]manzil hai ka[G]han 
[C]Papa ke[Am]hte hain bada [F]naam kare[C]ga aa aa
Stanza 2
[C]Mera to sapna hai ek chehra
Dekhe jo [F]ushko [G]jhume [C]bahar 
[C] [Am] [F] [G]
[C]Mera to sapna hai ek chehra
Dekhe jo [F]ushko [G]jhume [C]bahar
[C]Gaalon mein khilte kaliyon ka mausam
Aankhon mein [F]jaadu [G]honthon pe [C]pyaar

[C]Banda ye [Am]khoobsurat [F]kaam kare[G]ga 
[C]Dil ki [Am]duniya mein apna [F]naam kare[G]ga

[Magar[C] ye to koi na [Am]jaane 
Ke meri [F]manzil hai ka[G]han

[C]Papa keh[Am]te hain bada [F]naam kare[G]ga
[C]Beta ha[Am]mara aisa [F]kaam kar[G]ga
Magar [C]ye to koi naa [F]jaane
Ke meri [F]manzil hai ka[G]han

[C]Papa keh[Am]te hain bada [F]naam kare[G]ga