Rula Diya Chords By Ankit Tiwari, Dhvani Bhanushali | Batla House
Learn to play "Rula Diya Chords" By Ankit Tiwari & Dhvani Bhanushali, for John Abraham's upcoming film BATLA HOUSE
Rula Diya Chords Info
The song is on the Bb or A# major scale, To play this song, we need five chords as shown below.
Scale: Bb
Chords: Bb, Gm, Eb, Cm, F
Suggested Strumming: DU DU DU DU
Chords Structure
Bb – x13331
Gm – 355333
Eb – x65343
Cm – x35543
F – 133211
Track Info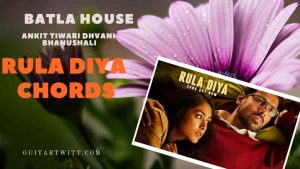 This beautiful duet is sung by Ankit tiwari along with Dhvani Bhanushali for the film BATLA HOUSE. The song is composed by Ankit Tiwari himself which is written by Prince Dubey.
Singer: Ankit Tiwari, Dhvani Bhanushali
Album: Batla House
Lyricist: Prince Dubey
Music: Ankit Tiwari
Cast: John Abraham, Mrunal Thakur
Music Label: T-Series
[Bb]Haa aa aa [Gm]aa aa
[Bb]Mmm mm
Dard woh kaafi [Gm]na tha
Jo [Eb]dard dene aa[F]ye ho
[Bb]Saansein hi bachi hain [Gm]mujhmein
Kya [Eb]jaan lene aa[F]ye ho
[Cm]Kismat ne kyun [Gm]humko [Bb]mila diya
Humko rula diya, hum[Gm]ko rula diya
[Bb]Phir [Eb]se aaj yaa[Cm]ra yeh [F]dil dukha diya
Hum[Bb]ko rula diya, hum[Gm]ko rula diya
Phir [Eb]se aaj yaara yeh [F]dil dukha diya
Music
[Bb] [Gm] [Eb] [F]
[Bb] [Gm] [Eb] [F]

Haa aa
[Bb]]Tu juda hoke [Gm]jaane kyun mila hai
[Eb]Sab le gaya mujhme [Bb]baaki kya ra[F]ha hai
[Bb]Aise halat hai ki [Gm]Kuch kar nahi sakte
[Eb]Bin tere jeena bhi kya [F]mar bhi nahi sakte
[Cm]Ae ishq tu[Eb]ne [Gm]Kya se [Bb]kya kiya
Humko rula diya, hum[Gm]ko rula diya
Phir [Eb]se aaj yaara yeh [F]dil dukha diya
Hum[Bb]ko rula diya, hum[Gm]ko rula diya
Phir [Eb]se aaj yaara yeh [F]dil dukha diya
Music
[Bb] [Gm] [Eb] [F]
[Bb] [Gm] [Eb] [F]
Door [Bb]tum chale jao na
[Gm]Mujhe chhod ke phir se
[Eb]Baat maano meri
[F]Pyar jo karte humse
Haaye [Bb]bin tere vaise bhi
[Gm]Zinda kahan hote hain
[Eb]Phirte hain paagal jaise
[F]Raat din rote hain
[Cm]Chahat mein te[Eb]ri [Gm]khud ko
Bhu[Bb]la diya aa [F]aa
Hum[Bb]ko rula diya, hum[Gm]ko rula diya
Phir [Eb]se aaj yaara yeh [F]dil dukha diya
Hum[Bb]ko rula diya, hum[Gm]ko rula diya
Phir [Eb]se aaj yaara yeh [F]dil dukha diya
[Bb]Humko[Gm] rula dii[Eb]ya
[Bb] Dil dukha diya a aa a
[Gm] phir se [Eb]rula diya aa [Bb]aa
Video