Chasni Guitar Chords by Abhijeet Srivastava | Vishal Shekehar
Presenting Chasni Guitar Chords from the Bollywood Film BHARAT. Here you can learn to play Chasni Guitar Chords.
Chords Info
The song is in F# major scale. So chords we need to play this song we need F# or Gb major, G# or Ab major, D# or Eb minor, B major, C# or Db major.
Key: F#
Chords: F#, G#, D#m, B, C#
Suggested Strumming:
To play this song with the capo, put the capo on 1st fret Then play this song on F major scale. Chords we need to play F, G, Dm, B, C
Song Credit
Chasni is a beautiful romantic song filmed, on on-screen duo Salman Khan & Katrina Kaif for their upcoming Bollywood Movie Bharat. The song is sung by Abhijeet Srivastava. Vishal Shekhar has composed this song. The song is penned by Irshad Kamil.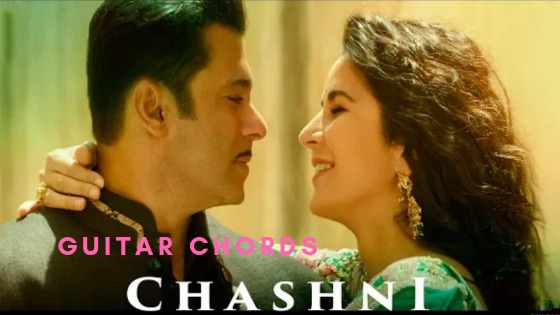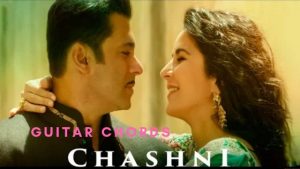 Song: Chasni
Film: Bharat
Singer: Abhijit Srivastava 
Music: Vishal & Shekhar 
Lyrics: Irshad Kamil
Language: Hindi
Music Label: T-Series
[F#]Jubaan hai fiki shaam se
Hui na tosey baat bhi 
Bina mein tere bewazah 
Hua hoon dekho [G#]aaj bhi [F#]

Karoon mein ye guzarishein
Mohabbaton ka mol de
Neendon mein meri khwab ka
Zara sa mitha bol de

Tu ban ja banja tu meri, tu ban ja 
banja, banja tu meri 
[G#]Tu ban ja ban[F#]ja banja tu [G#]meri 

Ishqe de [F#]chasni [B] o [C#]mitthi
mitthi [F#]chasni[B]

Maina man[F#]gunga [A#7]dhup [D#m]dheemi dheemi 
Maina [G#]mangu chand[F#]ni 
Mere [B]jeene mein tujh[D#m]se ho 
Ishqe di chas[B]ni[G#] o mitthi mitthi [D#m]chas[B]ni[C#]
[F#]Mere khyalon mein jo [D#m]tu ho 
To baatein hun mein [G#m]achchi 
achchi karta[B]
Hmm [F#]dekhun subah subah jo [D#m]tujhe
To sara din [B]achcha hai guzarta 
Ye [C#]kaisi teri [F#]arzoo, [D#m]
Ye kaisi teri [B]khwahishein [F#]
Tujhise dekho main karoon [D#m]
Teri hi far[B]mahishein  [F#]

Tu ban ja banja tu meri, [G#]tu ban ja 
ban[F#]ja, banja banja tu [G#]meri 
Ishqe de [F#]chasni[B] o mitthi
[C#]mitthi [F#]chasni [B] [F#]
Learn To Play International Classic
Shallow Chords by Lady Gaga
Hallelujah Guitar Chords
La Isla Bonita Chords