Chala Jata Hoon Guitar Chords by Sanam
When you are in travel, "Chala Jata Hoon"  is the best song to sing. Travelling is a collection of memory and when it mixes with music it becomes more colorful. Sanam Puri and his team doing the same with this classic song of Legend Kishore Kumar. So here we are Presenting Chala Jata Hoon Guitar Chords.
Song Credit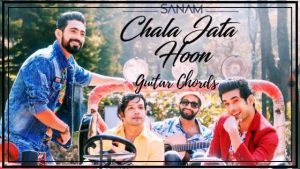 Song: Chala Jata Hoon
Singer: Sanam Puri
Guitar: Samar Puri
Bass: Venky S
Drums: Keshav Dhanraj
Original Song Credits
The song is composed by R D Burman and written by Majrooh Sultanpuri for superstar Rajesh Khanna's Mere Jeevan Saathi Film.
Singer: Kishore Kumar
Music: R.D.Burman
Lyrics: Majrooh Sultanpuri
Label: Saregama
Chords Details
Scale: F major
Chords: F, C, Bb, 
Suggested Strumming:
Na na na [C]nanna [F]na na na [Bb]na na
Nannana [F]na na na na na na
Chala [C]jata hun, [F]kisi ki [Bb]dhun mein
[F]Dhadakte dil ke, tarane liye
Chala [F]jata hun, kisi ki [Bb]dhun mein
Dhadakte [F]dil ke, tarane liye
Milan ki [Bb]masti, bhari aan[F]khon mein
Hazaron [Bb]sapane, suhane [F]liye,
Chala jata hun, kisi ki [Bb]dhun mein
[F]Dhadakte dil ke, tarane liye
Stanza
Ye masti [F]ke, nazaren hain, to aise [C]mein
Sambhalna [F]kaisa meri qasam
Tu laharati, Dagariya ho, to phir kyu [C]na
Chalon main [F]behaka bahaka re
Mere ji[Bb]van mein, ye shaam [F]ayi hai
Mohabaat [Bb]wale, zamane [F]liye,
Chala jata hun, kisi ki [Bb]dhun mein
[F]Dhadakte dil ke, tarane liye
Chala jata hun, kisi ki [Bb]dhun mein
[F]Dhadakte dil ke, tarane liye
Stanza
Vo aalam [F]bhi, ajab hoga, vo jab [C]mere
Karib a[F]yegi meri qasam
Kabhi baiyaan chuda legi, kabhi hans [C]ke
Gale se [F]lag jaegi hay
Meri baa[Bb]hon mein, machal jaa[F]yegi
Vo sache jhu[Bb]the bahaane [F]liye,
Chala jata hun, kisi ki [Bb]dhun mein
[F]Dhadakte dil ke, tarane liye
Chala jata hun, kisi ki [Bb]dhun mein
[F]Dhadakte dil ke, tarane liye
Chala jata hun, kisi ki [Bb]dhun mein
[F]Dhadakte dil ke, tarane liye
Lala la lala lala la [Bb]la la
Lala la [F]lala lala la lalaa ||x4
If you want to play original song then also play this stanza
Stanza
Baharon mein, nazaron mein, nazar daa[C]lun
To aisa laage [F]meri qasam
Vo nainon mein, bhare kajal, ghungat kho[C]le
Khadi hain [F]mere aage re
Sharam se bo[Bb]jhal jhuki pala[F]kon mein
Jawan raa[Bb]ton ke fasane [F]liye,
Chala jata hun, kisi ki [Bb]dhun mein
[F]Dhadakte dil ke, tarane liye
Chala jata hun, kisi ki [Bb]dhun mein
[F]Dhadakte dil ke, tarane liye