This is truly a beautiful composition when you play this on the guitar, you'll find there are lots of Chords variations in this song. So to play this song we need these Chord D major, C major, A major, F# minor, B minor, and E major, 
Chords Info
Scale: D
Chords: D, C, A, Bm, F#m, E, Em
Suggested Strumming: D D DUDU
D=Down Stroke
U=Up Stroke
Song Credit 
Sudhu Tomari Jonne is a beautiful song sung by Arijit Singh and Shreya Ghoshal. This beautiful composition is by Arindam Chatterjee and its lyrics are penned by Prasen. The song features Dev, Shrabanti, Soham, and Mimi.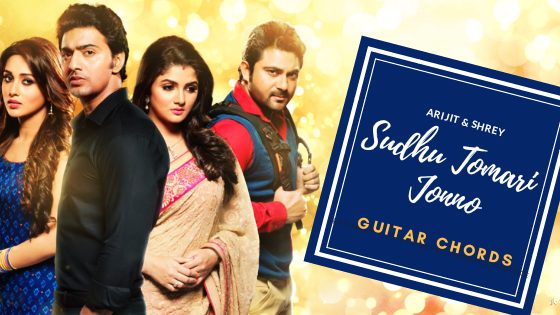 [D] Hote pari roddur, hote pari
brishti, hote pari [Bm]rasta tomari jo[Am]nne
Hote pari [D]bodnaam, hote pari
daaknaam, hote pari [Bm]sotti, tomari
jo[A]nne
Hote pari [D]golpo tumi kache[Bm]tanle, 
hote pari [F#m]janla ei ha[Em]wa o tomar
karo[A]ne

Shudhu tumi [D]chau jodi
Sajabo [E]abar nodi
Shudhu tumi [D]chau jodi
Sajabo [E]abar nodi
Eshechi hazar baaro[A]ne

Shu[D]dhu to[C]mari jo[G]nne 
Shu[D]dhu to[C]mari jo[D]nne [A] 
Shu[D]dhu to[C]mari jo[G]nne 
Shu[D]dhu to[C]mari jo[D]nne
Kotha dilo roddur, 
kohta dilo brishti, 
kotha dilo [Bm]rasta tomari jo[A]nne
Kheladhulo song[D]shar asha jaowa bar bar
Raaji holo [Bm]icche tomari jon[A]ne
Hote pari [D]golpo tumi kache [Bm]tanle
Hote pari [F#m]janla ei hao[Em]wa o tomar 
karo[A]n

Sudhu tumi [D]chau jodi
Sajabo [E]abar nodi
Shudhu tumi [D]chau jodi
Sajabo a[E]bar nodi
Eshechi hazar baro[A]ne

Shu[D]dhu to[C]mari jo[G]nne Shu[D]dhu
to[C]mari jo[D]nne [A]
Shu[D]dhu to[C]mari jo[G]nne Shu[D]dhu 
to[C]mari jo[D]nne