Learn to play Only The Young Chords Guitar and Piano by Taylor Swift. Easy Guitar Chords With Strumming Pattern.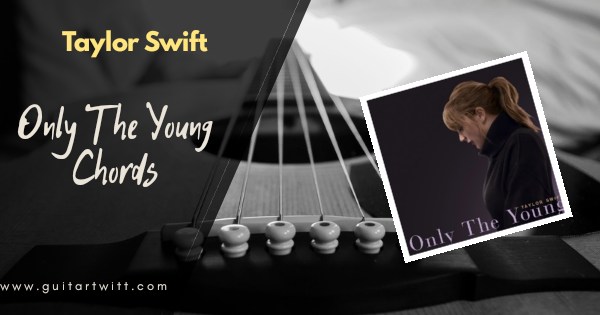 Only The Young Chords Info
The Song is on the D# major scale. To play easy guitar chords we can use a capo on the 3rd fret, and in the keyboard, we can transpose D# to C with following chords.
Tuning: Standard ( AEDGBE )
Key: D#
Capo: 3rd fret
Chords( With Capo ): C, G, Dm, F, Am, Dm
Suggested Strumming: D D DUDU D
D= Down Stroke, U = UpStroke
Only The Young Chords W/Wo Capo
Capo – 3rd fret ( C )
Without Capo ( D# )
C – x32010
G – 320003
Dm – xx0231
F – 133211
Am – x02210

D# – x65343
Bb – x13331, 688766
Fm – 133111
G# – 466544
Cm – x35543

[Verse 1]



    C




It keeps me awake


 


The look on your face




     G




The moment you heard the news




          Dm




You're screaming inside


 


And frozen in time




     F




You did all that you could do




     C




The game was rigged, the ref got tricked




     G




The wrong ones think they're right




             Dm                   F




You were outnumbered — this time


 
 
[Chorus]
              C




But only the young




           G




Only the young




           Dm




Only the young




           F           C    G




Only the young can run




Dm             F




Can run, so run




C




And run, and run


 
 
[Verse 2]



     C




So every day now


 


You brace for the sound




        G




You've only heard on TV




     Dm




You go to class, scared




                     F




Wondering where the best hiding spot would be




         C




And the big bad man and his big bad clan




         G




Their hands are stained with red




          Dm                 F




Oh, how quickly, they forget


 
 
[Pre-Chorus]
                   F




They aren't gonna help us




                          Am




Too busy helping themselves




                    F




They aren't gonna change this




                      Am




We gotta do it ourselves




                       F




They think that it's over




                 Dm




But it's just begun


 
 
[Chorus]
                    F




Only one thing can save us




           C




Only the young (Only the young)




           G




Only the young (Only the young)




           Dm




Only the young (Only the young)




           F




Only the young


 
 
[Post-Chorus]
           C




Only the young (Only the young)




           G




Only the young (Only the young)




           Dm




Only the young (Only the young)




           F




Only the young




           C




Only the young (Only the young)


 


(Don't say you're too tired to fight


 


It's just a matter of time


 


Up there's the finish line)




           G




Only the young (Only the young)




           Dm




Only the young (Only the young)




           F




Only the young




       C




Can run


 


C




Don't say you're too tired to fight




G




It's just a matter of time (Can run)




Dm




Up there's the finish line




F




So run, and run, and run




C




Don't say you're too tired to fight




G




It's just a matter of time (So run)




Dm




Up there's the finish line




F




And run, and run, and run


 
 
[Intro]
C




Only the young




G




Only the young




Dm              F




Only the young
Only The Young Track Info
Song: Only The Young
Artist: Taylor Swift
Keyboard: Joel Little
Produced by Joel Little & Taylor Swift
Written By: Taylor Swift
Release Date: January 31, 2020
Audio