Teri Mitti Chords
Presenting Teri Mitti Chords. A song that awakens the inner spirit of patriotism within you. Hope that you love to play Teri Mitti Chords.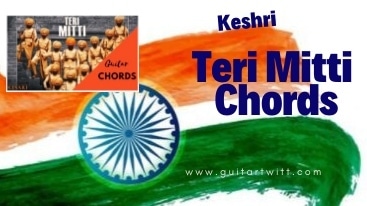 Chords Details
This song is on Eb or D# major, So chords used in this song are Eb, G#, Cm, Bb.
Scale: Eb
Chords: Eb, G#(Ab), Cm, Bb,
Suggested Strumming: D UUD
Song Credit
The song Teri Mitti is from the Akshay Kumar's most awaited Bollywood film Keshri. The song is beautifully sung by B Praak. Composed by Arko, and the lyrics are written by Manoj Muntashir.

Song: Teri Mitti
Film: Keshri
Singer: B Prak
Music: Arko
Lyrics: Manoj Muntashir
Music Label: Zee Music Company
Language: Hindi
Year: 2019
[Eb]
Talwaron pe sar war diye
Angaron me j*sm jalaya hai
Tab ja ke kahin humne sar pe
Ye Kesari rang sajaya hai
Ae [Eb]meri zameen afsos nahi
Jo tere liye sau dard sahe
Mah[G#]fooz rahe teri a an sada
Chahe [Eb]jan meri ye rahe na rahe
[Eb]Aye meri zameen mehboob meri
Meri [Cm]nas-nas mai tera Ishq bahe
[G#]Pheeka na pade kabhi rang tera
Jis[Eb]mon se nikal ke khoon kahe
[Eb]Teri mitti me mil jawan
Gul [Cm]ban ke Mai khil jawan
It[G#]ni si hai dil ki [Eb]arzoo
[Eb]Teri nadiyon mai bah jawan
Teri kheton mein lahrawan
It[G#]ni si hai dil ki [Eb]arzoo
[Eb]Sarson se bhare khalyan mere
Jahan jhoom ke bhangda pa na saka
Aa[Bb]bad rahe wo ganw mera
Jahan [G#]laut ke wapas ja na saka
O [Eb]watna ve mere watna ve
Tera mera pyar [Cm]nirala tha
Qur[G#]baan hua teri asmat pe
Mai [Eb]kitna naseebon wala tha

[Eb]Teri mitti mai mil jawan
Gul ban ke main [Cm]khil jawan
It[G#]ni si hai dil ki [Eb]arzoo
Teri [G#]nadiyon mai bah jawan
Teri [Eb]kheton me lahrawan
It[G#]ni si hai dil ki [Eb]arzoo
O [Eb]heer meri tu hasti rahe
teri ankh ghadi bhar nam na ho
Mai marta tha jis mukhde pe
Kabhi uska ujala kam na ho [G#]
O [Eb]mayi meri kya fikra tujhe
Kyun ankh se dariya bahta hai
Tu kahti thee tera chand hoon Mai
Aur chand hamesha rahta hai
[Eb]Teri mitti me mil jawan
Gul ban ke Mai [Cm]khil jawan
It[G#]ni si hai dil ki [Eb]arzoo
[Eb]Teri nadiyon me bah jawan
Teri faslon me lahrawan
It[G#]ni si hai dil ki [Eb]arzoo