This beautiful song is sung by Arijit Singh for Mahendra Singh Dhoni's Biopic film "M.S.Dhoni" played by Sushant Singh Rajput.
Amaal Malik Composed the song that penned by Manoj Muntashir.
This song is on the E major Key, to play the song we need only five chords as shown below.
Chords info
Scale: E
Chords: E, A, B, F#m, C#m
Suggested Strumming: D UUD
Track Info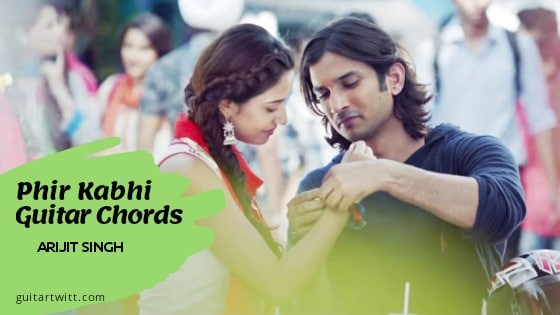 Track Info
Song: Phir Kabhi
Singers: Arijit Singh
Film: M.S.Dhoni -The Untold Story
Music: Amaal Malik
Lyrics: Manoj Muntashir
Music Label: T-Series
Intro
[E] [A]

Yeh lamha jo [E]thehra hai
[A]Mera hai ye [E]tera hai
Yeh [F#m]lamha main jee loon [B]zara
[E]Tujh mein khoya rahoon main
[C#m]Mujh mein khoyi rahe tu
[A]Khudko dhoondh lenge phir ka[B]bhi
[E]Tujhse milta rahoon main
[C#m]Mujhse milti rahe tu
[A]Khud se hum milenge phir ka[B]bhi
Haa. phir ka[E]bhi [A]
[E] [B] [C#m]
[A] [N.C]
[E]Kyun bewajah gungu[A]naaye
[E]Kyun bewajah musku[A]raaye
[C#m]Palkein [B]chamakne la[A]gi hai
[F#m]Ab khwaab [B]kaise chu[E]paaye
Behki [A]si baa[E]tein kar lain
Hans hans [A]ke aan[G#m]khen bhar [C#m]lain
Ye [F#m7]behoshiyan phir ka[B]han
[E]Tujh mein khoya rahoon main
[C#m]Mujh mein khoyi rahe tu
[A]Khudko dhoondh lenge phir ka[B]bhi
[E]Tujhse milta rahoon main
[C#m]Mujhse milti rahe tu
[A]Khud se hum milenge phir ka[B]bhi
Haa. phir ka[E]bhi
[A] [F#m] [E]
Dil pe taras aa ra[A]ha hai
[E]Pagal kahin ho na [A]jaaye
[C#m]Woh bhi main [B]sun'ne la[A]ga hoon
[F#m]Jo tum ka[B]bhi keh na [E]paaye
Yeh subah phir aayegi [A]Yeh shamein
phir [C#m]aayengi
Yeh [F#m]nazdeekiyaan phir [B]kahan
[E]Tujh mein khoya rahoon main
[C#m]Mujh mein khoyi rahe tu
[A]Khudko dhoondh lenge phir ka[B]bhi
[E]Tujhse milta rahoon main
[C#m]Mujhse milti rahe tu
[A]Khud se hum milenge phir ka[B]bhi
Haa. phir ka[E]bhi
Ho o [A]o mm phir [E]Kabhi