Aye Watan Tere Liye | Kavita Krishna murthy & Md. Aziz | Karma | Chords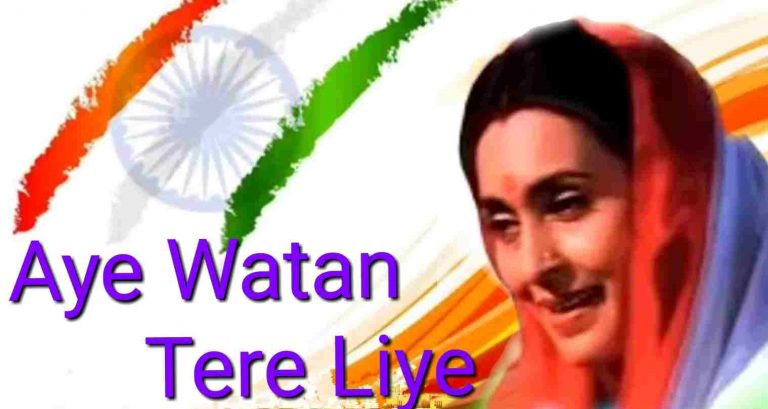 Song: Aye Watan Tere Liye
Film: Karma
Singer: Md. Aziz & Kavita Krishnamurthy
Music: Laxmikant-Pyarelal
Lyrics: Anand Bakshi
Label: Saregama India Ltd
Language: Hindi
Year: 1986
Presenting Aye Watan Tere Liye Guitar Chords
A True Patriotism comes whenever you listen this song
Dil Diya Hai Jaan Bhi Denge is a very beautiful patriotic song from the film Karma. the song is sung by Mohammad Aziz and Kavita Krishnamurthy.This Composition is composed by Laxmikant Pyarelal and Lyrics are written by Anand Bakshi.
Chords & Strumming
We are going to play this song on A minor scale. So all the A minor scale Chords we use to play this song.
Scale: A minor
Chords: Am, G, F, Dm, Em
Strumming: D D UUD
Chorus
Mera [Am]karma tu
[G]mera dharma tu
Tera [G]sab kuch main
mera [Am]sab kuch tu
[Am]Hmm mm mm 
hmm [C]hm
Aa aa aa[G]
aa aa [F]aa aa aa [Am]aa
[Am]Har karam ap[G]na
ka[Am]renge
[Am]Har karam ap[G]na
ka[Am]renge
Aye wa[G]tan [Dm]tere [Am]liye
Dil [Am]diya hai
[G]jaan bhi [Dm]denge
Aye wa[G]tan
[Dm]tere [Am]liye
Chorus

[Am]Har karam ap[G]na
ka[Am]renge
Aye wa[G]tan [Dm]tere [Am]liye
Dil [Am]diya hai [G]jaan bhi [Dm]denge
Aye wa[G]tan [Dm]tere [Am]liye
[Am]Har karam ap[G]na
ka[Am]renge
Aye wa[G]tan [Dm]tere [Am]liye
Chorus
Dil [Am]diya hai [G]jaan bhi
[Dm]denge
Aye wa[G]tan [Dm]tere
[Am]liye

Stanza 1
[Am]Tu mera karma [Dm]tu mera
[G]dharma
[Am]Tu mera abhi[Am]maan hai
Chorus
[Am]Aye wa[G]tan meh[Am]boob [G]mere
[Am]Tujh pe [G]dil kur[Am]baan hai
[Am]Aye wa[G]tan meh[Am]boob [G]mere
[Am]Tujh pe [G]dil kur[Am]baan hai
[Am]Hum jiye[Dm]nge
[G]aur marenge
Aye wa[Dm]tan [Am]tere liye
Dil [Am]diya hai [G]jaan bhi
[Dm]denge
Aye wa[G]tan [Dm]tere [Am]liye
Dil [Am]diya hai [G]jaan bhi
[Dm]denge
Aye wa[G]tan [Dm]tere [Am]liye
Stanza 2

[Am]Hindu muslim sikh isaie
[]Hum watan ek [Am]naam  hai
Chorus
[Am]Hindu muslim sikh isaie
[]Hum watan hum [Am]naam  hai
[Am]Jo kare in[Dm]ko [G]juda
[G]Majhab nahi il[Am]zam hai
[Am]Hum jiye[Dm]nge
[G]aur marenge
Aye wa[Dm]tan [Am]tere liye
Chorus
Dil [Am]diya hai [G]jaan bhi
[Dm]denge
Aye wa[G]tan [Dm]tere [Am]liye
Dil [Am]diya hai [G]jaan bhi
[Dm]denge
Aye wa[G]tan [Dm]tere
[Am]liye

Stanza 3

[Am]Tere galiyon [Dm]mein chalakar
[G]Nafraton ki goli[Dm]yaan
Lut [C]te hai kuch lu[G]tere
Dul[Dm]hano ki [Am]doliya
Lut [C]te hai kuch lu[G]tere
Dul[Dm]hano ki [Am]doliya
Chorus
[Am]Lut rahe hai [Em]aabru
[Am]Apne gharo ko lutkar
[Am]Lut rahe hai [Em]aabru
[Am]Apne gharo ko lutkar
[Am]Khelte hai [G]bekhabar
[F]apne lahoo se [Am]holiyaan
[Am]Hum jiye[Dm]nge
[G]aur marenge
Aye wa[Dm]tan [Am]tere liye
Chorus
Dil [Am]diya hai [G]jaan bhi
[Dm]denge
Aye wa[G]tan [Dm]tere
[Am]liye
[Am]Har karam ap[G]na
ka[Am]renge
Aye wa[G]tan [Dm]tere
[Am]liye
Dil [Am]diya hai [G]jaan bhi
[Dm]denge
Aye wa[G]tan [Dm]tere
[Am]liye
Chorus
[Am]Har karam ap[G]na
ka[Am]renge
Aye wa[G]tan [Dm]tere
[Am]liye
Dil [Am]diya hai [G]jaan bhi
[Dm]denge
Aye wa[G]tan [Dm]tere
[Am]liye