Chale Aana Guitar Chords by Armaan Malik
Presenting Chale Aana Guitar Chords. A beautiful song by Armaan Malik's melodious voice for the film De De Pyaar De. You must love to play this song on guitar. So pick up the guitar and let's learn to play this song.
Chale Aana Guitar Chords Info
Key: F#m
Chords: F#m, C#m, D, Bm, E
Suggested Strumming: D UUD D

D=Down Stroke,
U=Up Stroke,
For Capo users
Capo: on the 1st Fret
Chords: Fm, Cm, C#, Bbm, D#
Song Credit
Chale Aana is a beautiful song from Ajay Devgan's Romantic Comedy Film De De Pyaar De. The song is sung by Armaan Malik. This composition is composed by Amaal Malik. Kunaal Verma has penned this song.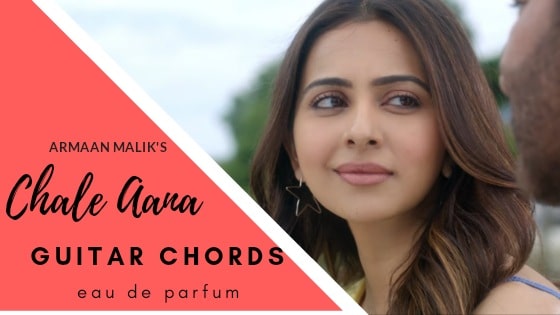 Song: Chale Aana
Film: De De Pyaar De
Singer: Armaan Malik
Music: Amaal Malik
Lyrics: Kunaal Verma
Language: Hindi
Year: 2019
Koyi kisi ke bina nahi marta
Aadat ki baat hai
Tumhari bhi chhoot jayegi
Meri bhi chhoot jayegi
Intro Music
[F#m] [D] [F#m]
Judaa hum ho gaye maa[E]na
Magar yeh [C#m]jaan lo jaa[D]na
[F#m] [E] [D]
Judaa hum [F#m]ho gaye maa[E]na
Magar yeh [C#m]jaan lo jaa[D]na
Kabhi main [Bm]yaad aaun [E]to
Chale aa[C#m]na, chale aa[D]na
Tumhein main [F#m]bhool jaun[E]ga
Yeh baatein [C#m]dil mein na la[D]na
Kabhi main [Bm]yaad aaun [E]to
Chale aa[C#m]na, chale aa[D]na
Music
[F#m] [E] [C#m] [D]
[Bm] [E] [C#m] [D]
Tha kaun mera, [B]ek tu hi [A]tha [F#m]
Saan[D]son se zyada jo zaruri [E]tha
[F#m]Tere liye main kuchh nahi leki[C#m]n
Me[D]re liye tu mera sab kuchh [E]tha

Nahi jaa[F#m]na bhula kar[E]ke
Yeh baatein [C#m]tum hi kehte [D]the
Rahi khushi[Bm]yaan nahi [E]meri
Ke tum bhi [C#m]waqt jaise [D]the
Yahin tak [F#m]tha safar ap[E]na
Tumhein hai [C#m]laut kar jaa[D]na
Kabhi main [Bm]yaad aaun [E]to
Chale aa[C#m]na, chale aa[D]na
Music
[F#m] [E] [C#m] [D] [Bm] [E]
[C#m] [D]
Na ra, na [F#m]na ra na
Ae he he he he he [Bm]he .
Hmm o ho o ho [C#m]ho
Chale aana, chale aa[Bm]na