Chitthi Guitar Chords By Jubin Nautiyal
Now a day's Jubin Nautiyal's every music video becomes a super hit. Now pick up your guitar and let's sing this song with perfect guitar chord combination. Presenting Chitthi Jubin Nautiyal Guitar Chords.
Song Credit
"Chitthi" is a beautiful song sung by Jubin Nautiyal feat. Jubin Nautiyal and Akanksha Puri. The song is composed by Khajan Dutt Sharma. Kumaar wrote this beautiful lyrics.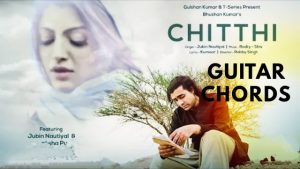 Song: Chitthi
Singer: Jubin Nautiyal
Lyrics: Kumaar
Music: Khajan Dutt Sharma
Feat: Jubin Nautiyal, Akanksha Puri
Music Label: T- Series
Language: Hindi
Year: 2019
Chords Details
Scale: Fm
Chords: Fm, G#, Eb, C#, Bbm
Suggested Strumming: D UUD

[Fm]Aankhiyon ka hai ye [G#]pani bezubaan
[Bbm]Dard mera keh [Eb]paaye na
[Fm] Ankhiyon ka hai ye [G#]pani bezubaan
[Bbm]Dard mera keh [Eb]paaye na

[Fm]O saathi o saathi [Eb]o saathi
Teri [Fm]chitthi pate pe [C#]aaye na

[Fm]O saathi o saathi [Cm]o saathi
Tera [C#]chitthi pate pe [Fm]aaye na

[Fm]Teri meri [G#]kahani keh raha
[Bbm]Dil ka toota [C#]aaiyna
[Fm]O saathi o saathi [Eb]o saathi
Tera [Fm]chitthi pate pe [C#]aaye na

[Fm]O saathi o saathi [Cm]o saathi
Tera [C#]chitthi pate pe [Fm]aaye na

[Fm]Chanda ke bin to har [G#]sitara
[Bb]Jaise lage bujha [Fm]bujha raat mein
[Eb]Kyun lagey bujha [C#]bujha

[Fm]Haath jo chutey [G#]to lakeeron ka
[Bb]Rang lagey udaa [Fm]udaa [Eb]haath mein
[Cm]Kyon lagey udaa [Fm]udaa

[Fm]Poochey mera mujhe ye raasta
[Fm]Rakha kyun musaafiron se vaasta
Rab tak ye pau[G#]chani hai duaa
[Bbm]Kyun ye duaa rang [Eb]laaye na


[Fm]O saathi o saathi [G#]o saathi
Tera [Bbm]chitthi pate pe [Eb]aaye na
[Fm]O saathi o saathi [Eb]o saathi
Tera [Fm]chitthi pate pe [C#]aaye na

[Fm]O saathi o saathi [Cm]o saathi
Tera [C#]chitthi pate pe [G#]aaye na

[G#] [C#] [Bbm] [C#]
Haa [Fm]kho diya hai [G#]maine sab kuch
[Bbm]Jaan bhi [Eb]ab jaaye na

[Fm]O saathi o saathi [Eb]o saathi
Tera [Fm]chitthi pate pe [C#]aaye na
[Fm]O saathi o saathi [Cm]o saathi
Tera [C#]chitthi pate pe [Fm]aaye na