Chura Liya Hai Guitar Tab
When you love Bollywood songs? This song you must like to play. So hope that you like to play solo for this song, in this lesson we provide Chura Liya Hai Guitar Tab / Solo lesson. To play any song accurately must listen to the song properly which you are going to play. The tablature of any song is not so accurate as compared with sheet music. Even though we try to provide you the perfect note for you.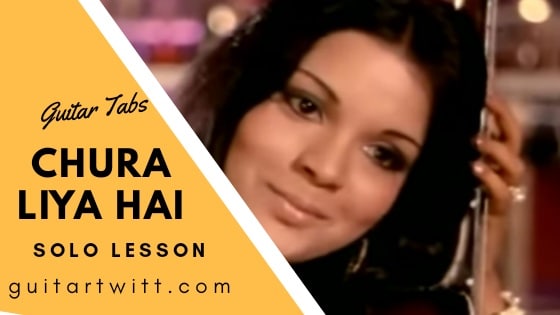 Song Details
Chura Liya Hai Tumne Jo Dil Ko is a very famous song of Bollywood which is sung by living legend Asha Bhosle along with Legend Mohammad Rafi.
This superhit composition is composed by R D Burman.
Like To Play
Chura Liya Hai Guitar Chords
Scale: Am
E|--5-5--8-7-5-5--5/7-5--------------|




B|----------------------8------------|




G|-------------------------7---------|




D|-----------------------------------|




A|-----------------------------------|




E|-----------------------------------|




Chura liya hai tumne jo dil ko





 





E|--5-5--8-7-5-5--5/7-5-4------------|




B|-----------------------------------|




G|-----------------------------------|




D|-----------------------------------|




A|-----------------------------------|




E|-----------------------------------|




Najar nahi churana sanam





 





E|--5-5--8-7-5-5--5/7-5--------------|




B|----------------------8------------|




G|-------------------------7---------|




D|-----------------------------------|




A|-----------------------------------|




E|-----------------------------------|




Badal Ke Meri Tum Zindagani





 





E|--5-5--8-7-5-5--5/7-5-4------------|




B|-----------------------------------|




G|-----------------------------------|




D|-----------------------------------|




A|-----------------------------------|




E|-----------------------------------|




Kahin Badal Na Jana Sanam





 





E|--10-10-10/12--13-10\7-------------|




B|-----------------------------------|




G|-----------------------------------|




D|-----------------------------------|




A|-----------------------------------|




E|-----------------------------------|




Le Liya Dil





 





E|--10-10-10/12--13-10\7-------------|




B|-----------------------------------|




G|-----------------------------------|




D|-----------------------------------|




A|-----------------------------------|




E|-----------------------------------|




Hai Mera Dil





 





E|9/10-9----9-7----9-7----9-7--------|




B|-------10-----10-----10-----10-10--|




G|-----------------------------------|




D|-----------------------------------|




A|-----------------------------------|




E|-----------------------------------|




Hai Dil Lekar Mujhko Na Tadpana





 





E|5-5-8-7----------------------------|




B|-----------------------------------|




G|-----------------------------------|




D|-----------------------------------|




A|-----------------------------------|




E|-----------------------------------|




Chura Liya





 



Stanza1



E|--5-7-8-10-10-10-10-8-7------------|




B|-----------------------------------|




G|-----------------------------------|




D|-----------------------------------|




A|-----------------------------------|




E|-----------------------------------|




Bahar Ban Ke Aaun Kabhi





 





E|5-7-8-8-8-8------------------------|




B|-----------------------------------|




G|-----------------------------------|




D|-----------------------------------|




A|-----------------------------------|




E|-----------------------------------|




Tumhari Duniya Mein Mein





 





E|--5-7-8-10-10-10-10-8-7------------|




B|-----------------------------------|




G|-----------------------------------|




D|-----------------------------------|




A|-----------------------------------|




E|-----------------------------------|




Gujzar Na Jaye Ye din Kahin





 





E|5-7-8-7-5-5------------------------|




B|-----------------------------------|




G|-----------------------------------|




D|-----------------------------------|




A|-----------------------------------|




E|-----------------------------------|




Isi Tamanna Mein





 





Bahar Ban Ke Aaun Kabhi




Tumhari Duniya Mein




Gujar Na Jaye Ye Din Kahin




Isi Tamanna Mein





 





E|--10-10-10/12--13-10\7-------------|




B|-----------------------------------|




G|-----------------------------------|




D|-----------------------------------|




A|-----------------------------------|




E|-----------------------------------|




Tum Mere Ho





 





E|--10-10-10/12--13-10\7-------------|




B|-----------------------------------|




G|-----------------------------------|




D|-----------------------------------|




A|-----------------------------------|




E|-----------------------------------|




Haan Tum Mere Ho





 





E|9/10-9----9-7----9-7----9-7--------|




B|-------10-----10-----10-----10-10--|




G|-----------------------------------|




D|-----------------------------------|




A|-----------------------------------|




E|-----------------------------------|




Aaj Tum Itna Vaada Karke Jana





 





E|5-5-8-7----------------------------|




B|-----------------------------------|




G|-----------------------------------|




D|-----------------------------------|




A|-----------------------------------|




E|-----------------------------------|




Chura Liya




Chura Liya Ha Tumne Jo Dil KO




Najar Nahin Churana Sanam




Badal Ke Meri Tum Zindagani




Kahin Badal Na Jana Sanam





 





Stanza2




E|-----------------------------------|




B|--------3-3-3-3--------------------|




G|--2-4-5---------5-4----------------|




D|-----------------------------------|




A|-----------------------------------|




E|-----------------------------------|




Sajaunga Lut Kar Bhi Tere





 





E|-----------------------------------|




B|-----------------------------------|




G|--2-4-5-5-5-5----------------------|




D|-----------------------------------|




A|-----------------------------------|




E|-----------------------------------|




Badan Ki Dali Ko





 





E|-----------------------------------|




B|--------3-3-3-3--------------------|




G|--2-4-5---------5-4----------------|




D|-----------------------------------|




A|-----------------------------------|




E|-----------------------------------|




Lahu Jigar Ka Dunga Hasi





 





E|-----------------------------------|




B|-----------------------------------|




G|--2-4-5-4-2-2----------------------|




D|-----------------------------------|




A|-----------------------------------|




E|-----------------------------------|




Labon Ki Lali Ko





 





Sajaunga Lut Kar Bhi Tere




Badan Ki Dali Ko




Lahoo Jigar Ka Dunga Hasi




Labon Laali Ko





 





E|-----------------------------------|




B|--3-3-3/5--6-3---------------------|




G|---------------4-------------------|




D|-----------------------------------|




A|-----------------------------------|




E|-----------------------------------|




Hai Wafa Kya Is Jahan Ko





 





E|-----------------------------------|




B|--3-3-3/5--6-3--------------------|




G|---------------4-------------------|




D|-----------------------------------|




A|-----------------------------------|




E|-----------------------------------|




Is Jaha Ko





 





E|-----------------------------------|




B|--3--2---2------2-----2------------|




G|-------2---4--2---4-2---4-2-2------|




D|-----------------------------------|




A|-----------------------------------|




E|-----------------------------------|




Ek Din Dikhla Dunga Main Deewana





 





E|-----------------------------------|




B|-----------------------------------|




G|1/2-2-5-4--------------------------|




D|-----------------------------------|




A|-----------------------------------|




E|-----------------------------------|




Chura Liya





 





E|-----------------------------------|




B|-----------------------------------|




G|--2-2-5-4-2-2-2/5-2----------------|




D|--------------------5--------------|




A|----------------------5------------|




E|-----------------------------------|




Chura Liya Hai Tumne Jo Dil Ko





 





E|-----------------------------------|




B|-----------------------------------|




G|2-2-5-4-2-2-2/4-2-1----------------|




D|-----------------------------------|




A|-----------------------------------|




E|-----------------------------------|




Najar Nahi Churana Sanam





 





E|-----------------------------------|




B|-----------------------------------|




G|--2-2-5-4-2-2-2/5-2----------------|




D|--------------------5--------------|




A|----------------------5------------|




E|-----------------------------------|




Badal Ke Meri Tum Zindagani





 





E|-----------------------------------|




B|-----------------------------------|




G|2-2-5-4-2-2-2/4-2-1----------------|




D|-----------------------------------|




A|-----------------------------------|




E|-----------------------------------|




Kahin Badal Na Jana Sanam




Le Liya Dil Hai Mera Dil




Hai Dil Lekar Mujhko Na Behlana




Chura Liya Hai Tumne Jo Dil Ko




Najar Nahi Churana Sanam