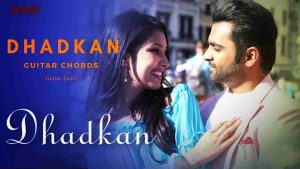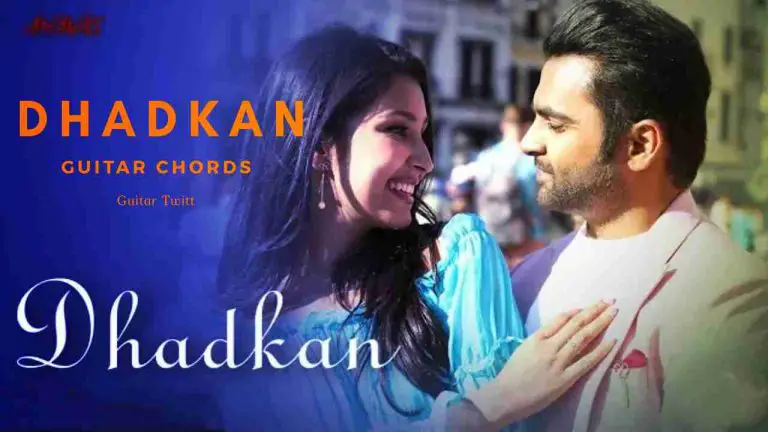 Song: Dhadkan
Film: Amavas
Singer: Jubin Nautiyal & Palak Muchhal
Music: Sanjeev Darshan
Lyrics: Sandeep Nath
Cast: Sachin J & Nargis Fakhri
Music Label T-series
Language: Hindi
Year: 2019
Introducing Dhadkan Guitar Chords
Dhadkan is a beautiful duet song from the Bollywood film Amavas. This beautiful song is sung by Jubin Nautiyal & Palak Muchhal. This composition is composed by Sanjeev Darshan and written by Sandeep Nath.
Chords Details
Dhadkan guitar Chords are arranged as par F major scale chords combination. The chords are used as F major, C Major Bb major D minor and A minor. Strumming use to play down down up up down up.
Scale: F Major
Chords: F, C, Bb, Dm, Am
Suggested Strummin: D DU UDU
[F]Saans lene se bhi jyada
Tum [Dm]zaroori ho [Gm]gaye
Jee [C]rahe the hum [Bb]adhoore
Tumse [Bb]poore ho [F]gaye
[F ]Saans lene se bhi jyada
Tum [Dm]zaroori ho [Gm]gaye
Jee [C]rahe the hum [Bb]adhoore
Tumse [Bb]poore ho [F]gaye


[Am]Meri dhad[Dm]kan [Am]teri dha[Dm]dkan
[Dm]Dono dilon ki [Bb]ek hai tad[F]pan

[Am]Meri dhad[Dm]kan [Am]teri dha[Dm]dkan
[Dm]Dono dilon ki [Bb]ek hai tad[F]pan
[F ]Saans lene se bhi jyada
Tum [Dm]zaroori ho [Gm]gaye
Jee [C]rahe the hum [Bb]adhoore
Tumse [Bb]poore ho [F]gaye


[Am]Meri dhad[Dm]kan [Am]teri dha[Dm]dkan
[Dm]Dono dilon ki [Bb]ek hai tad[F]pan

[Am]Meri dhad[Dm]kan [Am]teri dha[Dm]dkan
[Dm]Dono dilon ki [Bb]ek hai tad[F]pan
[F]Aankhein ye meri jo [Bb]bolti hai
[Gm]Dhadkan ye teri wo [F]taulti hai

[F]Aankhein ye meri jo [Bb]bolti hai
[Gm]Dhadkan ye teri wo [F]taulti hai


[F]Jeene ke sawalon mein
[F]Yun pyaar ka rang bharna
Ye [C]labzo se phir  kuch [Bb]bhi
[C]Mushkil ho bayan [Dm]karna
[F]Jeene ke sawalon mein
[F]Yun pyaar ka rang bharna
Ye [C]labzo se phir  kuch [Bb]bhi
[C]Mushkil ho bayan [F]karna

[Am]Meri dhad[Dm]kan [Am]teri dha[Dm]dkan
[Dm]Dono dilon ki [Bb]ek hai tad[F]pan

[Am]Meri dhad[Dm]kan [Am]teri dha[Dm]dkan
[Dm]Dono dilon ki [Bb]ek hai tad[F]pan