Chura Liya Hai Guitar Chords
Introducing Chura Liya Hai Guitar Chords
Chura Liya Hai is a beautiful Bollywood soundtrack from the film Yadon Ki Barat.
This beautiful song is sung by Asha Bhosle and Mohammad Rafi.
This composition is composed by Bollywood's legend R.D. Burman.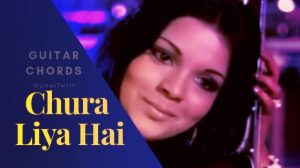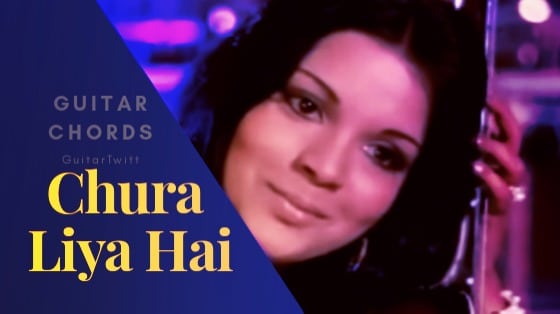 Song: Chura Liya Hai
Film: Yadon Ki Barat
Singer: Asha Bhosle & Mohammad Rafi
Music: R. D. Burman
Language: Hindi
Country India
Chords details
A minor harmonic scale is an original scale for this song. So all the A minor harmonic relative chords are used in this song as A minor, G major, E major, D minor.
Scale: Am
Chords: Am, G, Dm, C
Strumming: D UUDUD
[Am]Chura  Liya hai tumne jo [G]dil ko
[Am]Nazar nahi churana [E]sanam
[Am]Badal ke mere tum zinda[G]gani
[Am]Kahin badal naa jana [E]sanam

[Am]Chura  Liya hai tumne jo [G]dil ko
[Am]Nazar nahi churana [E]sanam
[Am]Badal ke mere tum zinda[G]gani
[Am]Kahin badal naa jana [E]sanam

Le [G]liya a dil hai mera a dil
Hai dil [A]lekar mijhko na btlana
[Am]Chura [liya
Stanza1

[Am]Bahar [Dm]banke aaon kabhi
[C]Tumhari duniya mein
[Am]Guzar naa [Dm]jaaye ye din
kahin [C]isi tamanna [Am]mein
[Am]Bahar [Dm]banke aaon kabhi
[C]Tumhari duniya mein
[Am]Guzar naa [Dm]jaaye ye din
kahin [C]isi tamanna [Am]mein
Tum [Am]mere e [G]ho
Han tum [Am]mere  [G]ho
Aaj tum [A]itna wada kar ke jana
[Am]Chura liya

Stanza2
[Am]Sajaunga lut [Dm]kar bhi tere
[C]Badan ki daali ko
[Am]Lahoo jigar ka [Dm]dunga  hasi
[G]Labo ki [Am]lali ko[

[Am]Sajaunga lut [Dm]kar bhi tere
[C]Badan ki daali ko
[Am]Lahoo jigar ka [Dm]dunga  hasi
[G]Labo ki [Am]lali ko[

Hai [G]wafaa a kya ish jahan ko
[A]Dikhla dunga mein diwana
[Am]Chura liya

[Am]Chura  Liya hai tumne jo [G]dil ko
[Am]Nazar nahi churana [E]sanam
[Am]Badal ke mere tum zinda[G]gani
[Am]Kahin badal naa jana [E]sanam