One of the most beautiful romantic soundtracks from the Bollywood film Julie. This song is sung by Kishore Kumar. The song is composed by Rajesh Roshan and the lyrics are written by Anand Bakshi.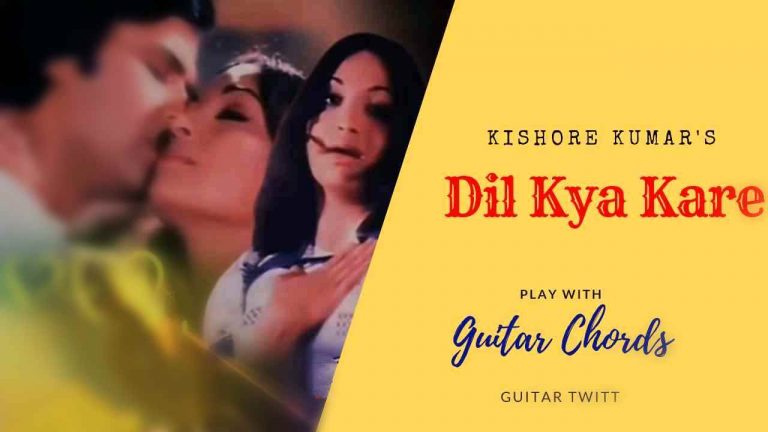 Chords Details
This is an interesting song to play on guitar if you are looking to play this song with guitar here is the accurate chords.
The song is on A minor Scale. Chords we need to play are Am, G, and C. In this song, there is an accidental chord Bb major which makes this song more beautiful.

Scale: Am
Chords: Am, C, G, Bb
Strumming: DU DU D D D
[Am]Dil  kya kare jab ki[G]si se
Kisi ko  [G]pyar ho [Am]jaye
[Am]Jaane kaha kab ki(G)si ko
Kisi se [G]pyar ho [Am]jaaye

[Am]unchi unchi diwaro [G]si
[Bb]is duniyan ki [Am]rashme
[Am]Ho na kuch tere bas me [G]julie
[Bb]Naa kuch mere [Am]bas me e

[Am]Dil kya kare jab ki[G]si se
Kisi ko [G]pyar ho [Am]jaaye
[Am]Jaane kaha kab ki[G]si ko
Kisi se [G]pyar ho [Am]jaaye

 
Stanza1

[Am]Jaise parbat pe ghata jhukti [G]hai
[Am]Jaise sagar se lehar uthti [G]hai
[C]aise kisi chehre pe [G]nigah  rukti hai

[Am]Jaise parbat pe ghata jhukti [G]hai
[Am]Jaise sagar se lehar uthti(G) hai
[Am]Aise kisi chehre pe [G]nigah  rukti hai

 

Ho [Am]rok nahi sakti naz[G]ro ko
[Bb]Duniya bhar ki [Am]rashme
[Am]Naa kuch  tere bas me [G]julie
[Bb]Naa kuch mere [Am]bas me e

[Am]Dil  kya kare jab ki[G]si se
Kisi ko  [G]pyar ho [Am]jaye
[Am]Jaane kaha kab ki(G)si ko
Kisi se [G]pyar ho [Am]jaaye

 

Stanza2

[Am]Aa main teri yaad me 
Sab ko bhula[G]doon
[Am]Duniya ko teri tasveer bana [G]doon
[Am]Mera bas chale to 
Dil [G]cheer ke dikha doon


[Am]Aa main teri yaad me 
Sab ko bhula [G]doon
[Am]Duniya ko teri tasveer bana[G] doon
[Am]Mera bas chale to 
Dil [G]cheer ke dikha doon

 

[Am]Daud raha hai saath [G]lahoo ke
[Bb]Pyar tera nas [Am]nas me

[Am]Naa kuch  tere bas me [G]julie
[Bb]Naa kuch mere [Am]bas me e


[Am]Dil  kya kare jab ki[G]si se
Kisi ko  [G]pyar ho [Am]jaye
[Am]Jaane kaha kab ki(G)si ko
Kisi se [G]pyar ho [Am]jaaye