O Mere Dil Ke Chain Guitar Chords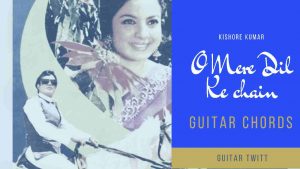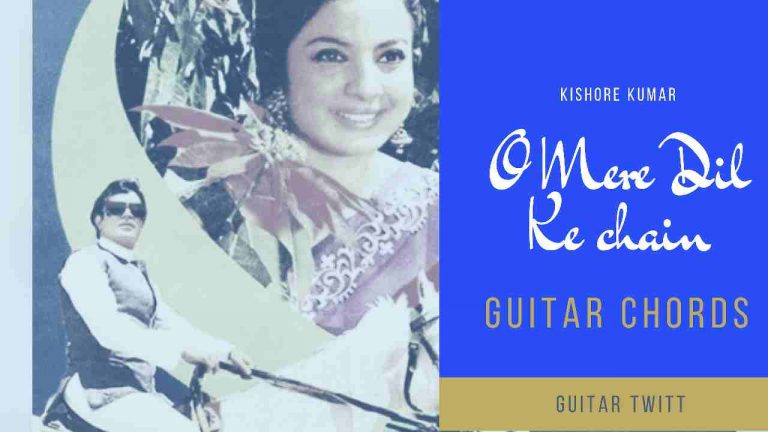 Song: O Mere Dil Ke Chain
Film: Mere Jeevan Sathi
Singer: Kishore Kumar
Music: R.D. Burman
Lyrics: Majrooh Sultanpuri
Music Label: Saregama
Language: Hindi
Presenting O Mere Dil Ke Chain Guitar Chords
O Mere Dil Ke Chain is a very Beautiful romantic song by legend Kishore Kumar.
The song is composed by legend (Panchamda) R.D.Burman. 
Superstar Rajesh Khanna can be seen on this song.
Chords Details
A minor scale is the original scale for this song. All simple chords releted to A minor scale are used. In the beginnig alap there is an accidental chord A major used. which make it beautiful.
Scale: Am
Chords: Am, G, F, C, A
Strumming: DU DUD U
[A]Hmm [G]hmm hmm
Hmm hmm [Am]hm
O [Am]mere dil ke chain
O [Am]mere dil ke chain a a [G]ain
[G]Chain aye mere dil ko dua ki[Am]jiye
O [Am]mere dil ke chain a a [G]ain
[G]Chain aye mere dil ko dua ki[Am]jiye
STANZA 1
[Am]Apna hi saaya, [G]dekh ke tum
[F]Jaane jahan, shar[Am]ma gaye
[Am]Abhi to ye pehli [G]manzil hai
[F]Tum to abhi se gha[Am]bra gaye
Mera [Am]kya ho[C]ga so[Dm]cho toh za[Am]ra
[Am]Haaye aise na aa[G]hein bhara ki[Am]jiye
[Am]O mere dil ke chain a a [G]ain
[G]Chain aye mere dil ko dua ki[Am]jiye
Stanza 2
[Am]Aap ka armaan, [G]aap ka naam
[F]Mera tarana [Am]aur nahin
[Am]In jhukti palk[G]on ke siva
[F]Dil ka thikana [Am]aur nahin
Jach[Am]ta hi [c]nahi, aankh[Dm]on mein koi[Am]
Dil [Am]tumko hi [G]chahe to kya kijiye
O [Am]mere dil ke chain a a [G]ain
[G]Chain aye mere dil ko dua ki[Am]jiye
Stanza 3
[Am]Yoon to akela [G]bhi aksar
[F]Gir ke sambhal [Am]sakta hoon mein
[Am]Tum jo pakad lo [G]haath mera
[F]Duniya badal [Am]sakta hoon mein
[Am]Manga hai [C]tumhe [Dm]duniya ke [Am]liye
Ab [Am]khud hi [G]sanam faisla [Am]kijiye
O [Am]mere dil ke chain a a [G]ain
[G]Chain aye mere dil ko dua ki[Am]jiye
O [Am]mere dil ke chain
O [Am]mere dil ke chain