Sanam: Humein Tumse Pyar Kitna Guitar Chords
Do you like Sanam Puri Song? This is again a good song for you. Introducing Humein Tumse Pyar Kitna Guitar Chords By Sanam. As usual, this is an old song by Kishore Kumar and R D Burman. You love to sing this song with your guitar.
Song Credit
Sanam Puri and his team represent this song. Original Song composed by R D Burman and sung by Kishore Kumar. The lyrics are written by Majrooh Sultanpuri.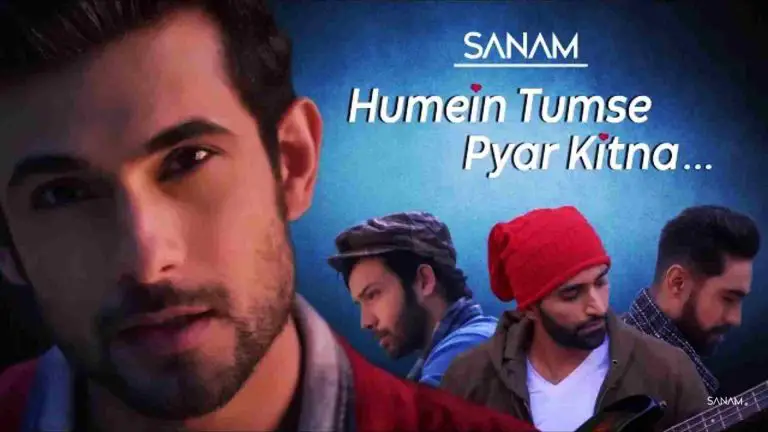 Song: Humein Tumse Pyar Kitna
Vocal: Sanam Puri
Guitar: Samar Puri
Bass Guitar: Venky S
Drums: Keshav Dhanraj
Original Song Credit
Singer: Kishore Kumar & Parveen Sultana
Music: R D Burman
Lyrics: Majrooh Sultanpuri
Label: Saregama India Ltd
Humein Tumse Pyaar Kitna Chords Info
The original song is in A minor Scale. Here the song is sung in one note high that is A# minor or Bb minor. So all the relative chords are G# major, F# major, C# major, Eb minor, and F major.
Scale: Bb minor
Chords: Bbm, G#, F#, F, Ebm
Suggested Strumming: D DD D D
[Bbm]Tumhein koi aur dekhe
To [F]jalta hai [Bbm]dil
[Bbm]Badi mushkilon se phir
Samb[F]halta hai [Bbm]dil
Kya kya [G#]jatan karte hai [F#]tumhe kya
[Ebm]pata[G#] [Bbm]

Ye [F#]dil be[Bbm]karar kitna
Ye hum nahi [G#]jante
Magar jee [Ebm]nahi sakte
[G#]tumhare [C#]bina [F] [Bbm]

Humein tumse [Bbm]pyar kitna
Ye hum nahi [G#]jante
Maggr jee [Ebm]nahi sakte[G#]
Tumhare [C#]bina [F] [Bbm]
Humein tumse [Bbm]pyar kitna

[Bbm]Suna gum judai [Ebm]ka
Uthate hain [Bbm]log
Jaane zindagi [Ebm]kaise
Bitate hai [Bbm]log
Din bhi [G#]yahan to lage[F#]
Baras ke sa[Ebm]maan [G#] [Bbm]

Humein inte[Bbm]zaar kitna
Ye hum nahi [G#]jante
Magar jee [Ebm]nahi sakte [G#]
Tumhare [C#]bina[F#]

Humein tumse [Bbm]pyar kitna
Ye hum nahi [G#]jante
Maggr jee [Ebm]nahi sakte [G#]
Tumhare [C#]bina [F#]
Humein tumse [Bbm]pyar kitna