Keno Je Toke Guitar Chords
Hey, friends do you like the new Bengali song? If yes ! then you definitely like this beautiful romantic song, featuring Yash and Mimi. To play this song with your guitar, with the perfect chord combination Presenting Keno Je Toke Guitar Chords.
Song Credit
Keno Je Toke is a beautiful romantic song sung by Raj Burman for the film Mon Jaane Na.
The song is composed by Dabbu and its Lyrics are written by Prasen.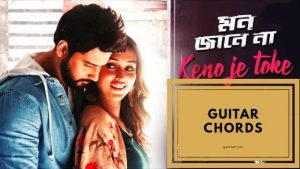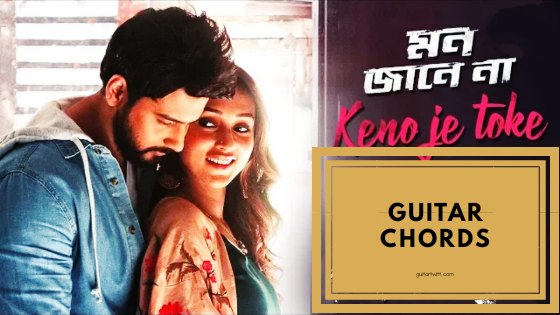 Song: Keno Je Toke
Film: Mon Jaane Na
Singer: Raj Barman
Music: Dabbu
Lyrics: Prasen
Music Label: SVF music
Language: Bengali
Year: 2019
Keno Je Toke Chords Detail

The song is in Bb or A# minor scale, So all Bb minor scale relative chords are used in this song as Bb minor, G# or Ab major, F# or Gb major, F major, C# or Db major, and Eb or D# minor
Scale: Bbm
Chords: Bbm, C#, G#, F#, Ebm, F
Suggested Strumming: D UUDU D

[Bbm]Huu uu uu uu uuu uu uu Huu uu
[G#]uu uu huu uu [F#]uu
Uuu [Bbm]uu


[G#]Dekhle [C#]toke badlai [Bbm]din [G#]
[G#]Badlai ye raat badlai ghum
[Ebm]Sange sa[Bbm]mai [G#]
Sandhey [C#]hole bandha [Bbm]ghare [G#]
Mone pore tori [Ebm]katha emoni [Bbm]hoy
Keno je tokey [Bbm]pahara pahara
dilo mon
Keno re eto [G#]sahara sahara
saradin
Keno je tokey [F#]paina paina mone hoy
Sarata [Bbm]din

Keno je tokey [Bbm]pahara pahara
dilo mon
Keno re eto [G#]sahara sahara
saradin
Keno je tokey [F#]paina paina mone hoy
Sarata [Bbm]din


[Bbm]Hoo Chanderi [G#]jharna jemon
Bhejai [Bbm]Pahar
Tatota [G#]ador aache [F#]e toke deo[G#]ar
Dekhe ja [F]ichche koto akash cho[Bbm]aar
Keno je tokey [Bbm]pahara pahara
dilo mon
Keno re eto [G#]sahara sahara
saradin
Keno je tokey [F#]paina paina mone hoy
Sarata [Bbm]din [G#]

Keno je tokey [Bbm]pahara pahara
dilo mon
Keno re eto [G#]sahara sahara
saradin
Keno je tokey [F#]paina paina mone hoy
Sarata [Bbm]din [G#]


[Bbm] Moner o mo[G#]ner katha je se[Bbm]khalo
Mukhera du[G#]chokh buje [F#]e taal mela[G#]lo
Tori to raa[F]sta dhore mon pala[Bbm]lo
Keno je tokey [Bbm]pahara pahara
dilo mon
Keno re eto [G#]sahara sahara
saradin
Keno je tokey [F#]paina paina mone hoy
Sarata [Bbm]din [G#]

Keno je tokey [Bbm]pahara pahara
dilo mon
Keno re eto [G#]sahara sahara
saradin
Keno je tokey [F#]paina paina mone hoy
Sarata [Bbm]din [G#]